Elevating a New Generation of Girls in Glass
Creating enthusiasm, and opportunities, for the next generation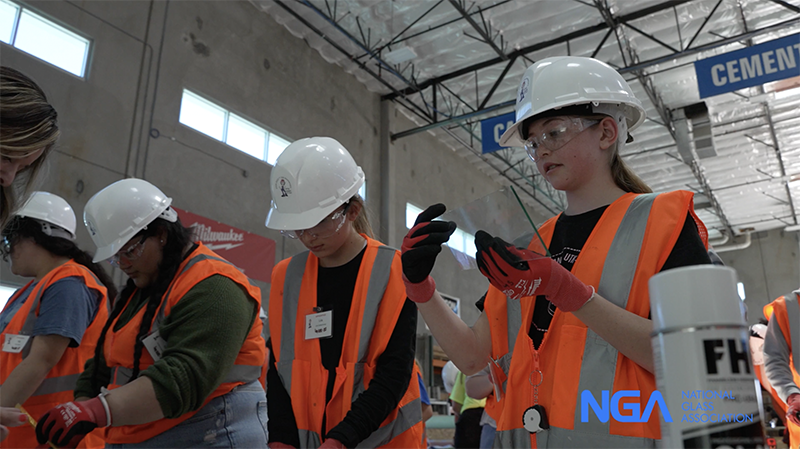 In June, 70 teenage girls gathered in San Diego, California, to learn about cutting glass and opportunities in the glass and glazing trade. The event was part of Camp NAWIC, from the San Diego National Association of Women in Construction chapter. The free, weeklong program offers a hands-on approach to a construction career to high school girls, and this year marked the first time that glass and glazing were included in the program.
The event was made possible largely thanks to the efforts of San Diego NAWIC board member Kristie Rehberger, general manager, A Glasco Inc. "When I joined the board, I said I wanted to bring in more education about glass. I love the hands-on [events]," says Rehberger. Rehberger teamed up with Linda Young, who runs Camp NAWIC, to bring glass and glazing education to the students through the glass-cutting workshop.
"It was awesome to see the enthusiasm," says Rehberger. "When the event started, [the campers] came rushing in and were keen to get to work. I was surprised by their eagerness to learn and try something new."
Rehberger and a team of glass industry volunteers worked with the campers to safely seam and cut glass. The other volunteers included five members of the A Glasco team, Andrew Haring of the National Glass Association, Christy Sellers of Lemon Grove Glass & Supply and Casey Weir of Roundtree Glass Co.
Bringing women to the trades
NAWIC's—and Camp NAWIC's—mission is to promote career growth and development for women in construction, as women continue to be vastly underrepresented in construction. Women account for just 10.9% of the entire U.S. construction workforce, according to 2022 data from the U.S. Bureau of Labor Statistics.
"The end goal [is] to encourage more young people to choose a career in skilled trades by providing hands-on experience and training that exposes them to promising occupations and incredibly viable career paths in construction—and also debunking misnomers and stigmas surrounding women in the glass and construction industries," says NGA's Haring.
Reach out to the local community
One of the biggest roadblocks to bringing glass and glazing education to young people, particularly young women, is a lack of existing learning opportunities, says Rehberger. She recommends that glass industry companies reach out to schools and local community groups to offer to help bring glass and glazing demonstrations and education directly to students.
To aid in these efforts, NGA is creating resources for companies to help educate young people, including a new web page, www.glass.org/become-glazier, that uses video, career stats and personal stories to highlight the opportunities the glazing trade offers. "Our industry offers a path to build a long-term, rewarding career without stacking up college debt, and it is this message that we need to share with the public," says Jenni Chase, VP of Workforce Development for the NGA.
"You have the power to make it happen. It just takes doing it. We can't wait around for someone else to do it," Rehberger says. "After Camp NAWIC, I contacted five or six schools to say, 'We did this. Are you interested in having us do this with your students?' I already have one response saying yes, they are interested."
Camp NAWIC's glass event was held at the Associated General Contractors of America facility, and featured glass and materials donated by Frameless Hardware Company and Glasswerks Los Angeles.