2020 Forecast
Prepare for mild slowdown as labor shortage and trade uncertainties linger
January 5, 2020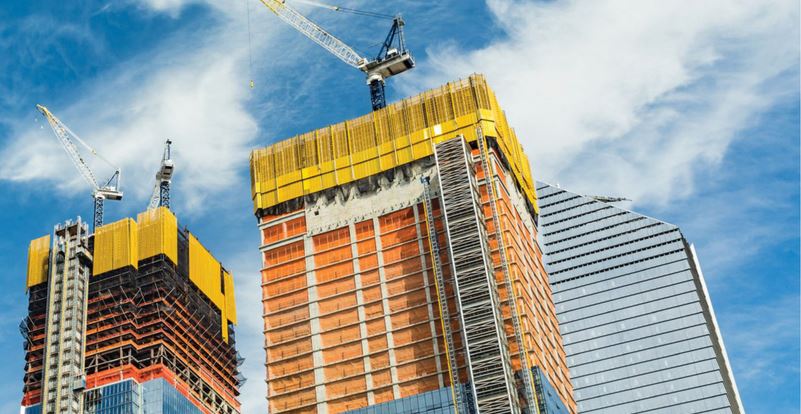 The U.S. economy witnessed an unprecedented 10 years of economic expansion as it emerged from the Great Recession. "The economy hit a record this summer as it crossed the 10-year mark of economic expansion, making this the longest expansion in U.S. history, at least back to World War II," says Cristian deRitis, deputy chief economist, of Moody's Analytics.
Commercial construction spending, which is at the trailing edge of the economy, has followed suit, expanding an estimated 34 percent, with year-over-year gains since the lows of 2010 and 2011.  
What will 2020 have in store for the overall economy and for construction? And, what potential threats should glass industry companies watch for as they make investment and hiring decisions, bid projects and more in the year ahead?
Glass Magazine's 2020 Forecast seeks to answer these key questions and others. It is based on presentations delivered by leading construction economists during Fall 2019. They include: Connor Lokar, economist, ITR Economics, who spoke during the 2019 Glazing Executives Forum in September; Richard Branch, chief economist for Dodge Data & Analytics, and Moody's deRitis, who spoke during the 81st Annual Dodge Outlook Conference in October; and Kermit Baker, chief economist, AIA, Alex Carrick, chief economist, ConstructConnect, and Ken Simonson, chief economist, The AGC of America, who presented in a November forecast webinar from ConstructConnect, the AIA and AGC.
Is the U.S. headed into a recession?
The U.S. economy is slowing but is unlikely to go into recession, say economists.
According to Moody's Analytics, the probability of recession through the first quarter of 2020 is less than 10 percent, which is noticeably down from the odds published earlier in 2019. "Do I think there will be recession in the next 12 months? It's highly unlikely. After that, it depends on the various risk factors," says Moody's deRitis. Key risk factors to watch, per deRitis, include everything from an escalation in the trade war to a stock market correction to a no-deal Brexit.
Richard Branch, chief economist for Dodge Data & Analytics, says the economy remains fairly healthy, making a recession unlikely in 2020. "We talk a lot about recession, slowdown, contraction. But the economy is in good shape—decent shape," he says.
Branch says he anticipates the economic growth to slow to 1.5 percent for 2020, though it won't be steady throughout the year. "We see 2020 starting off right where we are now, at about 2 percent, and then we will start to see a downward slope through the fourth quarter where we'll be looking at something like .2 or .3 percent growth."
A slowdown in 2020 will be mild, says Connor Lokar, economist, ITR Economics. "Things are going to get worse before they get better. However, we have a non-recession outlook. This is a pause in the business cycle. This is not the Great Recession 2.0."
Lokar advises glass companies to use the mild slowdown as an opportunity to address any issues in their business that have come to bear during the years of continuous growth. "There is an opportunity for you to take that slowdown to address bottlenecks. Reset yourself as we look to 2020 and beyond," he says.
What's in store for construction in 2020?
Forecasts for construction in 2020 range from falling 4 percent, per Dodge Data & Analytics, to increasing 1 to 5 percent, per AGC of America. An average of leading forecasts shows essentially flat construction spending in 2020—a decrease of .1 percent. "The market is still quite favorable for construction," says AGC's Simonson.
By segment, institutional building is expected to see mild growth. Average forecasts indicate 2.6 percent growth for education and 3 percent for health care.
In the commercial segment, office construction is poised for more tepid growth of 1.7 percent, per averages. However, retail construction is expected to continue its falloff, decreasing 8 percent.
Forecasts are mixed for multifamily residential, which had been a growth sector in the early years of recovery. AGC of America forecasts growth between 0 and 5 percent for multifamily in 2020, and ConstructConnect projects essentially flat performance, with growth of .79 percent. However, the Dodge forecast is much less optimistic, with projected declines of 13 percent for the segment in 2020.
Who are the regional winners and losers?
Across the U.S., building activity is slowing, according to the Architectural Billings Index, an economic indicator from the AIA that measures nonresidential construction activity with a lead time of approximately 9 to 12 months. However, there are regional winners and losers in the ABI.
Winners: South and West
Per the Architectural Billings Index, the South will lead construction growth in the coming year. As of October, the year-to-date ABI for the South was 52.1 (any score above 50 indicates growth). The West is poised for steady performance, with an ABI of 50.2. 
Losers: Northeast and Midwest
The year-to-date ABI for the Northeast came in at 47.2, indicating continued sluggishness in the region, following stagnant performance in 2018. The Midwest is also in negative territory at 49.0.
What are the largest threats to the construction economy?
Skilled labor
Labor—specifically the lack of skilled labor—will be the biggest drag on the construction economy in the coming year, say economists.
"One of the biggest negatives we see is the lack of skilled labor. It will be a serious crimp on 2020," says Dodge's Branch. "Contractors are not worried about jobs. They think there are enough jobs to keep them going. They don't have the ability—the skilled labor—to get the jobs done."
Trade uncertainty
Unpredictable trade policies have had an effect on construction, economists say. "Trade uncertainty, policy uncertainty, is causing companies to pull back on hiring or to pause or cancel capital investment," says Branch.
The impact of ongoing uncertainty could extend to material costs and demand for new construction, says Simonson.
What are the building trends to watch?
High-end projects
Since the recovery, projects, particularly in multifamily, have trended toward the high end. "Back in 2008, 9 percent of [multifamily] projects tracked by Dodge were valued over $100 million in hard construction costs. In the past few years, 21 percent have been over $100 million," says Branch.
Most of the high-end projects are located in New York City. If there is a slowdown in the global economy, the high-end multifamily market would likely feel the effects, Branch notes.
Existing buildings
During the recession while new construction spending plummeted, work on existing buildings spiked. The sector that had held a one-third share of architect billings pre-recession grew to 45 percent. Despite expectations that investment in the sector would fall back during recovery, it has maintained the higher share of activity. "There seem to be growing incentives to fixing up existing buildings," says ConstructConnect's Carrick.