2020 Industry Trends | Part 2 | Architectural Glass
Glassmakers Deliver Multifunctional, High-performance Solutions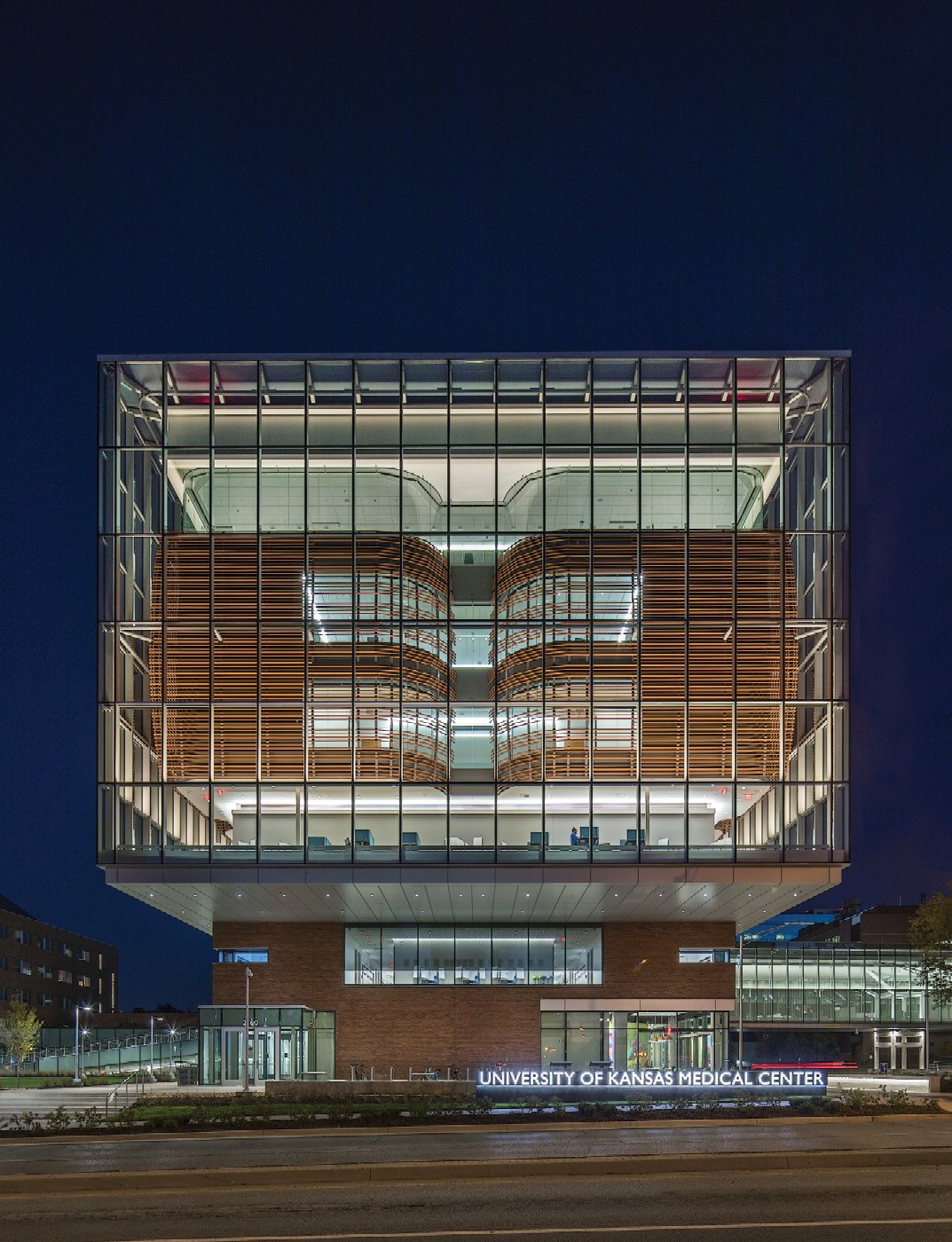 Above: Vitro Architectural Glass, Solarban Acuity in use on the exterior of the University of Kansas Health Education Building. Photo by Tom Kessler. 
Architectural glass continues to expand in size, and since the pandemic, in applications. Industry leaders see continued relevance for the aesthetic, and protective, qualities of glass in architectural building. "We know how people respond to light and interaction, and that's the real value of glass," says Tim Nass, vice president of national sales, Safti First. Glass allows people "to have a level of privacy and security from a spatial standpoint, but the transparency allows people to feel a level of connection."
Jumbo glass
Large glass continues to be a major product trend, as the material expands on the building envelope. "Unmistakably, over the last decade [have] been the design trends toward more glass, bigger glass and transparent glass," says Nathaniel McKenna, manager of marketing, Vitro Architectural Glass.
Due to the major presence of larger glass, the material has become critical to a building's aesthetic success. "Glass is trending toward large glass lites, and minimizing impacts of framing, large expanses of glass allowing for clear views, integrated into the building design, on the envelope or in the interior. Glass creates a more inviting environment rather than closed-off, compartmentalized construction," says Nass.
Rob Botman, general manager, Glassopolis Specialty Glass, emphasizes the importance of even further increasing sightlines through reduced framing, made possible by technical achievements in fabrication. "People want the ratio of visible glass to frame to be minimized," he says. "If you make the glass stronger, you can do more with less frame."
Performance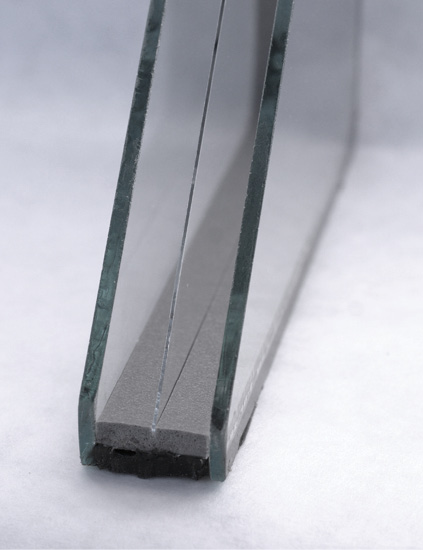 Demands for sustainability, thermal performance and energy efficiency continue to drive innovation, says Yariv Ninyo, head of business development, Dip-Tech. "Heat reduction, light control and shading, bird-friendly features and other environment-friendly applications that can be implemented in glass are becoming more and more important when designing any space or building," he says.
"We're continuing to see increasing demand for high-performance glass. Building codes are getting more stringent, demanding lower and lower U-factors," says Larry Johnson, vice president of sales, North American Fenestration, Quanex Building Products. "Warm-edge spacer systems like Quanex's Super Spacer TriSeal, combined with other performance-improving measures, are one way that glass manufacturers can continue meeting these evolving demands."
These trends are driving interest in specialty high-performance products, such as electrochromics, says Catelyn Herman, senior product manager, Glass Solutions, Assa Abloy. "Electrochromic glass, or 'smart glass,' is emerging as a clear alternative to traditional," says Herman. "Electrochromic glass uses electricity to change glass from opaque to translucent and can be controlled manually or programmed to adjust according to the position of the sun. Aside from the obvious reduction in energy costs from limiting the use of electrical lighting, automatic shading and design in glass curtain walls help reduce the load on a building's HVAC unit, further reducing energy use and costs."
Quanex's Johnson says the company's thin-triple insulating units have gained traction as customers look to further boost energy performance. "We've generated a lot of interest in [thin triple] technology in the past year, which utilizes an ultra-thin middle glass layer to create a highly efficient, lightweight triple-glazed unit," he says. 
Another emerging performance glass product is vacuum insulated glass, which offers improved thermal insulation. "Helping accelerate the trend toward [tempered] VIG is the stricter codes being introduced in North America," says Michael Spellman, president, VIG Technologies. VIG Technologies and LandVac have developed an SGCC-approved tempered VIG with an R-value of 15.4 and U-value of 0.07, according to Spellman. "With buildings adding tVIG Units to windows and doors, the world's glass and building industry will see a major step in change which has not been seen since low-E glass entered the world several decades ago," he says. 
In addition to energy and thermal performance, daylighting and access to views continue to be a priority for the design industry, in part due to their benefits to occupants. Employers seek office spaces with glass, says Catelyn Herman, senior product manager, glass solutions at Assa Abloy, referencing studies that show natural light's ability to boost productivity, moods and overall well-being. "It's a misconception that glass offers only aesthetics and design enhancements," she says. "The use of glass has many benefits in the workplace, from the layout and functionality of the space, to the energy and mood it provides its occupants."
To maximize daylighting, designers are looking for glazed solutions beyond traditional exterior applications. "We're starting to see the incorporation of [fire-rated glass] horizontally," says Safti First's Nass. "Transparent floors are becoming more commonplace."
Multifunctionality 
Glass is also being asked to grow in complexity, to meet demands for multiple functions, according to industry leaders. "We're moving away from uni-functional to multifunctional [glass]," says Botman. He says the trend toward complex, efficient glass continues. "We're seeing requests for multifunctional glasses, glass that has requirements for thermal, but also maybe bullet and blast performance. For specialty fabrication, we've had requests to protect against high heat loads and X-ray radiation. We're seeing more and more combinations of protection against radiation, but the glass also needs to be fire-rated."
Nass says that he's seeing more fire-rated applications on the exterior of the building, largely driven by code changes. "A big trend is that we're seeing the implementation of our products as part of the building envelope in densely populated areas," he says. 
In addition to fire-rated properties and traditional protective properties, workspaces will also require glass to offer further protection, says Dip-Tech's Ninyo. "Current major drivers in architecture are information vulnerability and data privacy, which create a need for glass applications that provide protection within the architecture."
Virus protections
Glass can offer bullet and blast protection, and during the pandemic, is also being asked to protect against the spread of COVID-19 by expanding glass applications in several ways. While many retail, grocery and other essential workplaces have implemented these solutions, Mike Synon, president and CEO of HHH Tempering, says we will see a further rise in glass partitions. "I see that tempered and laminated glass will be in larger demand―grocery stores, offices, hospitals, airports, etc., have plexiglass; I see that being replaced with tempered glass, for the slots you put your card through. Box stores and grocery stores will start protecting employees to a higher level," he says.
"Right now, many public facilities are placing the acrylic 'barriers' over glass barriers because of the lower cost to install and possibly timing,  but they won't last as long as true glass partitions," says Heather Ohlhausen-Lyons, sales and marketing manager, Unelko Corp. 
Glass partitions will be an important application for the interior, says Nass. "You want to protect an individual due to social distancing, without compartmentalizing the space aesthetically," he says. "Most of the partitions are clear glass or transparent material that allows people to separate physically but maintain a connection."
"What we saw before was a trend in collaborative effort, big spaces allowing people to work in groups. Now, the ability to give people their own space, whether in the long or short term, is critical," he says.
Glass, as a non-porous building material, is also poised to offer a new type of multifunctionality in a world where surfaces must be disinfected. "The glass industry already has excellent solutions to prevent the spread of disease," says Vitro's McKenna. "We would anticipate more glass partitions in commercial construction, including office, health care and retail, alike. Glass can be easily cleaned and disinfected."
Glass coatings will also offer protection and resistance for COVID-19, says Syndi Sim, vice president, marketing and business development, Diamon-Fusion International. "Surfaces such as windows, glass railings, retail glass barriers, interior hospital glass, and glass partitions are all benefiting from the use of protective glass coatings," she says. "This anticipation will continue to rise in the face of COVID-19. Benefits and features such as easy-to-clean, stain-resistant, and microbial-resistant, which were only once thought of as important for shower doors, will now extend down the pipeline to a myriad of other glass surface types, creating new opportunities for fabricators."
Below, left to right: Safti First's SuperLite II-XLB 60. Tempered vacuum insulated glass from VIG Technologies. Unelko Antimicrobial Glass versus non-treated glass. 
Image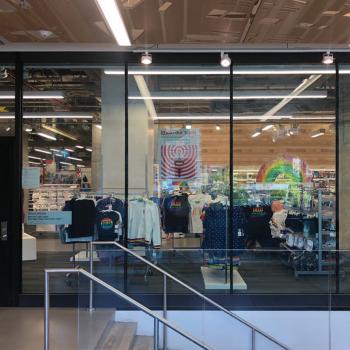 Image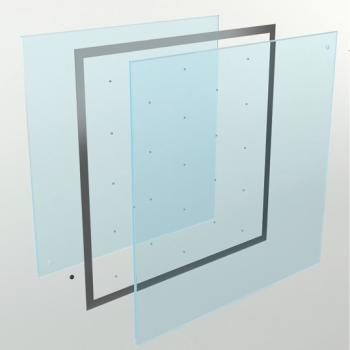 Image