2020 Industry Trends | Part 5 | Handling & Transportation
Larger Sizes, Complex Products and Demand for Efficiency Drive Development in Glass Handling and Transportation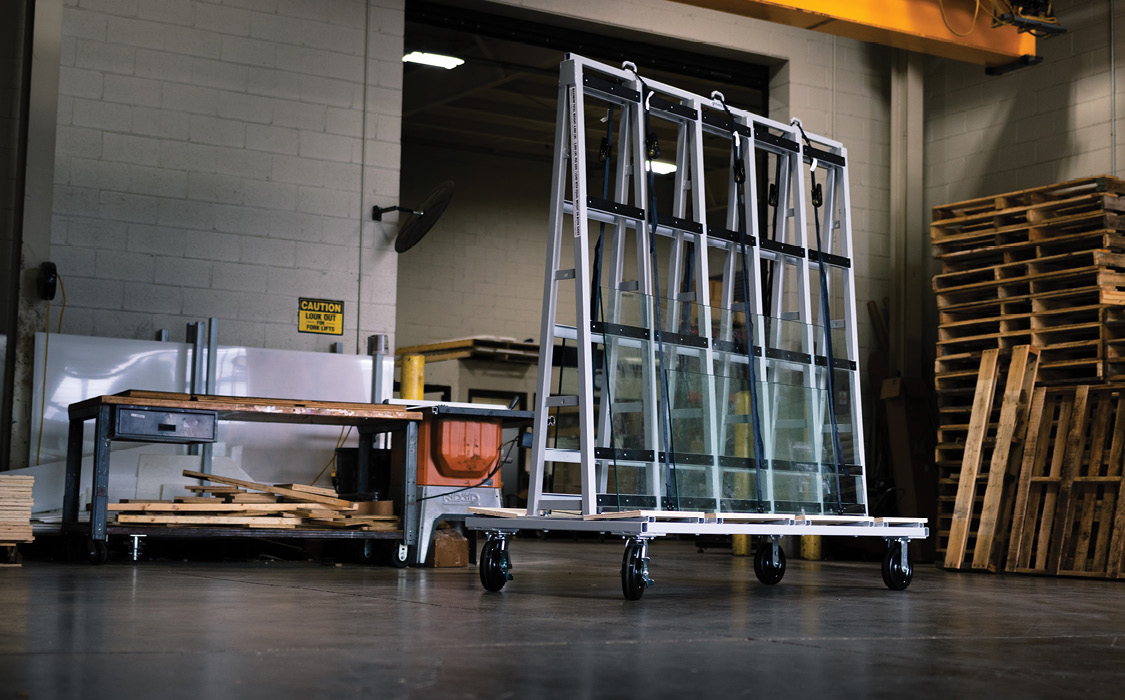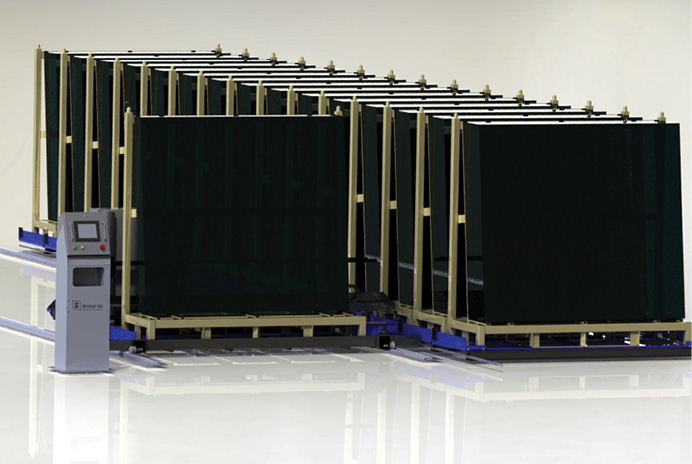 Handling and transportation equipment suppliers closely track wider industry trends to ensure solutions that meet evolving labor, product and safety demands, they say. Design trends seeking larger, heavier glass lites lead to equipment with higher load capacity and increased flexibility. Ongoing labor shortages and demand for fewer touches on the glass translate to automated racking solutions on the factory floor.
In 2020, suppliers say they are responding to trends for larger and more complex glass products and demand for increasingly touch-free solutions in the factory. They are also pivoting to address health, safety and supply challenges during COVID-19.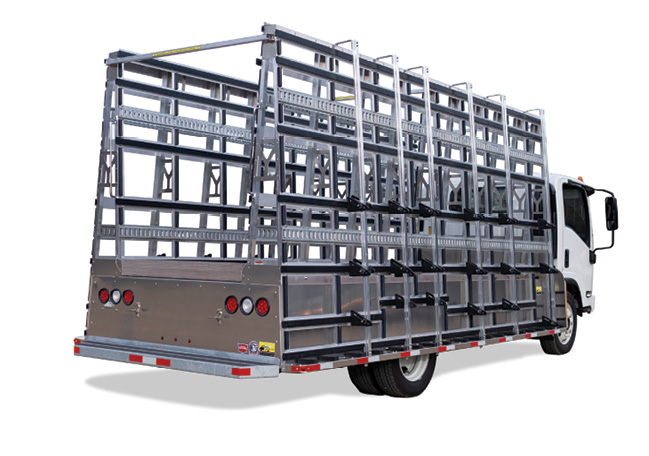 Complexity and customization
The design industry continues to push for larger expanses, façades with complex geometries, glasses with new performance coatings and more. In response, equipment suppliers have developed handling and transportation solutions that work with in-demand products. 
"As has been the case for several years, we continue to see demand for handling larger and heavier glass," says Bryan Strobel, product engineering manager, Wood's Powr-Grip Co. "The creativity of architects and the ingenuity of glass manufacturers continues to introduce new curved and 3-dimensional profiles that we have never seen before. It seems as if there is never a lack of new challenges and opportunities. On the glass manufacturing side, there seems to be an increased demand for handling coated surfaces and laminated glass that isn't fully set yet."
Complex, custom projects often require custom handling solutions, Strobel says, and those custom solutions can be developed into new product lines. "We continue to offer custom vacuum lifter fabrication as a key method to address unique handling requirements," he says.
"As we see trends in the market, those custom lifters often become the springboard for standard designs. Our engineering department dedicates resources to improving existing standard lifter and hand cup designs, providing custom solutions, and developing new standard designs. It is exciting to see each new development in the industry and we look forward to each opportunity to design and manufacture products that continue to redefine the possibilities."
Groves Inc. also looks to provide custom products depending on demand, says Candace Arends, media manager. "Over the past several years, we've noticed more demand for larger, more custom transportation products. In working with some manufacturers, we've noticed more focus on improved designs and efficiencies as well. We see this as an encouraging sign. The industry continues to pursue improvements to keep up with end user demands," she says.
While the glass may be getting heavier and more complex, glass rack suppliers continue to strive for lighter, more simplified solutions for transport. 
"We are always focused on simplifying designs," says Arends. "To the extent we can make a product lighter, stronger and position it to serve more than one purpose, we do."
"The industry is evolving," says Michael Frett, account executive, MyGlassTruck. "Vehicles are being made of thinner and lighter materials, while glass payload demands are increasing. Lighter aluminum glass racks are required to meet this need. They must be strong enough to transport the added weight without any damage to the vehicle." 
Frett says that MyGlassTruck van and pick-up racks can transport 1,000 pounds of glass per side of vehicle. "The benefit of added payload capacity is making aluminum racks more desirable to glaziers than steel or stainless-steel racks," he says. 
Automation
Looking at handling solutions on the factory floor, demand for automated solutions is driving product innovation. Jeff Perron, sales and purchasing for Bromer Inc., says automated and motorized glass racks are the next big thing in the market. 
Customers demand racking systems that are "fast, safe and easy to use," Perron says. Automated solutions offer productivity benefits, while optimizing floor space, he says. Additionally, in the time of COVID-19, they limit touches to the glass. 
To respond to such demand, Bromer recently introduced the Returnable Steel Rack Shuttle System. The inline shuttle system feature 25 returnable steel racks and three pick-up stations. The system allows fabricators to add glass variety to the cutting line, provides fast access to different types of glass and reduces downtime, according to company officials.  
Post-COVID-19 demands
Suppliers are already making adjustments in the wake of COVID-19. 
Fabricators want solutions to limit the number of employees handling glass in the plant, while installers are looking for ways get glass to the site and installed as efficiently as possible, they say. 
"With more people working from home, glaziers must be more conscious of protecting others, and themselves, when working inside customers' homes or businesses," says MyGlassTruck's Frett.
"Many are trying to adapt quickly and do business in an environment with changing rules and information. Some homeowners are working from home and getting around to improvement projects that require glaziers. Glaziers are focusing on new revenue streams such as installing partitions to protect patrons and employees when businesses re-open."
Additionally, COVID-19 has also presented supply challenges for some customers. Wood's Powr-Grip relaunched its Hand-Held Vacuum Cups to help address the challenge. "The recent disruptions in global supply networks and related material cost increases have revealed a need to future-proof the Hand Cups so many people have come to trust and depend on," according to WPG officials. Aluminum plungers will replace brass plungers to help avoid disruptions in material supply. Additionally, the re-launched cups offer new vacuum pads for better grip on lightly textured surfaces and a more secure hand hold. 
Suppliers are also closely watching the impact of the coronavirus on product trends. "We think one of the bigger challenges is going to be seeing how the market responds to COVID and its 
longer-term impacts," Groves Inc.'s Arends says. "As people and businesses change their direction, staying out in front of design needs becomes more challenging. Keeping a close eye on how the industry is impacted and how it adapts will be key to future design efforts."
For example, Arends says demand for larger capacity transportation solutions has decreased since COVID-19. "It will be interesting to see if the market bounces back or if changes to the overall real estate landscape leads to smaller scale projects over the next several years," she says.