All that Glass Can Do | 3 building performance cost-benefit questions
Roadblocks to adopting a high-performing glass product & the holistic benefits of glass
All that Glass Can Do, Glass and Metals 601, is the final installment of Glass Magazine's six-part series "All About Glass and Metal: A Guide to Glazing for Architects and Specifiers." The complete series provides an in-depth look at specification and design for glass and glazing. It begins with "Glass and Metals 101: An Introductory Guide to Glazing for Architects and Specifiers" and in subsequent sections covers topics ranging from specifications to interior glass, protective glazing, glass and the energy codes and more. To access the complete series, visit glass.org/store.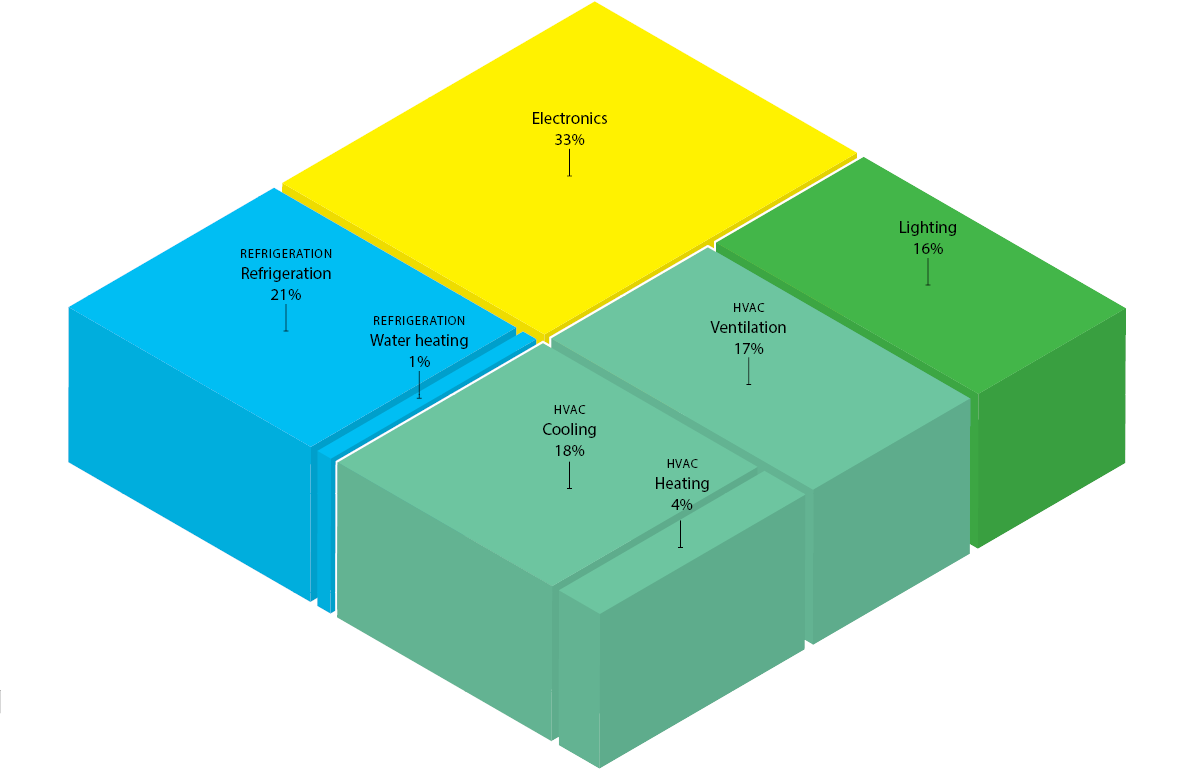 Above: 2018 total electricity use in commercial buildings. Source: Office of Energy Efficiency & Renewable Energy, DOE.  
The primary roadblock in adopting a high-performing glass product is cost. "Most of the time, [the products] are value-engineered out of a project," says Urmilla Sowell, technical and advocacy director for the National Glass Association. However, the price tag for high-performance systems should be considered alongside the holistic costs of building construction and operations. Sources point to three primary areas to consider when weighing costs. 
Glass facts
55%
Total electricity use for HVAC and lighting in commercial buildings
-200%
Decline in turnover among office workers due to daylighting
26%
Progress in reading among students due to daylighting
Sources: (absenteeism) independent studies from Lockheed Martin in California and ING Bank in the Netherlands; (turnover) study from Story County (Iowa) Human Services; (eyestrain, headaches and drowsiness) Department of Design and Environmental Analysis, Cornell University, "Worker Reactions to Electrochromic and Low-E Glass Office Windows;" (in schools)Heschong Mahone Group, "Daylighting in Schools: An Investigation into the Relationship Between Daylighting and Human Performance."
How can glass and glazing cut down HVAC and lighting costs?
HVAC systems account for about 40 percent of total energy use in commercial buildings, according to the Department of Energy. Meanwhile, lighting systems capture about 16 percent of electricity costs. Building owners can offset costs in both areas through the use of high-performance glass and glazing products, and by maximizing natural daylighting. 
"If we're smart and do it right, we can reduce the size of HVAC. This is one of the most expensive parts of building. Reduce the size of the heating and cooling systems and take money saved and put it back into the façade," says Stephen Selkowitz, retired senior advisor for building science and former group leader of the Windows and Envelope Materials Group in the Building Technology and Urban Systems Division at Lawrence Berkeley National Laboratory. 
What is the payback of occupant comfort?  
Benefits of daylighting among office workers

Absenteeism: -15%  
Drowsiness: -56% 
Eyestrain: -51%  
Headaches: -63% 
Turnover: -200% 

Benefits of daylighting among students

Progress in math: +20% 
Progress in reading: +26% 
Standardized test scores: +7 to -18% 
Glass and glazing—with benefits of daylighting, views, access to nature and more—are essential to occupant wellness. Numerous studies have demonstrated a relationship between glass and improved test scores among students, accelerated healing among hospital patients, and increased productivity and fewer absences among workers. 
"An estimated 85 to 90 percent of our time is spent indoors. But we know our bodies need to be outside—we need to have that type of environmental connection to be happy," says Sowell. 
"There is a renewed appreciation of glass and glazing in terms of people and how they work and live," adds Selkowitz. 
When the human costs of a building are factored into building design and operations, the value of glass and glazing products greatly increases. "The most costly pieces [of building operations] are people," says Selkowitz. "The cost of people is 10 times construction costs and 100 times operating costs." 
How will performance disclosures and penalties affect owners?  
A growing number of cities and states are adopting energy performance requirements beyond those in the national codes. "There is a new urgency in the codes—strong, quick action in response to climate change," says Tom Culp, owner of Birch Point Consulting and energy code consultant for the NGA. 
Legislation, such as Local Law 97 in New York City and Washington State HB 1257, are beginning to require post-occupancy building commissioning—performance measurements—with penalties for buildings that don't meet requirements. "It's essentially a carbon tax if you're not building up to minimum levels," Culp says. "This changes the economics."
Spotlight on Local Law 97

Local Law 97 in New York City sets greenhouse gas emissions limits for buildings. 

Applies to buildings 25,000+ square feet  
Affects about 50,000 buildings—residential and commercial 
Aims to achieve an 80 percent reduction in emissions by 2050 
Requires owners to provide an emissions report beginning May 1, 2025 
Fines owners 50 cents/sq. ft. for failure to submit a report.  

Sources: Urban Green Council and The Cooperator New York 
"The codes with proposed penalties [coming] down the road should encourage building owners to say, 'hey, this really is a more economical approach in the long run.' Otherwise, it's a pay me now or pay me later situation," says Charlie Boyer, principal, Boyer & Associates, and consultant, VIG Technologies. "You might be installing something now, but five to 10 years later you'll have to pay for new installations or upgrades. The time is coming to advance these technologies."
Numerous other jurisdictions are moving toward performance benchmarking/disclosures for buildings. Culp points to legislation in dozens of cities in all parts of the country, from Seattle, to Boston, to Austin, Texas, to St. Louis, Missouri. Such disclosure requirements could affect real estate prices, incentivizing owners to prioritize performance, even without associated penalties. 
High Performance Projects