Anodize vs. Paint
Coloration, durability, aesthetics and cost influence decision
Structural glass plays a central role in many of the most recognizable buildings in the United States. The John Hancock building in Chicago, for example, features 16,000 windows on 100-stories. Whether the glass is curved, tinted or etched, the materials holding it in place must complement the architect's design and color palette. Recent projects like the Wynn Las Vegas hotel, the US Interactive headquarters in Brooklyn, N.Y., and the Federal Reserve Bank building in Minneapolis offer examples of how anodizing and painting complement dramatic glass installations.

Painting and anodizing are two important options architects can select to bring color to the exterior surfaces of their projects. Coloration, durability, aesthetics and cost each play a role in deciding which application is best suited for the project.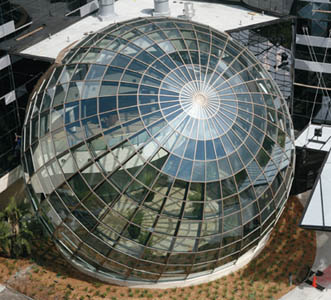 The Aluminum Anodizers Council, a trade organization for the aluminum anodizing industry in Wauconda, Ill., describes anodizing this way: "A coating of aluminum oxide is grown from the aluminum by passing an electrical current through an acid electrolyte bath in which the aluminum is immersed. The coating thickness and surface characteristics are tightly controlled to meet end product specifications."

Comparing anodizing to painting, Andy Joswiak, vice president of operations at Linetec in Wausau, Wis., says, "the difference is one of hardness, look and aesthetics. The advantage you have with anodizing is that you have a true metallic look. Anodizing is translucent to transparent and provides a very hard coating on aluminum."

While painting is more commonly understood, it has distinct application methods. "The difference between a liquid paint and powder paint is the application method," says Ben Mitchell, extrusions coating manager at Akzo Nobel in Columbus, Ohio. "One uses a solvent, and the other does not. Once they are applied and cured, there is very little difference. Whether it's a liquid or powder, it really doesn't tell you anything about the quality of finish, it just tells you how it was applied."
The color palette
When it comes to the range of colors available to the architect, painting has a clear advantage over anodizing. "With anodizing, you are limited to just a few colors," Mitchell says. "Most anodizing will fall into five color categories: clear, champagne, light bronze, dark bronze and black. With paint, it's almost an unlimited color palette. With a few exceptions … you can match almost any color.

"It tends to be harder to control color [with anodizing] than either powder or liquid," Mitchell adds. "The [anodizing] application takes proper equipment and expertise to do [correctly]. It's much easier to maintain a consistent color day-to-day, batch-to-batch with paint."

Understanding the industry standards that define variations in paint colors is crucial to maintaining color consistency across a project. Joswiak notes that matching paint colors requires skill, experience and close monitoring.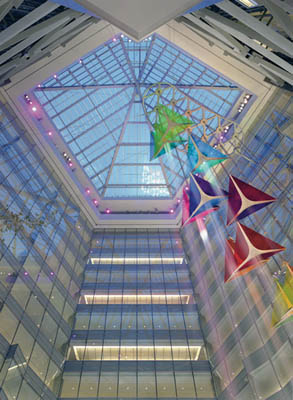 "Typically, the standard for paint finishes is 2 Delta E [color difference measurement]. At times, that can be difficult to achieve," Joswiak says. "You think you are getting a paint color, but it's not the exact color. You will have a range. The range for paint is three-dimensional because it can shift the blue, green, red, yellow and light and dark in a three-dimensional space.

"With anodizing, the range is typically a little wider, but with good process control you can maintain that 2-3 Delta E [standard], assuming the alloy is the same. Multiple alloys will create slightly different hues as the anodize responds to the alloys."

In his article, How to Decide Between Anodizing, Painting, and Powder Coating, posted on www.saf.com, Penn McClatchey, vice president of fabrication for Southern Aluminum Finishing Co., Atlanta, writes, "Color consistency is not perfect with paint. Contractors must be careful to have their metal coated at the same time, in the same place whenever possible to reduce the probability of color variation caused by different batches of paint or application conditions."
The test of time
As time passes, weather, ultraviolet rays, acid rain and corrosion can play havoc on coated materials. Painted and anodized surfaces react differently to these harsh conditions. "A painted surface tends to be more resistant to corrosion, acid rain and mortar staining than an anodized surface," Mitchell says. "But once again, that depends on the paint quality. A paint, liquid or powder can be something that will fail in a matter of months, or last 20 years."

A rushed construction schedule can play a role in surface durability. "If the building is on a hurried schedule, and they want to put windows in before the masonry work is done, great caution has to be taken if you are using anodizing," Joswiak says. "If you get any masonry mortar on the anodize, and if it's not removed immediately, you will destroy the finish sometimes beyond repair, making replacement the only remedy. In that case, paint will hold up much better than anodize."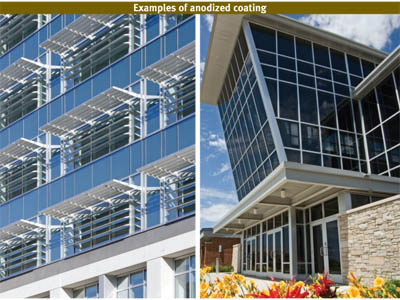 The thickness of the anodized coating has a significant impact on durability. The American Architectural Manufacturers Association, Schaumburg, Ill., classifies anodizing in two sections. Class I includes high performance anodic finishes used in exterior applications receiving periodic maintenance such as curtain walls, storefronts and commercial windows. Class I finishes have a minimum coating thickness of 0.7 mil or 18 microns. Class II includes commercial anodic coatings used in interior or exterior applications that receive regularly scheduled cleaning and maintenance. Class II has a minimum coating thickness of 0.4 mil or 10 microns.

The location of the coated materials also effects durability. "If they [architects] want something that needs a lot of wear hardness, but they want a certain look and color, they may pick powder coating," Joswiak says. "Powder coating is typically hard, but not nearly as hard as anodizing, and offers good color selection. But if you have a lot of abrasive conditions, anodizing will last longer than paint."
The environment
Environmental issues play a role in construction and materials specifications. "Paint in general is a hazardous waste, and environmental regulations continue to increase the requirements applicators must address," says Brent Slaton, national sales coordinator for Keymark Corp., Fonda, N.Y. Environmentally hazardous fumes called volatile organic compounds, or VOCs, are a byproduct of painting processes. Keymark and other companies address the problem with additional equipment.

"We made a $2 million investment to add an oxidizer to our paint line," Slaton says. "It burns off the VOCs before the air is released into the atmosphere."

Anodizing's impact on the environment isn't as clearly defined. "Anodizing appears to be compatible with today's environmental concerns," McClatchey says. "Though more research needs to be done to determine the total environmental impact of different aluminum finishes, from a finisher's point of view, anodizing does far less damage.
The chemicals from anodizing can be used by municipal wastewater treatment facilities. The aluminum sulfate from anodizing plants' effluent actually improves the solids settling efficiency of some wastewater treatment plants. Anodizing emits no ozone producing solvents, and there are no heavy metals involved in the process."
The price tag
Like most pricing discussions, a cost comparison between anodize and paint coatings ends with an "it depends" answer. "Very typically, anodizing is half the cost of paint," Joswiak says. "There is a differential where anodizing may be 50 cents a square foot, for example, but the entire perimeter of the profile is anodized. Paint may be $2 per square foot, but only half the perimeter of that profile is exposed."  There is an advantage to having the entire part coated versus only the exposed portion, he says.

Although anodizing might have a lower initial cost, Mitchell points out paint has an advantage with upkeep and repairs. "One of the advantages of a paint over anodizing is that paint can be field repaired," Mitchell says. "You can repaint or fix a mullion on an extrusion, glass wall or curtain wall. You can go out with a high quality paint that will repair it to look and weather just like the factory applied finish. Other than replace the part, there's not much you can to do field repair anodize."
Architects' preference
After considering the strengths and weaknesses of painting and anodizing, the architect's final decision might be a matter of personal preference.

"Architects will specify different finishes for different reasons," Slaton says. "For the last three to five years, anodize finish has been the desired choice for architects, but we are starting to see that swing back the other way. Architects are now looking for special colors like silvers and sun storms."

Mitchell says that in many cases, architects are using paint to create a signature look. "They can match the glass, the marble or stone and give it a unique color range from a variety of angles," he says. "That's a big reason an architect may specify paint. Sometimes there are a variety of colors on a building." Mitchell says the architect can use one color for the entry system on the ground level and then use different colors as the building goes up.

Cost, durability and aesthetics influence the decision to use anodized or paint coatings. Both are viable options in many different architectural design scenarios.

Joswiak sees some differences in applications. "At Linetec, we finish almost the same amount in poundage of aluminum for high end architectural paint versus anodizing," Joswiak says. "The difference is that our paints are typically on high-end private buildings and retail store facades where anodize is typically used in mid-range storefronts and more common on institutional buildings like schools and government buildings."
Sources

Andy Joswiak
Vice president of operations
Linetec
Wausau, Wis.
715/846-3708

Brent Slaton
National sales coordinator
Keymark Corp.
Fonda, N.Y.
678/378-2208
bslaton@keymarkcorp.com

Ben Mitchell
Extrusions coating manager
Akzo Nobel
Columbus, Ohio
Ben.Mitchell@cbs.akzonobel.com
614/298-1881

Penn McClatchey
Vice president fabrication
Southern Aluminum Finishing Co.
Atlanta
800/241-7429
pmm@saf.com