Architect's Guide to Glass & Metals | All that Glass Can Do
High performance and as strong as steel
All that Glass Can Do, Glass and Metals 601, is the final installment of Glass Magazine's six-part series "All About Glass and Metal: A Guide to Glazing for Architects and Specifiers." The complete series provides an in-depth look at specification and design for glass and glazing. It begins with "Glass and Metals 101: An Introductory Guide to Glazing for Architects and Specifiers" and in subsequent sections covers topics ranging from specifications to interior glass, protective glazing, glass and the energy codes and more. To access the complete series, visit glass.org/store.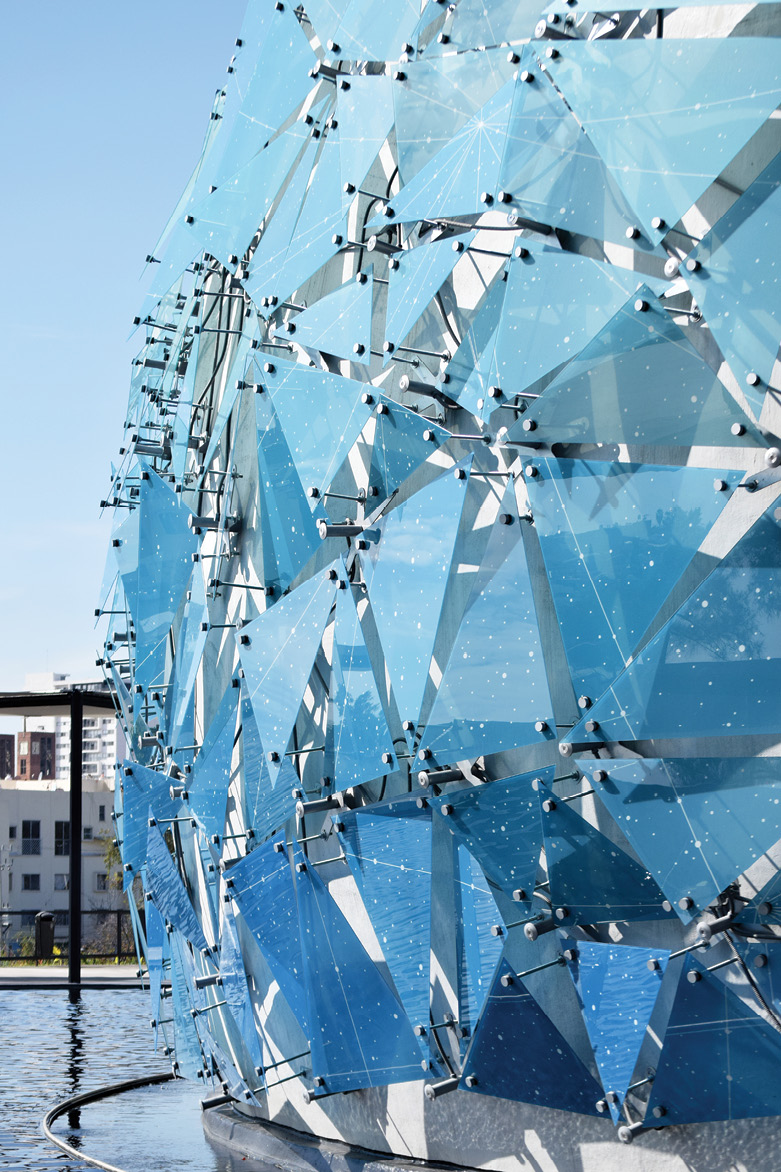 Above: Lunaria Planetarium in Guadalajara, México, features Guardian Glass's extra clear 6-millimeter glass, fabricated by Mexico's Megaglass using Tecglass digital printing. The project features 1,380 different pieces of printed tempered glass, depicting the constellations visible in the city, according to Tecglass officials. Photos courtesy of Tecglass.
There are glasses that achieve the thermal performance of an opaque wall. There are glasses that can hold up a roof without the need for metal supports. There are glasses that can generate electricity, stand up to hurricanes, protect against the spread of disease, prevent intruders from entering a building. In short: "there is a proper glass product to fit any and all applications," according to Urmilla Sowell, technical and advocacy director for the National Glass Association.
"Glass is the only building product as strong as steel, that can withstand hurricane winds and that keeps you safe and comfortable," said Sowell, speaking during the webinar panel, "There's a Glass for That," organized by the NGA and Architectural Record. The panel took place in fall 2020 and hosted Sowell and three other experts in glass and architecture, discussing the capabilities of glass and how the glass industry and design community are redefining what's possible with the material. 
"Glass doesn't corrode, it doesn't age, it is infinitely recyclable and incredibly strong," said panelist Sophie Pennetier, associate director of Enclos.  
"Why glass? It allows you to do more than just a single job," added Kai-Uwe Bergmann, partner at BIG. "Its transparency properties let you look out. It has the potential to provide structural solutions, taking some of the weight of the building into the façade. With colored glass you can create and make moods, atmospheres." 
"All that Glass Can Do" takes a deep dive into the energy performance capabilities of glass, spotlights a range of emerging glass technologies, and outlines the scope of design capabilities available with glass. It is based on discussions from the "There's a Glass for That" panel, and the NGA-hosted webinars "Glass Can't Do That, Can It?" and "Glass Options for a Healthy Environment." 
 

These webinars and more are available for on-demand viewing and CEU credit through glass.org.
Building sector quick facts
Source: U.S. Department of Energy
76%
 Of total U.S. electricity consumption
40%
Of total U.S. emissions 
55%
Total electricity use for HVAC and lighting in commercial buildings
High Performance
This guide on All That Glass Can Do begins with a closer look at thermal and energy performance. When it comes to glass, the top demand from owners and designers are systems that allow projects to feature large expanses of glass while meeting energy code requirements. 
Energy code requirements
The national energy codes are becoming more stringent, cycle after cycle, according to Tom Culp, owner of Birch Point Consulting and energy code consultant for the NGA. Culp describes it as a rough "zone shift" in each updated edition. "Every three years, in our normal work at ASHRAE, IECC, California Title 24, we see steady advancement and uptake in energy-efficient technologies while also being practical and cost-effective," he says. 
In addition to the national codes, the building industry is seeing more aggressive jumps in energy requirements in local and state codes. More rigorous performance targets are also being set by programs such as Architecture 2030.  
"The market is driving us to build office buildings with floor-to-ceiling glass. We want well-lit spaces," says Robert Garlipp, technical designer and senior associate at Gensler's Los Angeles office. To meet performance requirements in glass-clad spaces, "We have to use all the technology we have available and build really smart buildings with a really small footprint," he says. 
Glazing solutions
The glass industry offers a wide range of options to meet the toughest of requirements. Project teams can look to improved glass units—low-emissivity insulating, with, for example, argon-fill, warm-edge spacers, fourth surface low-E and more, says Culp. Improved framing with high performance thermal breaks can be used to meet the full-window system performance targets. Multi-cavity insulating glass units or emerging products, such as vacuum insulating glass, achieve even higher thermal insulation values. 
For daylighting control, the glass and glazing industry offers static solutions (for example, frits on the glass or sunshades) and dynamic solutions (electrochromics, or automated blinds and shades). Dynamic shading devices can be automatically controlled to ensure systems perform optimally, says Stephen Selkowitz, retired senior advisor for building science and former group leader of the Windows and Envelope Materials Group in the Building Technology and Urban Systems Division at Lawrence Berkeley National Laboratory.
Energy-generating products are also possible, with building integrated photovoltaics. 
Using the right high-performance products and technologies is only half the battle, according to façade experts. "If it's going to work, it has to work as an integrated system, based on what people need, what the building needs, what the grid needs," says Selkowitz. 
Additionally, the systems must be tuned for the building's orientation. "One of our main concerns is always solar orientation," says BIG's Bergmann. "We're looking at a building not only with four façades, but also the roof. We start by looking at the specifications of glass, the transparencies, properties."
Garlipp agrees. "We do a lot of variation on the façade, depending on the orientation. We use shading devices, different glass types. We work to respond to the environment and the needs for user comfort," he says. 
It is possible to design a glass/façade system that will outperform an insulated opaque wall. However, it comes with challenges, Selkowitz says. "We have to design it, build it, make it operate, and it may cost more. And we need to do it at scale, not just as a one-off," he says.
High Performance Projects
Technical resources from NGA 


The National Glass Association offers nearly 90 in-depth glass technical papers and Glass Informational Bulletins, written and developed by industry experts for architects and specifiers, fabricators, glaziers, suppliers and manufacturers, and others involved in glazing and glass building products. 
 

Many of these papers are available to download free of charge, including glass technical papers that address topics in this guide.


Available to Download

Products for Energy Performance

NGA Task Group Member companies:

3M
Fenzi North America
Helima Helvetion International
Technoform
Viracon
Vitro Architectural Glass

Vacuum Insulating Glazing, an Introduction

NGA Task Group Member companies:

AGC Glass Company
NSG Pilkington
VIG Technologies LLC
Viracon
Vitro Architectural Glass

NGA Task Group Member companies: 

3M (chair)
Eastman Chemical Co.
Kuraray America
Manko Windows
McGrory Glass
Midwest Glass Fabricators 
Oldcastle BuildingEnvelope
SWM International 
Technical Glass Products
Tristar Glass
Trulite Glass and Aluminum Solutions
Viracon

Find these and more NGA Glass Technical Papers at glass.org/store. Click Browse, then search keywords or sort by type, or see all available technical papers by topic.

Access complete AIA continuing education resources at glass.org.