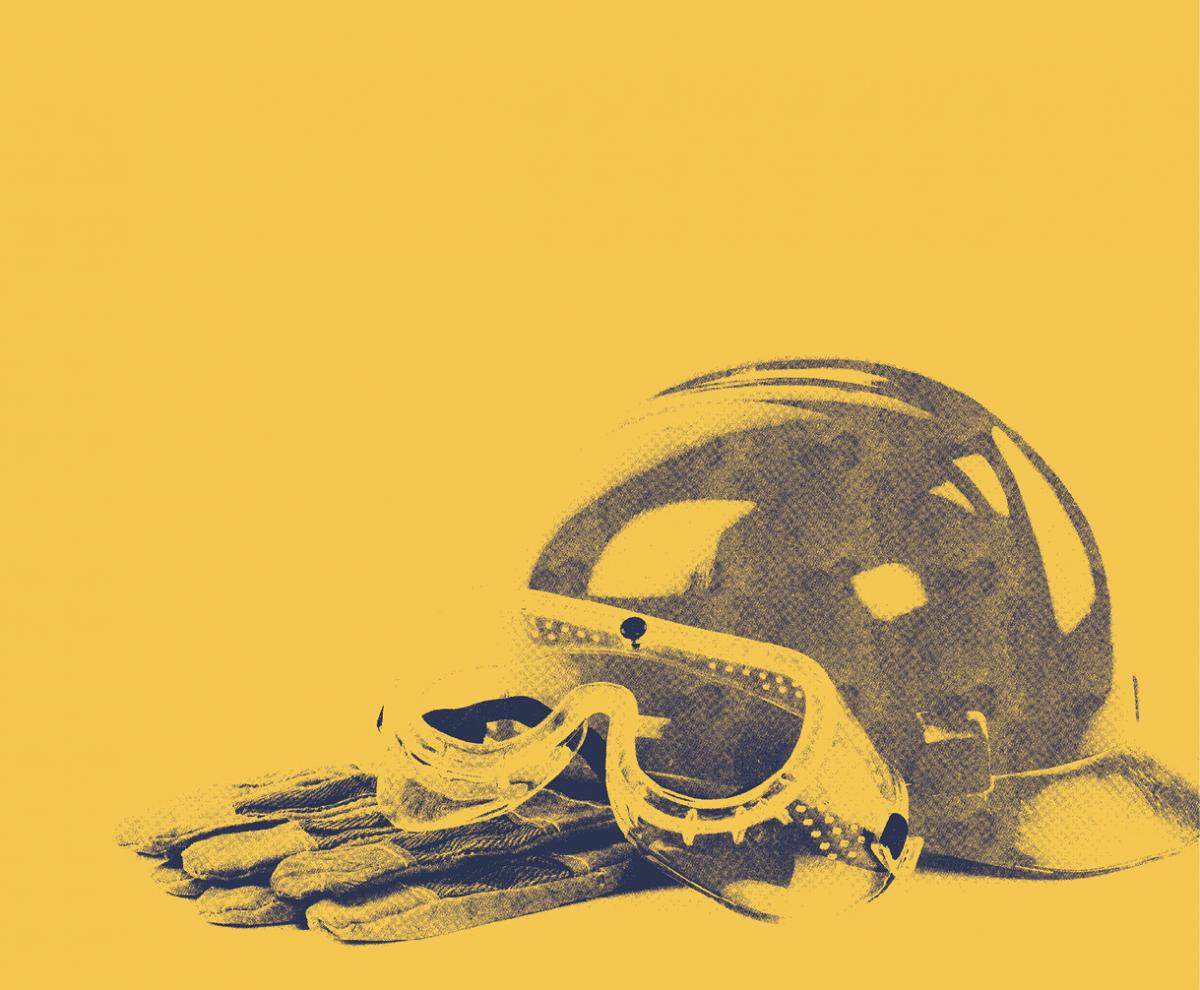 From slips and falls to cuts and breaks, accidents and injuries in the glass and glazing industry run the gamut. It's a common assumption that getting hurt on the job in this industry is inevitable, but that can't be further from the truth. While dangers will always exist, being aware of those dangers and how to properly respond not only increases the overall safety of your crew, but can also help your bottom line. 
No one wants to be hurt on the job, and no employer wants to see their people hurt. Medical bills and missing work are just the tip of the extent damages can run to all parties involved in an on-the-job injury; simply put, they are a headache for everyone. That's why a safety training program is vital to the success of your business. 
Implementing a safety training program may seem like a daunting task, but rest assured it isn't. There are only two foundational concepts:
Cover your basics.
It's important to cover at minimum the basics of safety in the glass and glazing industry. This includes proper clothing to wear in the shop and at the jobsite, what protective gear to wear and when, the correct handling, carrying, and storing procedures for all materials, and training on equipment. 
Keep on training.
Innovation never stops. Therefore, training never stops. The glass and glazing industry is constantly evolving, which means safety procedures must evolve as well. Covering the basics is crucial in any training program, especially safety programs, but continuing education is what reinforces those concepts and their importance.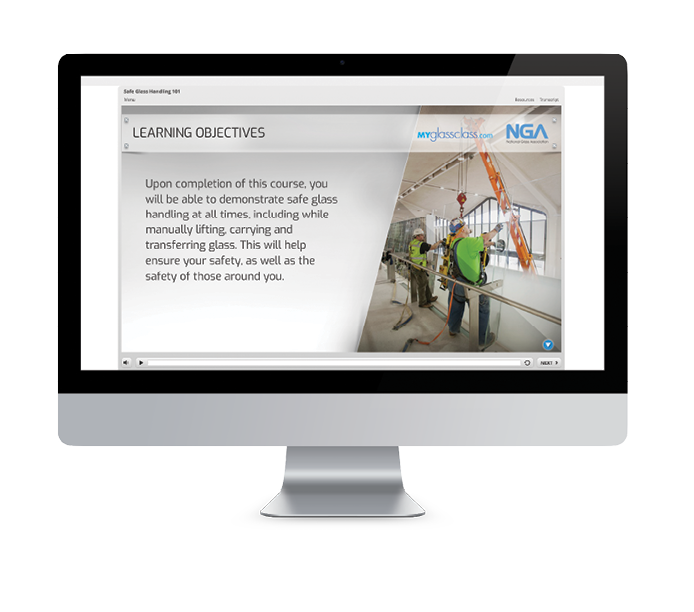 A slide from the Safe Glass Handling 101 course from MyGlassClass.com. 
Train all employees
Most plant managers and owners understand the importance of training new workers. However, reinforcing safety procedures is equally important among veteran employees. 
Experienced employees can become complacent, says glass industry safety expert Mike Burk. Some might begin to take risks on the factory floor, with shortcuts and workarounds in glass handling and fabrication. Employees may modify personal protective equipment for comfort. 
Burk serves as North American technical representative for Sparklike and chair of the Glass Safety Awareness Council for the Insulating Glass Manufacturers Alliance. During the 2018 IGMA IG Fabricators Workshop, Burk presented critical safety considerations for new entrants into the industry and industry veterans with decades of experience.
Speak up about unsafe conditions.
"It can be difficult to tell your friends, or even someone like your boss, if you see something unsafe. But you've got to say something before someone gets hurt," Burk says.
Use a weight chart before lifting.
Glass plant employees should always check a weight chart before lifting any unit. A weight chart estimates the weight of various glass types—whether single-, double- or even triple-glazed units.
Use available tools and equipment.
Too often, plant employees will neglect to use available equipment, such as mechanical lifters or straps on glass racks. "I hear people say that they're too busy; they don't have time," says Burk. "You have to take the time."
Review storage.
Stocked product can become a key danger, Burk says. "How much stuff do you have stored around your plant that hasn't been touched in a month; in six months? This takes up space and gets in the way. It can become a safety issue."
PPE: Train for it, use it and don't modify it.
Anytime an employee is handling glass, they should be wearing appropriate personal protective equipment. "Too often, I see guys without PPE. Or, I see modified PPE—gloves cut because a worker said it was too hot, wrist guards worn incorrectly so a watch could be seen through the hole," Burk says.
Recognize the limits of PPE.
"Sometimes guys are wearing all PPE, and they begin to think they're invincible. PPE doesn't make you Superman," Burk says.
Don't alter equipment.
"If a machine isn't working right, don't get a stick and try to fix it, get a maintenance guy," Burk says. Workers may be tempted to utilize workarounds if a problem occurs. They may use makeshift tools to stick into equipment to try to fix a problem, Burk says. "This is when things can go wrong," he says.
Train from inside and out
An in-house safety program is essential to creating a safe workplace. Instituting procedures such as regular safety meetings, discussions of near misses and PPE checks provide constant reminders of the importance of safety among employees. 
Managers and owners should also consider outside resources for training. The National Glass Association, for example, developed a suite of safety courses in its online learning platform, MyGlassClass.com. It offers a variety of courses immediately available that can be integrated into a company's safety program. 
Safe Glass Handling 101
Glass, when not handled properly, can break, and broken glass can cause an assortment of injuries resulting in a variety of health issues. To help prevent these injuries and ensure the safety of everyone, this course demonstrates safe glass handling practices for manually lifting, carrying, and transferring glass both alone and with another person. 
PPE for Working with Flat Glass
Personal protective equipment does exactly that: it helps protect a worker against health or safety risks while on the job. This course covers everything learners need to know in order to comply with ASTM and OSHA standards for donning, wearing, removing and maintaining personal protective equipment specific to employees in the glass industry. 
Best Practices for Removing Broken Glass 
Removing and handling broken glass are common tasks performed by glaziers that require specific practices and precautions in order to remain safe. This course walks through the basics of removing broken glass, safety precautions to take throughout the process, and some special considerations to keep in mind. 
Powered Industrial Trucks 
According to the U.S. Bureau of Labor Statistics, powered industrial trucks are involved in more than 65,000 accidents, 34,000 injuries and dozens of fatalities annually. This three-part training program surveys the current OSHA regulations related to pre-operation procedures, including safety, pre-use inspections, general maintenance, handling loads and more. 
Fall Protection 
Per OSHA, falls are among the most common causes of serious work-related injuries and deaths. This course, provided in partnership with UL PureSafety, discusses the types of fall protection available and when they are required, what employers must do to protect employees from fall hazards at work, and what kinds of fall protection can be used for different job tasks. 
Warehouse Safety 
Managing a warehouse with a safety-first mindset helps protect the health and lives of employees. This course, provided in partnership with UL PureSafety, examines safe material handling procedures, vehicle and equipment protocols, emergency prevention and preparation steps, and routines that can be used to maintain a safe warehouse. 
Struck-by, Caught Between: Staying Out of the Line of Fire Safety 
Injuries in the workplace that involve being struck by or caught between objects and vehicles are common and can be fatal. This course, provided in partnership with UL PureSafety, goes over the various high-risk areas where a person can be struck by or caught between material or equipment, and how to avoid these types of injuries.