Curtain wall problems
Tips on fabrication, construction and testing
Third in a series
Glass-and-metal curtain walls can provide an attractive, durable and cost-effective cladding solution, but in many buildings, they are plagued with problems ranging from air and water leakage to falling trim covers. The first two articles in this series—on Page 82 of April Glass Magazine and Page 60 of May—discussed some of the common curtain wall design problems that afflict owners, architects and developers. This article focuses on fabrication and construction, as well as items relating to laboratory and field testing.

Construction
Quality construction team and quality assurance/quality control: The best design will fail if not properly implemented. Experienced project managers, foremen, factory personnel, glaziers, ironworkers, crane operators and similar professionals are needed for a successful project, regardless of the type of curtain wall and installation method. Even with highly qualified contractors and sub- contractors, factory and field quality assurance and quality control are often not sufficiently planned or implemented.  

Assemble a qualified team: Project executives should review the credentials of the people who will perform the work, including those constructing the modules in the factory and those erecting the wall at the site. Experience shows that the factory and field foremen are some of the most critical members of the contractor's workforce, if not the single most critical members. The speed of curtain wall erection makes prompt, sound decision-making by the contractors' and architect's field teams crucial to the performance of the building.

The prime responsibility for QA/QC of curtain walls lies with the fabricators and contractors. It is important that designers and owners require demonstrated proof of QA/QC measures. Require the curtain wall manufacturer and installer to each develop QA/QC manuals to help standardize and streamline the quality control process. These manuals should include checklists of quality control and inspection points to be reviewed for every assembly fabricated and installed.

To be effective, each prefabricated assembly should be given an identification number and its own individual QA/QC checklist. These checklists should be reviewed by the architect or his/her representative during factory visits and discussed with the manufacturer's designated QC manager. Copies of the QA/QC checklists should be submitted as part of the project record. In the field, the QA/QC checklist should include similar points for review and should note each panel's final resting place, or its unique address, on the building. Not only will this help with the establishment of reviewable procedures, but it will force the manufacturer and the panel erector to implement and maintain rigorous self-inspection practices.

We recommend periodic factory visits by a qualified curtain-wall consultant engaged by the owner or architect for any modular curtain wall project and for stick-built projects where significant assembly is performed in the shop. While field visits by architects and engineers are not uncommon in the industry, factory visits are not performed on many projects. We find that factory visits by a qualified professional can help identify problems before substantial areas of curtain wall are manufactured and installed, before considerable reconstruction becomes the only feasible fix.

Ask a manufacturer for its quality control manual for fabrication procedures for a specific curtain wall system, and you might be met with a blank stare. Experience shows that many manufacturers and subcontractors have poorly managed and often ineffective or non-existent quality control procedures. Rarely have we encountered designated quality control personnel whose sole responsibility is to ensure that all aspects of the required design are implemented. "Fly by" and "hit-or-miss" quality control procedures seem to be more the norm than the exception.

Careless erection techniques
To take care during erection of the curtain wall is the most obvious caution. It is also one of the rules most often broken. We have investigated curtain walls with damaged stone, glass, aluminum, metal panels, gaskets and other materials caused by reckless transportation and placement of framing and panels during erection. Curtain-wall modules are often large, heavy and awkward and require careful planning and implementation of protective crating, handling, transportation and erection. It is critical to have experienced curtain wall installers perform the installation, not just members of the "right trade," for example glaziers or iron workers. Require installers with at least five years experience in successful curtain-wall installation to comprise the key or lead positions in the erection crew.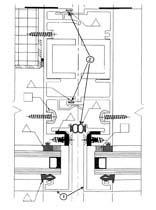 Attempts to make up lost time from construction delays can result in damage to curtain wall components as crews rush to meet unrealistic production targets. A prudent owner and architect should provide additional field visits to monitor installation when the project schedule goes south. Meeting the target substantial completion date means little if the result is a punch list of damaged items that requires months to complete.   

Misalignment
Misalignment of adjacent curtain wall elements can have serious consequences. Such misalignment is often due to errors in laying out the structural framing systems, but might also result from lack of coordination of building structure tolerances and curtain wall tolerances, or improper layout of imbeds to receive curtain wall anchors. In the case of coordinating construction tolerances, if the construction tolerance for the structural frame is +/- 1 inch over the height of the building and the tolerance for the curtain wall is +/- 1⁄4 inch over that same height, it is the curtain wall that will need to be adjusted to conform to the looser tolerance of the structural framing. What often results is a combination of cutting aluminum, racking modules, and other fudging, or techniques that can result in a variety of problems. Such misalignment can be particularly disruptive for unitized systems that are likely to have improper or ineffective gasket engagement between modules and/or bottoming out of individual module frames, rather than the intended "floating" between frames. Loss of engagement of the blind gaskets within the interlocking horizontal and vertical mullions at the perimeter of unitized panels can create direct paths for air and water to infiltrate the building. Repair of these hidden gasket conditions is often not feasible as they are not accessible after the surrounding curtain wall modules are installed (see figure on previous page). Misalignment problems encountered during erection of stick-built systems can result in a change in the required glass size, or worse, a reduction in the glass bite; the overlap the aluminum framing has on the glass.

Misaligned curtain wall elements can result in an unacceptable appearance of the façade (see photo right). Even if misalignments are not visible from the ground, they might be visible from terrace roofs or the building interior at inside corners. 

Proper alignment requires field measurements by the curtain wall subcontractor, careful placement of curtain wall anchor assemblies, and coordination between the general contractor, curtain wall subcontractor and the ironworkers installing the structural steel. Layout of embeds in structural slabs, particularly post tensioned slabs, might require the development of special anchor conditions to avoid interference with the slab pull points and tendons. This coordination must take place in the early planning stages of construction and should not be left to the field technician. A laser level survey of the building structure before the start of curtain wall erection will help to determine what alignment problems are likely to occur and might help the design team to develop corrective action before the curtain wall is set on the building. Similarly, a level survey of the curtain wall components during erection can help to ensure proper alignment, though this is not standard practice.

Performance testing
Curtain wall mock-ups are critical for identifying systemic problems related to both design and construction. These tests help focus everyone's attention on the weak points of the system. A pre-construction mock-up in a testing facility, followed by a field mock-up during the early stages of construction, often help to identify fit-up and erection problems, as well as other unforeseen problems.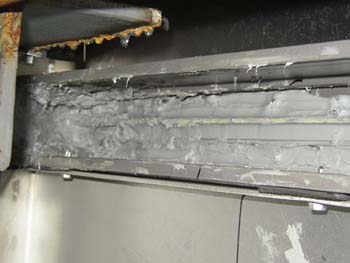 All failed mock-ups should result in stoppage of work, redesign if needed, and successful retesting. Though application of ad hoc sealants is the quickest and easiest repair, such repairs are rarely reliable over the long term. The Photo below shows an example of the entire backside of horizontal mullion that was covered in sealant after a failed water test. Not only is such a haphazard repair unreliable, it is not reasonable to expect that the workers will take the time to carefully apply large volumes of caulking to each mullion to replicate such a repair at each and every similar wall condition. The few thousand dollars spent to rework/redesign a problematic condition during preconstruction will pay for itself many times over if it prevents problems that have to be addressed after the work is complete and the building is occupied.

While mock-ups are necessary to work out constructibility and performance issues, they are not sufficient by themselves to ensure reliable long-term performance of a curtain wall system. Careful design, factory and field quality control, and periodic field testing during construction also are required to help ensure curtain wall performance. Consider mock-ups a tool to aid in the understanding of the potential problems that might be encountered with a system that is based on good engineering principles. Failures during mock-up tests can draw attention to workmanship concerns and inadequate quality control procedures; while mock-up failures do not necessarily require redesign of curtain wall details, they always provide some sort of important information that can be used to improve the overall project. We have never participated in a mock-up testing procedure that has not proved useful for the design and construction teams.

Summary
With all of the potential problems that designers find on most projects, it's becoming increasingly necessary to get curtain wall consultants to help identify performance issues and assess the risks that unusual designs might present. While many curtain wall consultants are active in industry and remain on the forefront of technology in this ever changing field, most do not have a history of forensic experience. Curtain wall consultants actively engaged in the business of performing forensic evaluations of aging and failed curtain walls are better equipped to consult on the merits of past successes and failures, while helping to manage owner expectations for the more unusual curtain wall designs.