The Future of Metal Systems
New Developments in Aesthetics, Performance and Design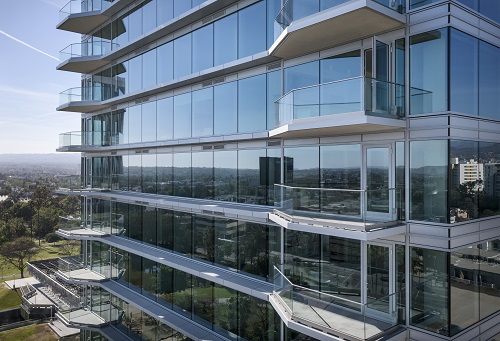 The glass industry is reaching new heights—literally—with modern doors and entrance systems being specified at 11 to 13 feet tall.
What brings these structures to life? New metal systems. The industry has been called on to produce innovative products that meet changing needs—almost in real time—in partnership with architects and glaziers.
Whether it's part of a new build or a thoughtful retrofit, we're seeing a few common themes in the metal systems of today: aesthetic variety, unitized and thermally broken solutions, and wellness-centered design.
Aesthetic variety and customization opportunities
To the eye, the beauty of hardware is in the finish; after all, it's what building occupants see and feel on a daily basis. It's also what makes product design exciting. Whether it's meeting a contemporary theme in a retrofit complex using matte black panic handles or updating an office with stainless steel freestanding glass partitions, the design flexibility of metal systems is limitless. The industry is seeing that more and more with custom requests that create unique visuals.
Unitization
Unitized systems—sometimes called prefabricated systems—will be in demand for years to come. Unitized systems are manufactured in a plant and can help combat the shortage of skilled labor, as well as speed up project completion times. Because unitized systems are assembled in a controlled factory environment, a consistent quality and aesthetic can be achieved.
For example, unitized glass railing systems only require setting pre-glazed railing panels into core-drilled holes and then attaching the top rail to the glass. Prefabrication is an ideal solution for saving time and money on the jobsite while achieving a consistent and beautiful install.
Thermal performance
Thermally broken fenestration systems have also been on the rise this year because they meet important, nationwide building codes for energy efficiency, including California Title 24.
Thermally broken systems are essentially the new standard. Storefronts, entrance systems, doors and windows all create opportunities for warm or cool air to escape. Systems designed with these thermal concerns in mind help maintain comfortable interior temperatures, reducing cooling and heating loads, thus improving energy efficiency. This saves building owners money in the long run while creating a more sustainable building.  
Wellness-centered design
Commercial design continues to imitate residential design in that more spaces have a warm and welcoming feel. Rooftop terraces and indoor/outdoor dining spaces take shape in both retrofits and new builds as fresh air and expansive views are now more than a luxury—a need.

These environments call for myriad metal systems: oversized sliding and bi-folding doors, windscreens, railings and narrow-frame windows. Glass is the perfect, transparent building material to create seamless transitions from interior to exterior spaces without obstructing striking views.
Furthermore, the industry is exploring antibacterial metals for pull handles, sliders and more where hand operation is required to open and close fenestration systems.
Between new design trends, updates to building codes, and a world with ever-changing needs, the only constant in glazing is that there is no constant. And that's something the industry is excited to address, as it calls for more innovations in metal systems.