Getting the Most Out of GlassBuild America
The industry show returns to an in-person event Sept. 13-15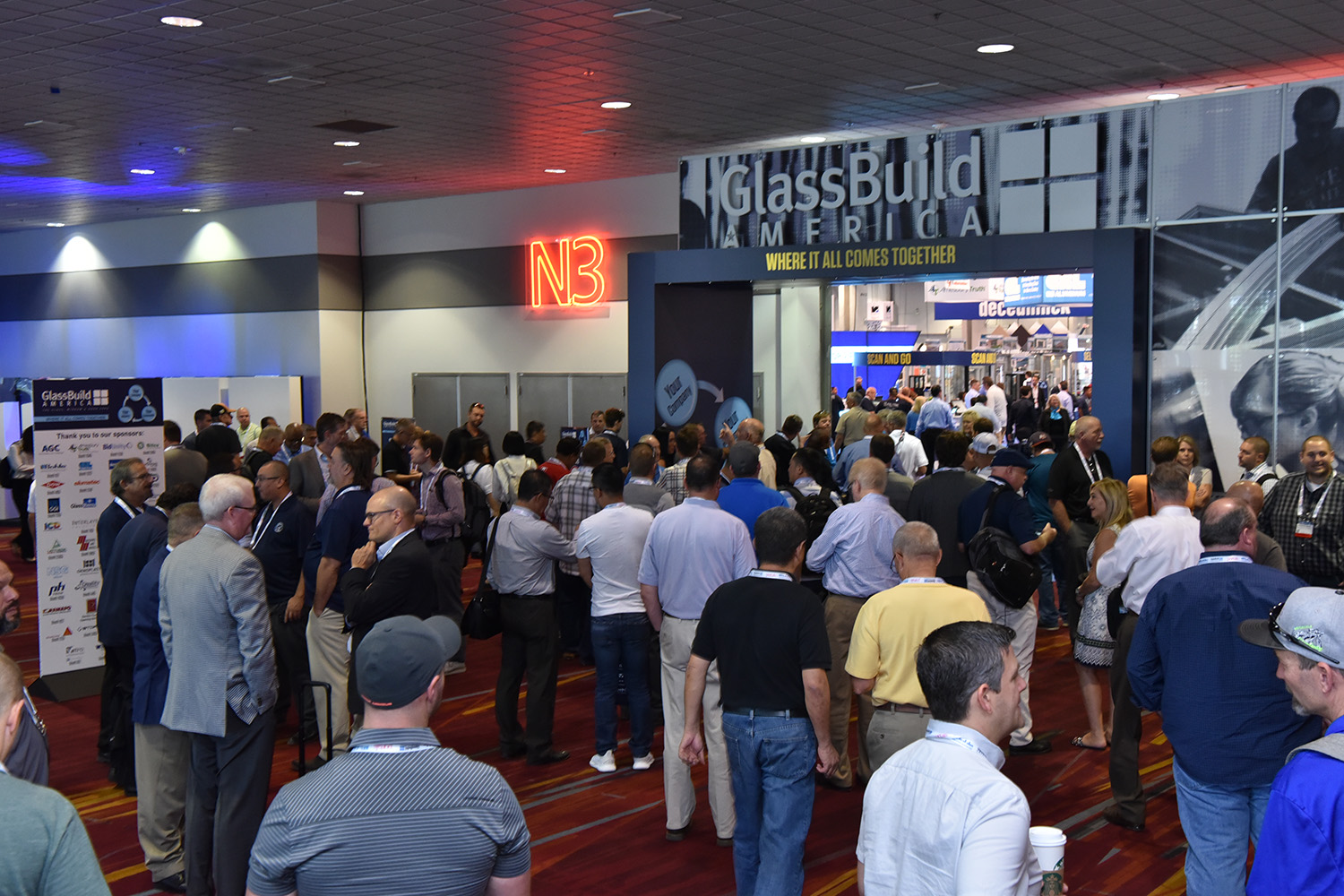 The GlassBuild America showfloor in 2018.
After a long and challenging year, GlassBuild America returns to an in-person event in 2021, running Sept. 13-15 at the Georgia World Congress Center in Atlanta. 
Gwynn Breckenridge, tradeshow logistics consultant for the National Glass Association, offers show exhibitors some how-tos on having a successful show, from marketing to lead retrieval. 
Market Yourself
There are several ways to market yourself as an exhibitor throughout GlassBuild America.
Exhibitor profile
Make sure to keep your GlassBuild America exhibitor profile current and updated with the correct categories of the products you offer. This allows attendees to find your products and services more easily. Include your company logo in the profile to promote brand recognition. Letting people know who you are is important when attendees start to flag exhibitors they want to meet over the three days of the show.
Products
Companies that have products they want to showcase can do so as part of the GlassBuild America product listings, which are posted on the event's website before and during the event, and for a month post-event. The National Glass Association will highlight companies with new products in a mass email to all attendees and/or NGA membership. If the product is not debuting at GlassBuild, but later in the year, companies could be eligible for advertising options.
Companies debuting a new product at the show will also be flagged in the show catalog and with signage at the site. Exhibitors can also contribute product videos, which will be displayed on a monitor in the lounge areas, showcasing company offerings.
Social media
Exhibiting companies should also include GlassBuild social media accounts in their marketing plans. Show management created a comprehensive social media kit for exhibitors, which will help in getting attention before the show, and onsite.
Mass emails and company sites
Include the GlassBuild exhibitor logo, accessible through the exhibitor portal, in your company's email signatures, and include a link to GlassBuild.com on your own website. Advertise your participation in the show on your company's website, telling potential customers and leads the dates and location, including your booth number, and announcing any discounts available to attendees.
Companies planning promotional emails to invite their customers can find a template letter (accessible when they register) that they can then forward to as a custom invitation to clients with a free promotional code as well.
Sponsorships
There are many kinds of sponsorships available for GlassBuild America. Breckenridge recommends coordinating with show management to take advantage of the opportunities that make the most sense for your business.
"Selecting a sponsorship opportunity that best matches their marketing goals whether it is branding an escalator or hosting a coffee break at their bar, is the best way to stand out in the crowd. NGA can design something that meets their needs and budget. Offer something unique like a discount for those attending GlassBuild or hand out some sort of item to get your brand name out there (a fun sticker or ribbon, or hosting a photo booth) to increase traffic to their booth."
She continues, "There are sponsorships available that include the company's name and logo that attendees will see several times a day and it doesn't cost a lot of money."
Build Relationships
Getting leads, making connections, and following up with established contacts is central to trade shows. Here's a few suggestions for maximizing new and old relationships.
Make appointments in advance
Attendees can make appointments in advance of the show, directly with the exhibitors they want to visit. Find exhibitor contact information on the exhibitor list on GlassBuild.com. Take advantage of the meeting rooms that will be offered for free on the show floor. Regular meeting rooms are also available in the Georgia World Congress Center for free.
Make your booth attractive
The best way of drawing people to your booth is to make it interactive in some way. Host a booth event, such as a happy hour or product demo. Select someone to be the booth greeter, so passers-by have a positive experience from the start. Be hands-on and engaging with the audience.
Lead retrieval
Know who's going to be at GlassBuild before you go. Exhibitors can reference the show's demographic data from 2019 attendees, broken down by market segment. Getting a sense of who could be at the show can help you:
Send the right sales people

Select the right products to showcase and

Invite the right guests/customers to attend for free, if your company is interested in including more people from demographic segments with lower numbers.
Socialize
Of course, much of the business of the day is conducted off the show floor. Organize a dinner or happy hour for potential clients and invite people to those events as they stop by the booth.