GlassBuild 2022
See everything in glass, Oct. 18-20 in Las Vegas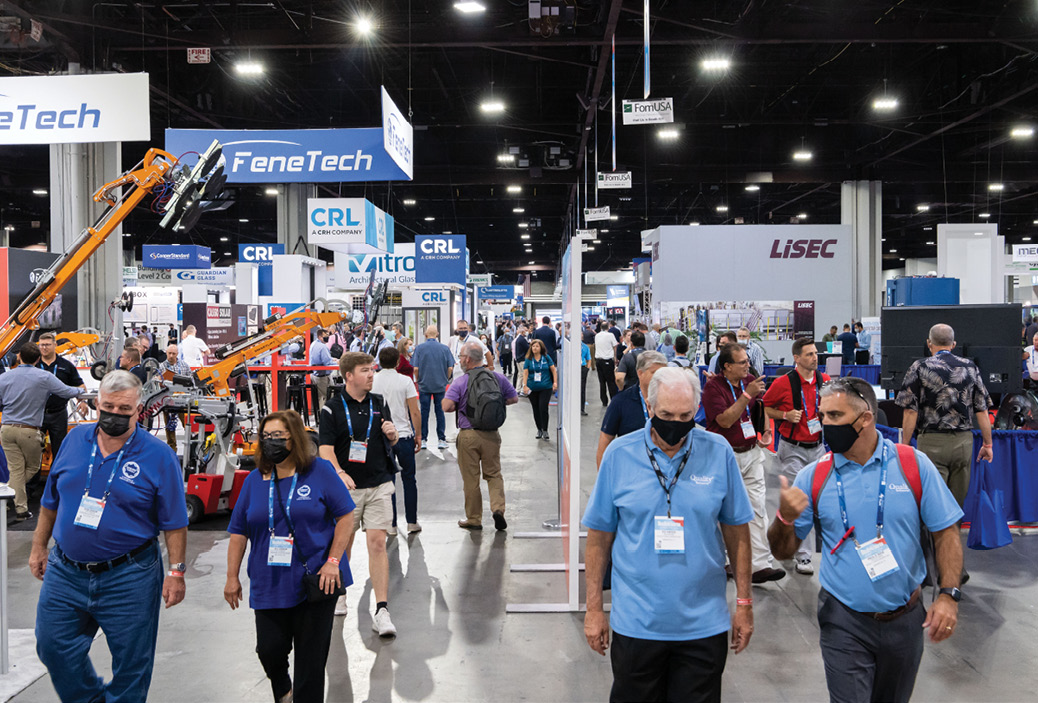 "See Everything." That's the theme of 2022 GlassBuild America: The Glass, Window & Door Expo, taking place Oct. 18-20 at the Las Vegas Convention Center. According to organizers from the National Glass Association, the tradeshow will be the largest industry gathering in North America, where representatives from all segments of the glass and fenestration industries can see new product and equipment solutions, interact with customers and suppliers, participate in continuing education new learning opportunities, and more. 
"The number one reason individuals attend is to see the exhibitors and their products, but we also often hear they would like more education and more casual networking," says Molly Grenn, NGA event director. "Coming up in Las Vegas, we will be delivering both."
GlassBuild 2022 will feature more than 400 exhibitors over a 155,000-square-foot show floor. The show will include more than 90 international exhibitors representing over 20 countries. Additionally, more than 60 first-time exhibitors have signed on for the show.
The GlassBuild Product Showcase includes trend information and new product announcements for fabrication machinery, handling and transportation equipment, software, glass and component products, glazing systems, hardware and more. 
"We make all our purchasing decisions based on our visit to GlassBuild. It's a one-stop shop."

—Bill Sullivan, president and CEO, Brin Glass Co.
Investments and trends
"Attending GlassBuild is [a] way to keep our finger on the pulse of the industry," says Jennifer Walrich, product manager at Magid Glove and Safety. Attendees to the show can see new product innovations and equipment solutions firsthand and have much-needed in-person interactions with their suppliers and customers. 
"I look forward to having face-to-face meetings with partners I have only spoken to on the phone yet never met in person and learning about new products and services," says Syndi Sim, vice president, marketing and business development, Diamon-Fusion International Inc. "This year more than others, I look forward to spending time with industry colleagues—having an open dialogue about the challenges we are facing now and in 2023."
Attendees say GlassBuild will be the venue for making investment decisions for their companies. "We make all our purchasing decisions based on our visit to GlassBuild. It's a one-stop shop," says Bill Sullivan, president and CEO, Brin Glass Co. "We can plan for our future and our current purchases." 
Additionally, the show helps glass companies prepare for trends and opportunities to come. "GlassBuild is a time to get together and compare notes with other industry partners to see their vision for the future of our industry," says Morgan Donohue, president, Erdman. 
"We need to continue coming together with solutions. Bringing all facets of the industry together is vital during challenging times."

—Syndi Sim, vice president, marketing and business development, Diamon-Fusion International Inc. 
Facing challenges together
The industry returns to GlassBuild following a year of uncertainty and challenges. Companies continue to struggle to find labor, while tackling inflation and supply chain issues. The best way to try to tackle those challenges, according to attendees and exhibitors, is by coming together.
At GlassBuild, attendees can meet face-to-face with suppliers and customers, network and share solutions with peers, hear important market updates and forecasts from experts, learn about new technologies to ease top challenges, and more. 
"Undoubtedly, the industry is facing some significant challenges," says Sim. "We need to continue coming together with solutions. Bringing all facets of the industry together is vital during challenging times. Additionally, attending NGA events is crucial to stay updated on regulations, industry standards and changes in the economic environment."
Tim Nass, vice president of national sales, Safti First, adds: "What we are seeing now is really unique, and hopefully a temporary economic phenomenon. But supply chain disruptions and pricing volatility has been a real issue. The key is communicating with the stakeholders so they understand the issue in real time."
Education and networking

Attendees can find additional tools to tackle the industry's top challenges at a series of education and networking events during GlassBuild.  
 

Glazing Executives Forum

The popular Glazing Executives Forum returns for its 16th installment at GlassBuild. "The Glazing Executives Forum gives glazing company leaders the chance to brainstorm business solutions with peers and industry experts, an opportunity that is especially important in a market challenged by supply chain issues, pricing fluctuations and staffing shortages," says Jenni Chase, NGA director of education & training. 


"Our number one [reason for attending GlassBuild] is attending the Glazing Executives Forum," says Brin Glass' Sullivan. "Listening to the keynote speakers, the ITR economic presentation, connecting and re-connecting with my peers in the industry is very valuable."


The event will take place Oct. 18 from 8 a.m.-5 p.m. in the Las Vegas Convention Center Rooms. Separate registration is required to attend the Glazing Executives Forum. 
 

GlassBuild Main Stage

New at this year's show is the GlassBuild Main Stage, where all attendees have an opportunity to access quick-hitting, need-to-know industry forecast and trend information. Topics will include everything from a technical and codes update to the construction economic forecast, and fabrication best practices to information on curtain wall design and testing. The Main Stage, located in booth #10206, will also host the announcement and presentation of the 2022 Glass Magazine Awards. 
 

Tailgate Party

Brand-new for 2022, attendees and exhibitors can participate in the GlassBuild Tailgate Party, Thursday, Oct. 20, from 12-2 p.m. 


"The show will close this year with the GlassBuild Tailgate Party to give attendees a chance to unwind with their industry friends with music, games, food trucks, beverages, and a grill throwdown among industry members," says Grenn. "It's going to be a great time."


Registration is $10 per person, with ticket proceeds going to the NGA Foundation to support glass and glazing industry educational programming. The Tailgate Party is sponsored by CRL and is open to all registrants of GlassBuild and the Glazing Executives Forum.  
 

Visit GlassBuild.com for the latest updates
Return to normal
Exhibitors say GlassBuild America 2022 will continue the industry's return to more normal operations since the start of the pandemic. The show was cancelled in 2020 and returned in person in 2021, but welcomed fewer attendees and international exhibitors due to travel challenges and continued pandemic concerns. 
"This is the first GlassBuild back in Las Vegas, and the first show in what might be considered normal times," says Barry Wood, vice president, marketing and commercial development, Woods Powr-Grip. "Last year, in Atlanta, there were still a lot of people who were hesitant to travel and be in crowded places. It was also really hard to travel internationally. So, there were very few representatives from overseas. At this point, I have already set up a dinner with a distributor who will be flying to the U.S. for the show."
Ann Greco, strategic marketing director, Salem Fabrication Technologies Group Inc., adds that in-person events were missed during the height of pandemic closures. "In-person events are better than the virtual online events we've had to make do with over these past couple of years," she says. "The networking, customer relationship-building, search for new suppliers, and industry educational opportunities cannot be matched virtually."
Industry  Investment

The glass industry's innovation trend was made clear in the 2022 editions of Glass Magazine's premiere market surveys, Top Glass Fabricators and Top 50 Glaziers. Consider:

89% of Top Fabricators added production capacity in 2021 
71% of fabricators have plans to invest in capital equipment this year
50% are introducing new product lines in 2022
69% of Top 50 glaziers invested in new fabrication capabilities in 2021
67% invested in software
GlassBuild Product Showcase
For the glass and glazing industry, the previous two years have been defined by investment and innovation. Faced with ongoing labor and supply concerns, glass companies are making investments in new equipment, software and tools to improve processes and quality. They are increasingly looking to automate and improve efficiency, despite having less available labor. And they are developing new, innovative product solutions that help their customers address top challenges and meet market demands. 
"Product innovations are perpetual, and we are either staying ahead of, or keeping pace with, the trends we see at the architectural level," says Tim Nass, vice president of sales, Safti First.
The product solutions and innovations for and by companies across all segments of the industry will be on display in one location during GlassBuild America: The Glass, Window & Door Expo, Oct. 18-20 in Las Vegas. 
"GlassBuild is about providing solutions," says Nicole Harris, president and CEO of the National Glass Association, the show's organizer. "Whether it's finding a new supplier, product or machinery from among the exhibitors, or learning about latest trends from one of our speakers, or just comparing pain points with fellow attendees—we know that everyone walks away from GlassBuild enriched with new information, new contacts or new products to help them better navigate the industry's challenges. Some challenges, like global supply chain issues, are bigger than just our industry but coming together directly with our industry's suppliers and experts at GlassBuild can provide attendees with a different outlook to view problems—and solutions—more strategically." 
Machinery + Equipment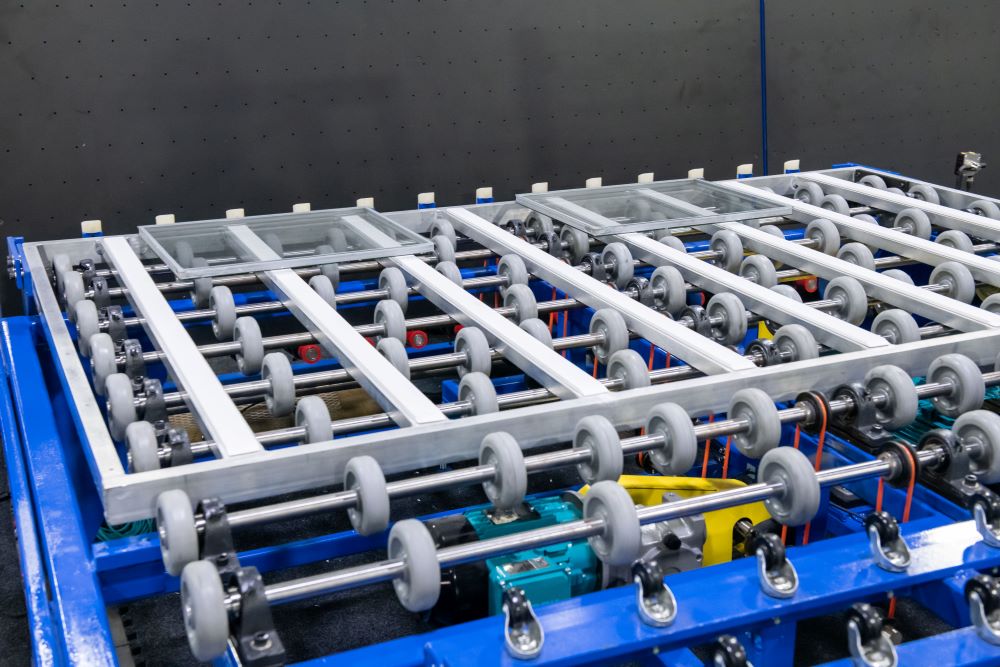 Trending

More automation
Fewer touch points
Ergonomic designs
For many in the industry, GlassBuild is the place to see new machinery, equipment and tools. Exhibitors will be displaying lifters for safer handling of larger and more glass, new software for companies of all sizes, automation solutions for the factory floor, and more.   
"We wouldn't even be in the manufacturing space if it wasn't for GlassBuild," says Keith Daubmann of My Shower Door, My Architectural Glass, D3 Glass. "As [our company] started … getting into manufacturing, the first thing we said was we need to be at GlassBuild and [to] start educating ourselves on all the different machines and capabilities that are out there so we can run efficiently and provide a high quality to our customers. It all started at GlassBuild."
Suppliers say they are focused on providing products that help their customers produce high-quality products efficiently and safely, while reducing the demand for labor.  "The glass industry is suffering from the labor shortage, and there is a strong need for automation," says Mike Willard, CEO of exhibitor Salem Fabrication Technologies Group Inc. "Customers will be looking for ways to repurpose labor as they install automated systems to handle glass."
See all Machinery + Equipment Products on GlassBuild.com
Glass + Components

Trending

Larger sizes
Value added
Higher performance
Leading glass and glazing design trends are larger sizes and systems with minimal framing, allowing for cleaner sightlines with fewer interruptions, according to exhibitors. 
"For quite some time we have seen the demand for larger clear views of glass, fewer intermediate framing members," says Tim Nass, vice president of sales, for exhibitor Safti First. "We are seeing an increased demand for low-iron products that maximize clarity for both interior and exterior projects."
Additional trends include new possibilities in decorative products, high energy and thermal performance glasses and components, security and impact products, bird-friendly glasses, and other value-added solutions. These products and more will all take center stage at GlassBuild, say exhibitors. 
See all Glass + Components Products on GlassBuild.com
Metals, Systems + Hardware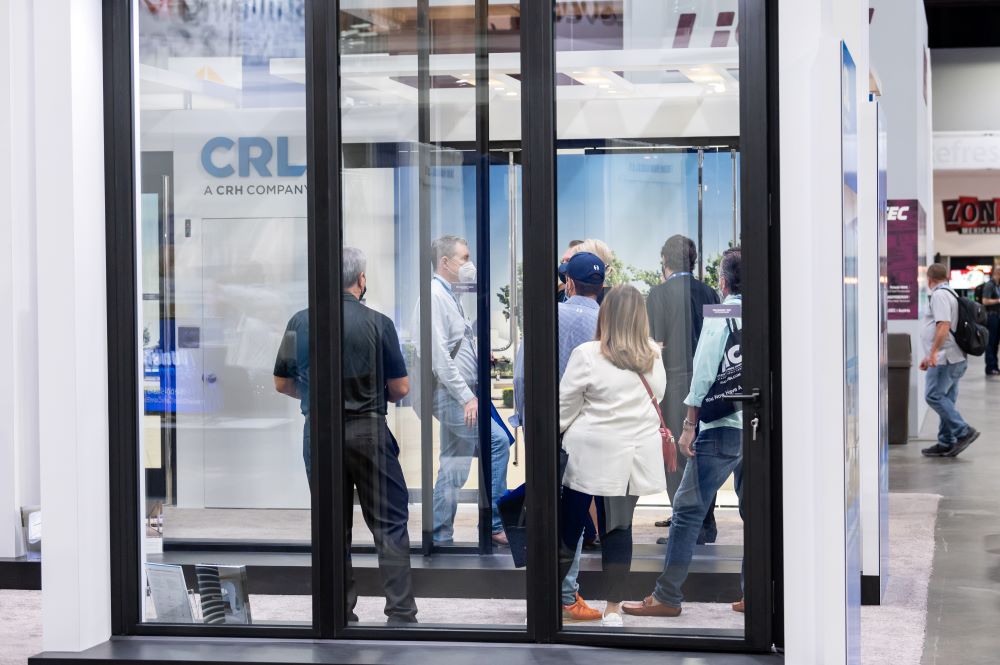 Trending

High-performance
Built for larger sizes
Easty-to-install 
The leading trends in glass and components—larger sizes, higher performance, additional security—are similarly evident in the trends for metals, systems and hardware. During GlassBuild, companies will be exhibiting glazing systems that meet tougher energy- and thermal-performance requirements. They will be showing windows and doors capable of handling larger, heavier glasses. And they will introduce products that will stand up better to threats, from hurricanes to intruders.   
Additionally, suppliers are focused on developing systems that provide straightforward, efficient installation to help with the labor shortage, and products that provide ease of use for the end user. 
See all Metals Products and Product Systems on GlassBuild.com
Visit GlassBuild.com for the latest updates