Glassfab Looks to the Future
How a California-based glass fabricator is preparing for the challenges and opportunities ahead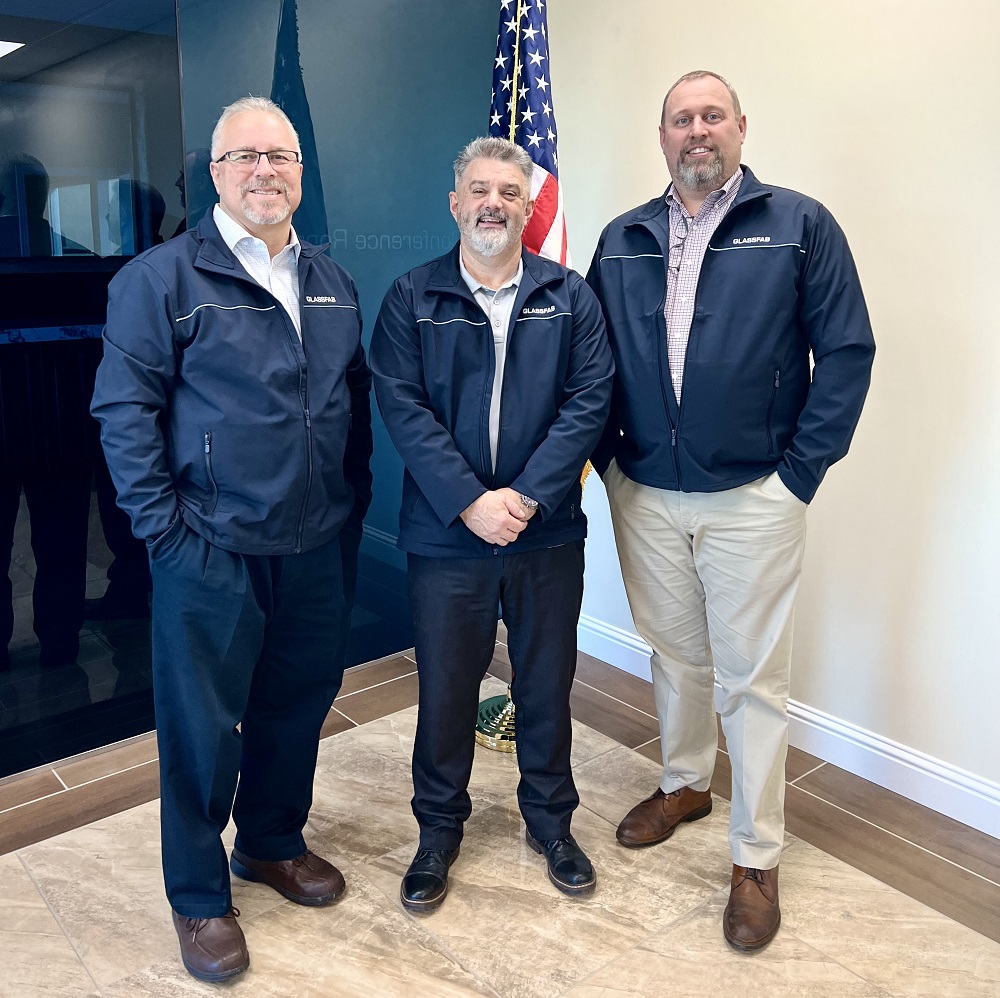 The glass industry is poised for tremendous growth and change in the coming years. Architects and owners continue to demand larger sizes with more minimal sightlines, higher-performing glass products to meet increasingly stringent energy codes, and multifunctional glass products that can protect occupants while meeting myriad additional requirements. Additionally, many glass businesses are changing. The experienced generation of glass industry leaders are moving to retirement and companies are tasked with managing succession plans while finding and training a new generation of glass workers.
In late 2022, I interviewed a trio of leaders from Glassfab Tempering Services Inc. about how they are preparing for the challenges and opportunities that lie ahead. Glassfab is a glass fabricator based in Tracy, California, that has grown tremendously over its 16-year history. The company started as an eight-person shop in 2006, looking to produce high-quality heavy fabricated tempered glass for the expanding shower door and glass partition business. Today, it operates four manufacturing facilities and employs over 300 people. The company offers a wide range of glass fabrication capabilities, including tempering, insulating, laminating, digital printing, jumbo sizes, hardware, Solarfab and more.
In recent years, Glassfab leaders have been actively pursuing new investments to meet evolving market demands, all while undergoing a major management transition as several founding members of the team move toward retirement. I spoke with Rob Gardner Black, president, Brian Frea, COO, and Greg Grothoff, vice president of strategic business development, about this transition and the company's trajectory going forward. Frea has been with the company since nearly the beginning, starting as vice president of operations in 2007. Meanwhile, Black joined the firm in 2015 as operations manager and Grothoff in 2021 as part of the company's efforts to build a new generation of leaders.
Glassfab is currently at a pivotal moment in terms of management succession. What has the company done to prepare and execute its succession plan?
Brian Frea: We have made a sizable investment in our people. The succession plan started back about 10 years ago with the next generation. This group is smarter, more creative and thinks outside of the box, while supportive of the culture that drives us as Glassfab.
Greg Grothoff: The challenge of people provides us with our biggest opportunity to train the next generation at all levels. Cross-training our employees creates the opportunity for advancement within our organization and helps our employees grow their careers. We are intentional in our approach of cross-department and cross-function training, which provides the platform to grow. This will fuel our geographical expansion as well as set the foundation for future generations of leaders. We also utilize tools provided by industry partners such as myglassclass.com, as well as vendor partner experts who provide onsite training for our staff. We feel this is the best way to fuel our growth and create the next generation of leaders at all levels.
Rob Gardner Black: Initial exposure comes from hands-on experience working in customer service, procurement, production, equipment installation and maintenance, for example. The next generation of supervisors, managers and leadership all have a granular understanding and deep working knowledge of the business, industry and customer needs. In conjunction with this learning, the Glassfab culture is a pivotal aspect of our company as it guides not only how we embrace our customers but our employees too. At Glassfab we believe that 'culture will eat strategy for lunch every time.' Using a system of progressive overload, future leaders work through positions of increasing responsibility and opportunity during which, mentoring and results are used to assist and refine performance.
What changes are coming to the glass industry, and for Glassfab, in the next 10 years?
BF: The future of the glass industry will require more innovation and technology to keep up with growing demands. [Building integrated photovoltaics] and solarfab are two examples. For Glassfab, looking ahead, we are going to continue to focus on profitable and manageable growth—on making the right investments into our business that will add the most value to our customers.
RGB: We're seeing a continued increase in oversized regular insulating glass and laminated IG. Asymmetrical IG is also becoming very popular and is driving the anisotropy aspect of quality control.
GG: I agree with Rob. We will continue to see an increase in overall glass size, especially in podium applications. There will be an equal push to drive energy performance in post-temperable coatings combined with new technologies like vacuuming IG. Finally, we will continue to see massive growth in laminated security applications. … For Glassfab, our growth will occur in both new products and new geographies. Our next major addition will be on the architectural aluminum side of the business. I'm very excited about the move into this side of our industry. Soon we will also offer bent-tempered products, which is something we have not offered before.
What are some major market shifts happening in the industry and how is Glassfab prepping for those changes?
GG: The industry seems to have shifted to larger independent fabricators stepping up and servicing the industry with a focus on localized customer service. I believe we will also see major advancements in post-temperable, low-emissivity glass advancing high visible light while meeting the values that allow us to win the battle for the wall. In some of these cases, we will see these low-e's combined with [vacuum insulating glass]. I also believe we will continue to see a bigger shift to value-added security glazing products.
RGB: Anisotropy measurement and classification are being seen more often. … To better support this growing trend, Glassfab purchased the latest generation of LiteSentry measurement equipment that combines RWD and anisotropy. Large-scale digital printing using vibrant and more complicated designs is being specified by architects as the benefits and almost limitless capabilities of digital printing are being seen by a wider audience. These are being used in building façade designs, sky bridges and canopies. Glassfab has the largest Dip-Tech ERA digital printer that can print oversized lites, which can also be laminated in our oversized laminated line offering customers both flexibility and many options when it comes to design and product styles.
Glassfab has experienced rapid growth in recent years. What capital investments have been made and what drove these investments?
BF: Glassfab made a sizeable investment three years ago when we purchased the new 36-acre/210,000-square-foot under-roof [facility] in Tracy. … The new site allows us to expand using the most advanced industry equipment. We can conquer the quality expectations through the eyes of the end user and meet market demands for better quality glass products.
RGB: We've added oversized tempering, digital printing and laminated to better serve the need for larger-sized glass. … Customer feedback is the biggest driver [of investment]. As our customers come across new products, requirements and trends, they partner with us and we look to respond with appropriate manufacturing equipment, products or distribution tools.
GG: The well-being of our employees and their families, vendor partners, and overall community drive our capital investment strategy. We have added multiple buildings and countless pieces of equipment, but our biggest investment lies in our people, which have fueled our exponential growth over the past 16 years.
Glassfab tackles a wide range of projects that feature a range of glass types. Can you describe a recent innovative project that proved particularly challenging?
BF: Currently, we are underway in producing our BIPV products for a local project. These products are, by far, the most complex to manufacture with their critical specifications and construction. As these intricate products prove to be challenging, the successful completion of these products becomes that much more rewarding.
GG: We recently completed a complex, digitally printed, laminated project. This project utilized DXF files to produce oversized, heavy 13/16-inch, digitally printed, low-iron SentryGlas laminated with custom fabricated holes and radius polish. This project was produced over a short time frame, which required seamless communication between customer service, operations and transportation. The team performed flawlessly and we met our customers' tight timeframe for completion. I was proud to be a part of the project and humbled to be a part of such a great team.