Great Glazing | La Memoria de la Tierra at UCLA
A glass mural for UCLA's Centennial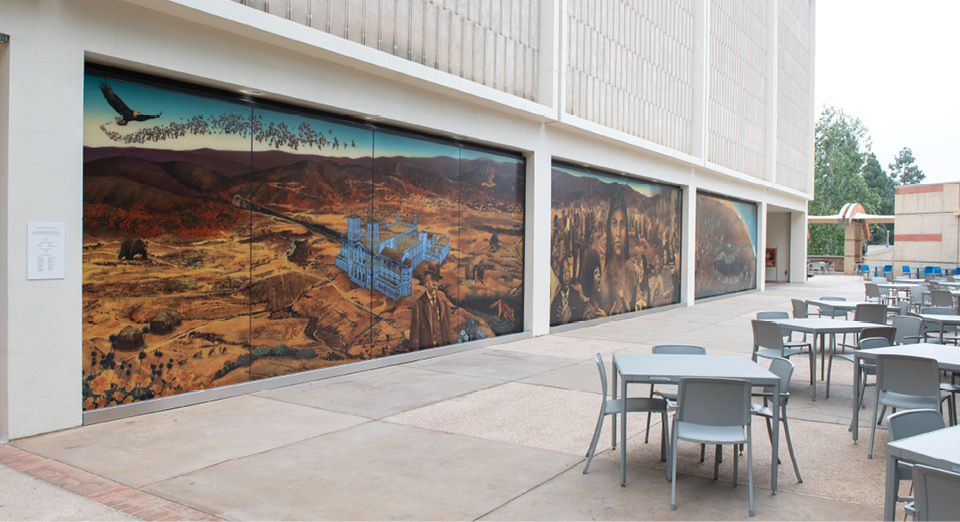 Photo above courtesy of Don Liebig

Location: Ackerman Union Building, UCLA Campus, Los Angeles 
Glass Supplier: Pulp Studio
Artist: Judith Baca, PhD
The basics
Pulp Studio created a unique, mineral-ingrained glass artwork mural for UCLA's Centennial that is a permanent celebration on campus. Pulp Studio worked with artist and Professor Emeritus Judy Baca and the SPARC team. Developed through two prototypes and multiple full scale mock-ups, prior to the final fabrication of the production, the mural commemorates the excavation of Westwood, and the diversity of people who have attended and supported the University from the beginning to the present.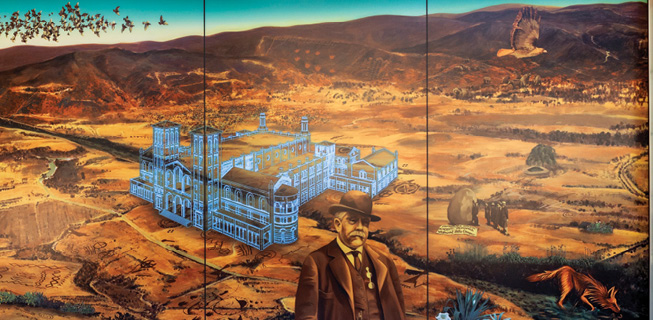 The design
The story of Westwood flows over three 26-foot-long panels, which begin with a tribute to the land, detailing where the Los Angeles River once flowed through campus and where original tribes and native flora and fauna thrived. The second segment pays homage to the many men and women who have shaped the UCLA community beyond the physical borders of the campus. The final segment of the mural represents an imaginative depiction of the future in which the ever-changing university is in harmony with the original land.
The artistic team
The mural is the result of a partnership between the UCLA Centennial Committee; Associated Students UCLA, or ASUCLA, a nonprofit association that supports student services and activities throughout campus; the Digital Mural Lab from the Social and Public Art Resource Center, or SPARC; and is by lead artist Judith Baca, who is an activist and UCLA professor emeritus, and who envisioned the imagery and sought mixed mediums in art and print to incorporate into the mural. Pulp Studio fabricated the glass; Rountree Glass was the installer. 
The glass
The first surface of the glass is an anti-reflective/non-glare coating which has been tempered and laminated with SentryGlass Plus for an overall thickness of 9/16 inches. The second surface features Pulp Studio's D2G imaging process which digitally prints images with ceramic ink directly to the glass surface. The ink is fused with heat into the surface creating an image that has a high durability and permanence.
Each panel is printed from top to bottom creating a full overall image which is reminiscent of a painting and fitting for an art piece honoring 100 years of the University's history.
Learn more at pulpstudio.com or 310/815-4999.