Great Glazing | Tepper Quad at Carnegie Mellon University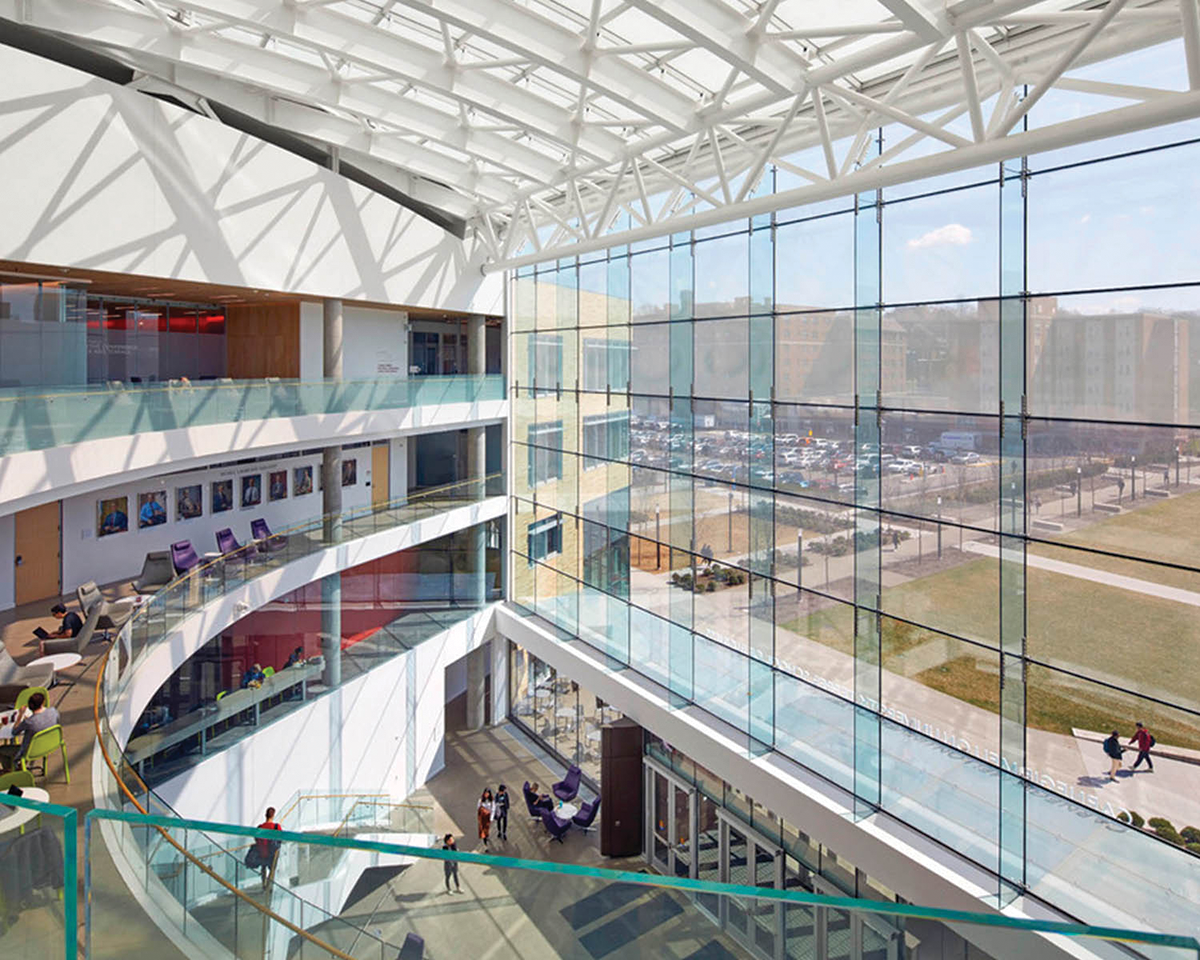 Tepper Quad
Location | Pittsburgh
Glass Supplier | NSG Group
Architect | Moore Ruble Yudell Architects & Planners
The basics
An impressive structural glass wall highlights the new David A. Tepper Quadrangle, or Tepper Quad, at Carnegie Mellon University. The architect's initial plan for the construction of Tepper Quad, home to the Tepper School of Business, was to use two free-span vertical steel trusses and horizontal steel beams with stainless steel tension rods connected to the front to help support the weight and transfer wind load deflection. But, engineers at the glazing designer W&W Glass advised that transparent fins could be used, both removing visual interruptions from the surface and helping to reduce costs. 
"The lynchpin position this building occupies at the Quadrangle in the broader CMU called for a landmark architectural feature, and the wall of structural glazing completely delivers this, while also helping to create a stunning interior space for collaboration," says Chris Lalonde, architectural sales at W&W Glass.
The players
Architect, Moore Ruble Yudell Architects & Planners; general contractor, PJ Dick Inc.; glazing design, W&W Glass; installer, D-M Products Inc.; SentryGlas interlayer supplier, Kuraray; structural glass system supplier, NSG Group.  
The glass and systems
The atrium features a Pilkington Planar™ vertical atrium glass fin wall and lower glass wall supported on suspended custom, stainless steel blades. The glass fin design is made possible by the strength of the Planar™ l SentryGlas® System laminated glass that was used in the fins, as well as the capabilities of the Pilkington Planar™ 905 series heavy-duty fittings that hold the system in place. The 10-foot by 7-foot 5-inch glass units are made of Pilkington Suncool™ 66/33 T, and the fittings are heavy-duty stainless steel countersunk bolts, anchoring them to the supporting glass fins.
The installation was completed by using temporary tension cables that simulated the weight each part of the structure would hold, both in terms of the structural glazing and the steel roof beams which support the roof glazing. These tensioned cables were removed one by one throughout the process as the glass was installed so that the position of the supporting structure remained fixed.
"It's another installation that demonstrates that Pilkington Planar™ is the world's leading structural glazing system. It is the quality of the product and the time-tested engineering that backs it up that gives us the confidence to create these ambitious structures," says Lalonde.