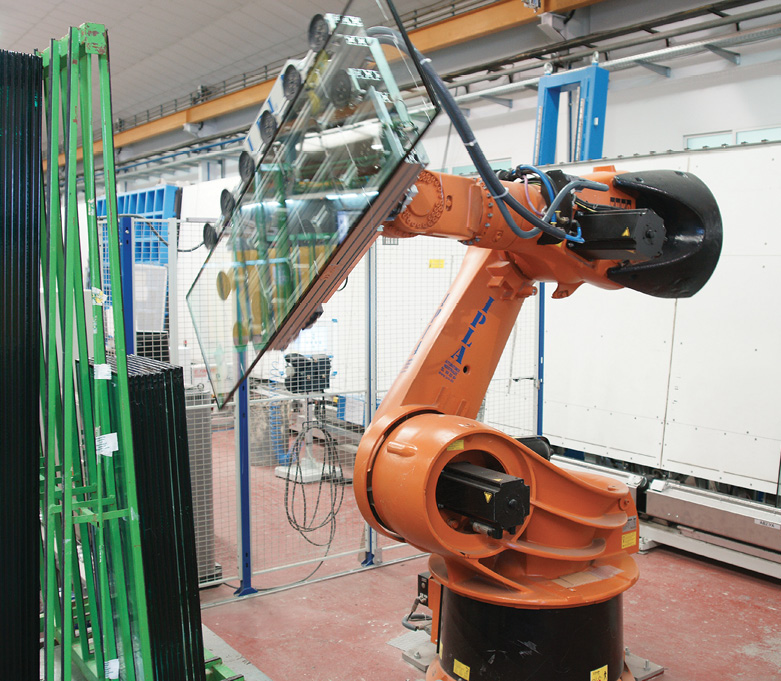 Photo courtesy ofA+W Software North America
More About Industry 4.0
Ready or not, automation is the future of manufacturing. Companies today have no choice but to embrace Industry 4.0 in its manufacturing practices or run the risk of being left behind, according to leading glass industry machinery and equipment suppliers. (View our infographic of the history of industry manufacturing, from the late 18th century to today.)
"The dream of the 'lights out' factory is ready now, with our machines talking to each other and adjusting manufacture as priorities change, automatically," says Martin Bracamonte, president of IGE Glass Technologies Inc.
Industry 4.0 is a broad and, at times, daunting term. At its most basic level, Industry 4.0 is computers connecting and communicating with each other, often taking human involvement out of the equation. Experts estimate half of daily tasks will be automated within five years.
Automation, however, doesn't just happen. It takes strategic and thoughtful development steps. 
To help industry companies tackle the challenges of understanding Industry 4.0 and bringing it into their factories, Glass Magazine developed this Guide to Industry 4.0. The guide serves to provide understanding around what benefits it delivers, as well as how best to implement Industry 4.0 practices.
Benefits
Labor
Today's labor market requires companies to seek creative ways to make up for the lack of people, both in hiring new people and in retaining existing employees. Although some fear automation will steal jobs, the reality is just the opposite.
"Companies can't get enough employees," says John Ryba, technical services manager of Quanex. "As their business grows, they struggle to make the units. They're trying to add shifts and keep up with capacity and can't do it." This is where automation comes in.
Automated machinery never tires, he says. As shifts near their end and, especially in extreme weather conditions, humans are more liable to tire. Quality also often decreases  while risk of injury increases, especially while maneuvering increasingly heavy units that necessitate two people to be in sync to do so safely. 
Machines and humans work in tandem, too, to produce the best possible quality; each has attributes the other lacks. "The human brain is a much more advanced computer than what we have running our scanners," says Nate Huffman, president of Softsolution North America. 
A quality scanner, for example, might flag a piece of glass as having a scratch, but a person examining it finds it's actually a hair. "They have that luxury of being able to take in all these other points," he says. Humans also distinguish between hairline versus deeper scratches whereas today's machinery lacks that distinction. On the flip side, however, a scanner will always look at a piece of glass through the same eyes while a human has more subjective eyes and more potential for error.
Throughput 
Demand for more volume and faster production has risen and Phil Plant, president of Billco Manufacturing, doesn't see that trend ebbing. "There is no slowing down," he says. "Everything needs to be faster. Product sizes are growing, and the lead times are shrinking."
Automation allows companies to increase production efficiencies. Ryba recalls that when he first worked with automated welders and cleaners 18 years ago, they helped people get work done in eight to 10 hours that previously had taken 12 to 14 hours.
Mike Rosato, machinery sales engineer/owner at Salem Distributing, says that with the reduced fabrication labor resources, automation brings the ability to "produce extremely higher and unheard-of production rates and, at the same time, the best edge qualities." He also says there is reduced tooling consumption per linear inch output and edge production bottlenecks disappear.
Alleviating production bottlenecks grows in importance in the face of more companies processing jumbo glass because the bigger the glass gets, the more critical it is to alleviate those potential bottlenecks, says Danielle Blewitt, Billco's marketing manager. Although the larger sizes give better yields, says Plant, the addition of jumbo glass also makes the need for efficiency that much more imperative. 
"Jumbo glass processing with equipment such as Bovone, Denver, Wood's Pow'r Grip (handling is often overlooked when dealing with jumbo) and others is a must for sustainability," explains Rosato.
Capacity and status
Twenty years ago, the only way to discover an order status was to walk around the shop floor and ask people if they knew where it was. "A lot of systems were very antiquated and that's one of the reasons we got into the industry is that a lot of systems were disconnected," says Dave Miller, group manager – applications engineering at FeneTech. Barcode scanning and tracking eventually led to machines automatically updating the status of units as they passed through an assembly line.
In advanced manufacturing, an enterprise resource planning, or ERP, system collects and houses data, including visibility of all assets on the shop floor, their capabilities and how they currently operate. It also evaluates in real-time how new orders impact live production.
"You want to know what is planned for production, which is a direct result of the ERP system planning out what's expected to be produced today based on order due dates," says Miller. "As units are being completed you want to know if you have the opportunity to hit your targets before the shift is over."
As long as information about current orders is in the ERP system, he explains, it can calculate if a target ship date is feasible and, if not, what part of the process could cause a delay. At that point, says Miller, the information goes to a customer service team where a supervisor might opt to squeeze the order in to meet a target ship date or talk to the customer to adjust the expectation from the beginning.
Quality control
Pressure to deliver high-quality products while keeping price and cost down, as well as the lack of experienced people and demand for flexibility, contribute to objective quality control being an integral part of any manufacturing process. "The main thing you don't want is for bad quality to make it to the customer," says Softsolution's Huffman. 
Automation offers consistency in manufacturing, and limits touches on the glass, thus increasing safety and removing the variability that workers can introduce into a process. "The biggest concern there is safety and quality," says Plant. "A lot of performance coatings on glass are very sensitive so the less handling of glass the better."
"With high turnover at our customer's locations, they're looking for sustaining automation and being able to reproduce the job and maintain quality," says Tim McGlinchy, vice president of engineering/research and development at GED Integrated Solutions. 
Another aspect of quality control in Industry 4.0 is automated inspection. "Regardless of what you're trying to do with glass, some sort of automated inspection is almost a necessity anymore if you really want to have a true fully automated line," says Huffman. 
Quality control solutions such as Softsolution's scanners expedite the process and get more throughput "by helping the operator locate, identify and remove bad pieces of glass faster," according to Huffman. 
Where the scanner lives within the factory varies depending on what the main goal is. In insulating glass lines, for example, the line scanner generally operates directly after the washer because that's where the glass will be the cleanest and yield the best quality inspection. That location, says Huffman, also allows for the disposal of any defective glass pieces before incurring any additional cost from sending them further down the line.
How to
Implementation
Where does a company begin the gargantuan task of introducing automation to its shop floor? It depends. 
It depends where bottlenecks exist, where the company currently stands in its automation journey and what its long-term goals are. Billco's Plant says some sort of cutting automation is a good starting point, though he acquiesces that very few companies today still cut glass by hand. Beyond cutting and possibly some sort of automated IG fabrication, he recommends following what the market dictates. 
Chris Kammer, marketing coordinator at A+W Software North America, recommends starting with the end goal in mind. "What are you trying to achieve?" he says. "What current practices are bottlenecks that are inhibiting or slowing down that goal?" After pinpointing specific goals and hindrances, Kammer says to look for solutions to those bottlenecks. "I start backwards, then go to the middle, then go to the front to find the solution."
GED evaluates a customer's budget, ability to attract and retain labor, and throughput goals, says McGlinchy. "What's really key is that they can purchase an asset and integrate it into a more automated system later," he says. "We design things with a modular intent so there's a lot of ability to reuse an initial piece of equipment. The longevity of the capital is preserved compared to past products." 
Throughput is another huge factor to determine what level of automation is appropriate. "A customer who puts out 100 units per shift will have far different needs than someone who puts out 1,000 or 3,000," says Morgan Donohue, vice president of sales and marketing at Erdman Automation. "The lower the volume, the more likely it is they're going to concentrate on quality and automation that will assist them with difficult tasks from a quality perspective."
In the next level of production, what Donohue calls the middle ground, a customer might concentrate on quality but also examine support from a safety and ergonomic perspective because of repetitive motions. 
"Then as you get into people looking for really high numbers," he says, "they're looking at all the compartments: quality, repetitive motion, safety and high-level throughput with fewer people." That's also generally the level where customers start looking at high-speed automation, he says.
Automation is multi-leveled, though, and companies must consider what Miller of FeneTech calls the hard side, or the physical machines and necessary resources to maintain and operate them, and the soft side—the unseen requirements of the systems, such as data management and system programing. 
Miller encourages companies to invest in integrated automation. "To make the most of automation, they need business software that will help consolidate data entry and provide avenues for data to flow freely between systems," he says.
Cost and ROI
Automation is a substantial investment and, as such, companies want to justify the cost. ROI, however, can be one of the most difficult benefits to get people, especially upper management, to see, according to Huffman. 
Production supervisors and those in the day-to-day operations, he says, recognize the benefits almost immediately by increased throughput and through reduced costs of catching rejects inhouse rather than onsite, which can nearly triple the cost of a reject according to Huffman.
Bystronic Glass determines for its customers what ROI will be on a given insulating glass line configuration, says Peter Nischwitz, head of marketing, by using the company's B'Compare software tool. "The customer loads the current production data and we simulate a production with different machine configurations and variations in order to calculate the fastest possible ROI and break even," he explains.
Some components of ROI are less quantifiable, though, says Quanex's Ryba. "Safety numbers will get better and there will be less risk of accident," he says, adding that quality also improves. In some cases, labor needs will go down for a given line as workers are repurposed to other areas of the facility. If throughput goes up enough, he says, some companies might even be able to eliminate a shift, further saving money.
Exact ROI varies by company and circumstance, but most experts agree average ROI is approximately two years.
Maintenance 
Downtime can be quite costly, and maintenance agreements are one avenue to use to be proactive about mitigating it. Lisec, for example, offers maintenance agreements where the service team conducts regular maintenance maintenance checks. Those checks, says Claudia Guschlbauer, head of corporate communications and marketing, can help avoid "unnecessary production downtimes, service calls and costs."
Bystronic's Nischwitz explains that with Industry 4.0 comes an increased importance and capacity for predictive maintenance and condition monitoring of machinery and equipment. Although the company is in the early stages of developing these solutions, Nischwitz shares it will analyze data the machinery supplies during the production process, with the ultimate goal being that the machines will send alerts prior to any breakdowns. 
"This will help the customer reduce machine downtimes because if he can foresee that some parts need to be changed, he will be able to have them available in stock in order to save time and money," he says.
Training and support
Although advanced automation works in tandem with workers, increases efficiencies and enhances quality, companies must learn how to harness its power. Machinery manufacturers provide training through several outlets. One is at time of purchase. 
Erdman Automation has what Donohue calls an open-door policy where at factory acceptance the customer can send as many employees for as long as they would like. The actual installation includes a one- to two-week training period.
GED provides in-person training, as well, and also has an online training system, where the customer logs in and a supervisor at the location monitors whoever is taking the course and their success. "That way you can get a benchmark of where somebody is and if they need additional training they'll attend one of our in-person classes," says McGlinchy.
Lisec instructs trainees on the handling of machines and software products, says Guschlbauer. Training courses might include, for example, explanations of the machine components, plant elements, manual functions and the setting of different mechanical units, among other topics. The company also is preparing to debut an online support system, Lisec.eye.
Bystronic, meanwhile, provides customized programs for each participant through its B'Train courses. Modules comprise each training course, according to Nischwitz, that address skills for operating and maintenance personnel, as well as managers.
Solutions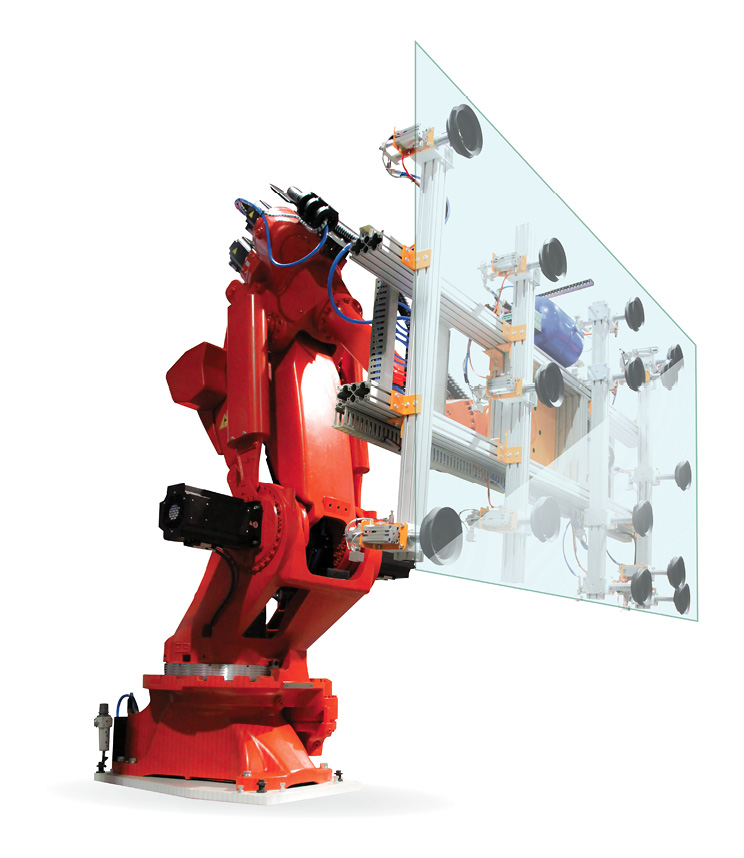 Salem's Bovone Robotic System (BRS) is designed to increase production and reduce labor costs and risks in glass fabrication facilities. The BRS provides automatic loading and unloading of vertical glass edgers, as well as a variety of other applications to maximize productivity. The BRS is available in an array of configurations and can be custom designed to fit many applications.​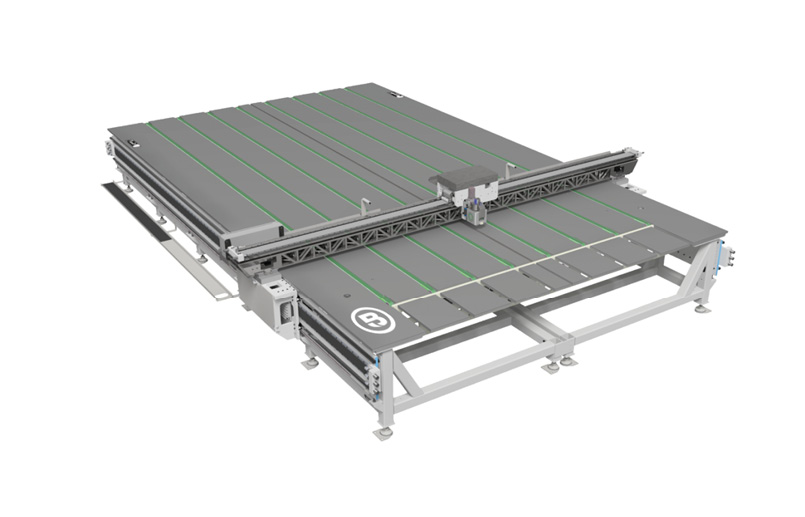 Using HP3's software, the Ultra Series X from Billco includes an integrated breaker bar for automated breakout. Belts drive the lite onto the cutting machine, square it with the breaker bar then drop the breaker bar into the table to grade the zero reference before cutting a third of that sheet. After that cut, the glass is transferred so the main wide break score is positioned over the breaker bar and the subplate is sent to the breakout table. "The belts drop and now we start cutting the remaining sheet," says Billco's Plant. "We're cutting that sheet basically in half to whittle down this entire stock sheet."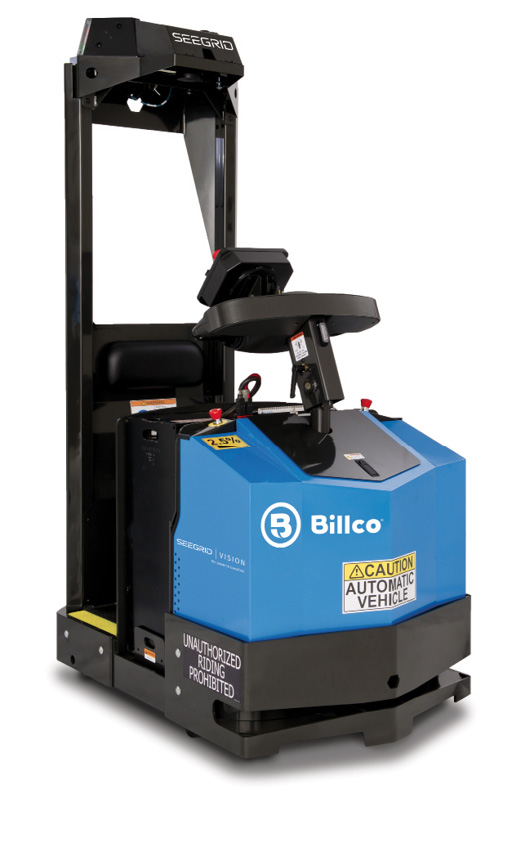 Billco recently partnered with Seegrid Corp. to create autonomous vehicles for glass transport within a glass plant. The system is vision guided and uses a camera and teaching to guide the vehicle. "You push a button, you drive the route, you stop it and now it has learned by doing exactly where you want it to go," Plant explains. He expects the initial use for this technology will be to transport sheets of glass from one process to another.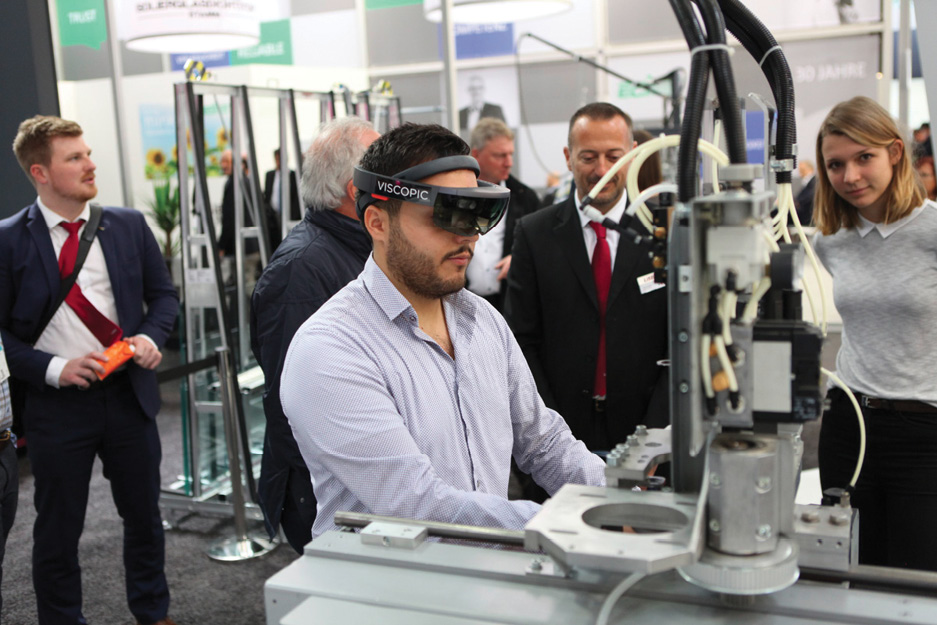 Virtual reality and augmented reality, or AR, could be an important piece of Industry 4.0. During glasstec 2018, Lisec displayed AR goggles in its booth at the show and presented a pilot project with Viscopic, in which manuals and instructions that are provided by a pair of data glasses make the operator capable of completing maintenance and service work on the machine himself quickly and efficiently.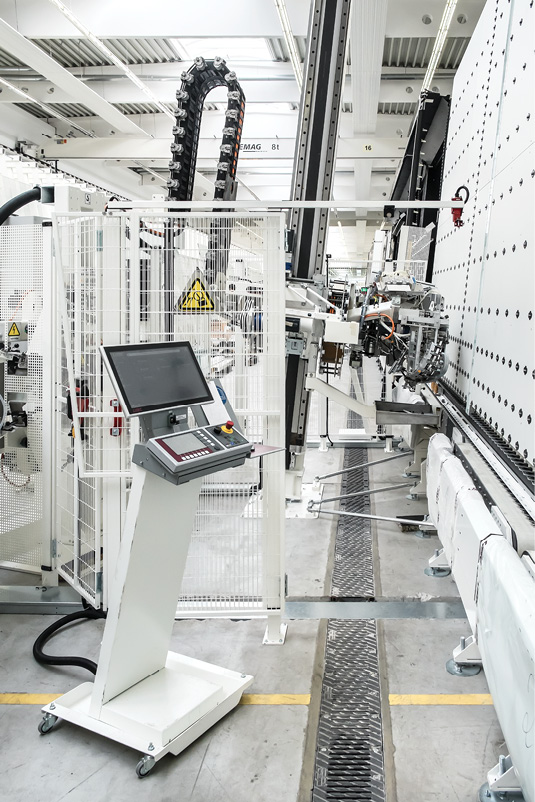 Insulating glass manufacturers can pair the speed and efficiency of vertical automation technology with new software solutions to drive operations to new heights, as seen here in a large-scale IG manufacturing operation. Photo courtesy of Quanex.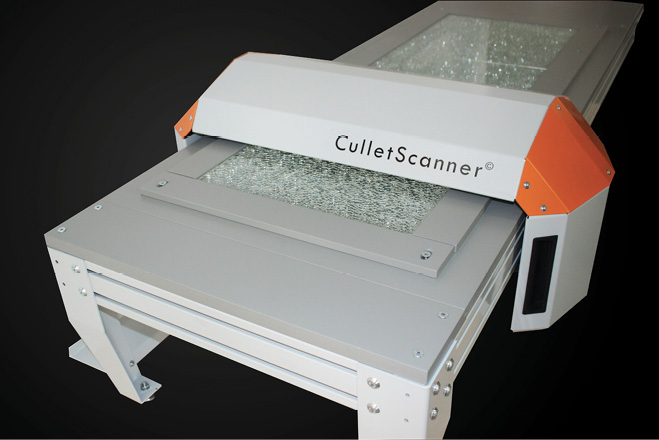 Softsolution's CulletScanner scans every fragmentation image with maximum resolution. Each fragment is viewed from a 90-degree angle and the entire glass fragmentation image of a test sheet is exactly and fully analyzed. The machine identifies and gauges every fragment and includes exclusion areas along the outer edge, as well as the impact point. Every scan of a glass fragmentation image is stored with maximum precision and definition. A printed certificate in PDF format is generated automatically and shows all the analysis areas, additional information such as the relevant job and type of furnace, and an overall result.
The Future
Full autonomy
If Industry 4.0 follows in 3.0's footsteps, this era of manufacturing is already halfway complete, and Industry 5.0 is bearing down fast. Industry experts anticipate the next era of Industry will revolve around interactions between humans and machines.
Advanced though factories are today, "we're just touching the tip of the iceberg," says Quanex's Ryba. He predicts one day robots will load glass onto a glass cutting table, which then will be glazed into the finished product, before a robot unloads it. "Years ago, the issue was getting the machine to talk to our programs, but all that's been taken care of," he says. "There's so much data in there that is untouched right now. The next step is nobody will touch the product."
For Kammer of A+W, future automation means "moving toward [full automation], but humans will always be needed to make certain critical decisions," he says. "Humans provide logic and reasoning because certain things aren't programmable to an algorithm. Algorithms can run most things; however, there still needs to be some amount of reasoning, logic and empathy at times."
Bystronic's Nischwitz also sees degrees of automation increasing, with Industry 4.0 standards helping along the way. "Everything will be more closely connected: machines, data, processes and applications," he says.
Salem's Rosato agrees that companies will integrate up and downstream equipment, including appropriate buffering and acceleration systems. "Cyber communication continues to develop, which leads to a more efficient and refined 'smart system' where multiple machine communication is happening," he says.
Although industry experts vary in the exact details about the future of manufacturing, one thing is certain: automation and integration are here to stay. Companies that haven't yet made the transition to making their factory floors fluent with Industry 4.0 should get on board before they get left behind.