Heavy Glass Doors
Guide to glass types, code requirements, size limitations and more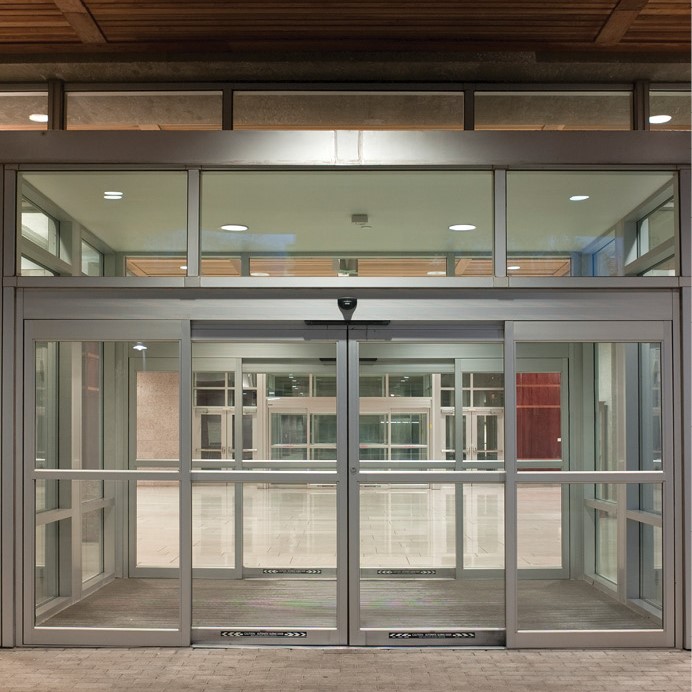 Source: NGA Heavy Glass Door Design Guide 
In the last two decades, the heavy glass door trend has continued its upward trajectory. To address this market demand, the National Glass Association published an update to its Heavy Glass Door Design Guide, replacing the previous 1999 edition.   
The guide offers critical technical information and application suggestions for fully tempered and tempered laminated, heavy glass storefront and entrance system design. "Frameless structural glass systems can enhance the efficiency of sustainable projects as well as create dramatic aesthetics, and this new edition reflects design trends and materials that will help ensure the continued growth and desirability of this industry segment," says Ron Biberdorf, Trulite Glass and Aluminum Solutions. 
Structural guidance is provided on: types of glass doors, hardware and entrance components; swinging, sliding door systems; top- and floor-mounted systems; and application recommendations for fully tempered and tempered laminated glass entrance systems.  
This article answers essential FAQs, based on information from the updated guide. To access the complete guide, visit glass.org.  
What is a heavy glass door? 
Heavy glass doors are the all-glass entrances seen in commercial buildings including offices, storefronts and public buildings. They are designed to accommodate the flow of pedestrian traffic into and out of the building.  
What considerations are important for heavy glass door design?  
When designing a heavy glass door, it's important to consider not only the glass, but also the hardware, rails, closers, patch fittings and structural silicone in the entrance system. Exterior heavy glass doors are exposed to weather and wind loads, as well as serving as the building's security and access point. Interior doors are protected from weather, wind and extreme temperatures and can be designed with laminated glass supported by patch fittings.  
What types of glass can be used in heavy glass doors?  
According to the International Building Code, all glass in doors must comply with safety glazing requirements. This excludes annealed glass, chemically strengthened glass and heat-strengthened glass in favor of fully tempered and fully tempered laminated glass types.  
What types of hardware can be used in heavy glass doors? 
Heavy glass in doors and sidelites can be supported by full or partial rails, including patch types for corner applications in a variety of profiles. Door hardware can be aluminum, stainless steel, brass, bronze or any of a variety of anodized metal finishes. Guidelines for securing glass into various hardware constructions are in Sections V, X and XVI.  
How can I be sure the heavy glass entrance system complies with egress requirements?  
Balance between security of the building and safe egress of building occupants during emergency situations is a critical design consideration for heavy glass entrance doors. A variety of locking mechanisms are available, including mechanical or electrical latching with fail-safe or fail-secure features in case of power outage. Panic hardware is included to ensure occupants can escape freely regardless of locking mechanism. For door installations requiring compliance with ADA regulations, heavy glass doors are designed to accommodate persons in wheelchairs using door closers sized and positioned to handle the weight of the doors, and automatic and power-assisted door operators can be included in the door design.  
What are the size limitations for heavy glass doors? 
Limitations exist for glass thickness as well as door height and width. Very wide doors may be difficult to control in windy environments. Glass door height is limited primarily by the ability of the hardware to accommodate the unsupported length of the door, given the flexibility of the glass thickness chosen.  
What's the best way to clean heavy glass doors? 
It's important for building owners to establish a routine maintenance program for heavy glass doors, not only to keep the glass looking clean and protected from scratches, but also to ensure the hardware is functioning properly and protected from debris and oxidation. Refer to Section XVII for special considerations depending on the metal hardware in the door assembly.