Here Comes the Sun
Mitigate solar heat gain with sunshade systems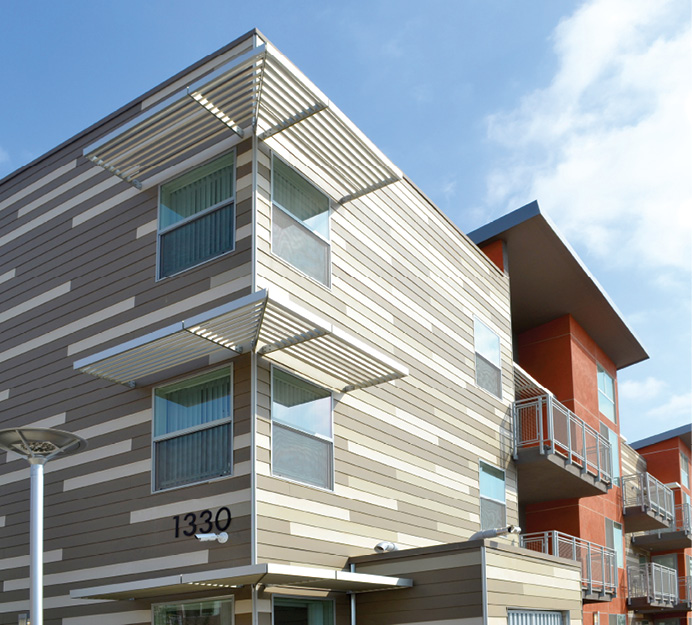 Above: Custom sunshade systems from C.R. Laurence at Sage Park apartment community. Photo by Geoff Captain.
Sunlight can have a positive impact on building interiors. It can reduce electrical lighting usage and create vibrant environments that boost occupant comfort. Direct sunlight on the building envelope must be properly managed, however; otherwise it will place a heavy burden on interior cooling systems, resulting in higher energy consumption.
Sunshades play an important role in reducing solar heat gain and improving energy efficiency. When properly selected and installed, they can help mitigate the adverse effects of direct sunlight on the building envelope, particularly during the summer months when the sun is at its peak and glass façades are most vulnerable.
What to know about sunshade systems
Installation
In the Northern Hemisphere, sunshades are commonly installed on the south-facing walls of the building envelope. This allows them to block a significant amount of direct sunlight during the summer season when the sun is higher in the sky. The result is less strain on a building's cooling system at peak times.
Typical sunshade systems project three feet from above a window or glass span. During the colder winter months, the sun follows a lower path in the sky, so this minimal projection lets an ample amount of sunlight enter the building to help reduce heating loads. Geographic location should be carefully considered before installing sunshades because it will define the extent of sunshade coverage needed on each side of the building.  
Styles and finishes
Aesthetics are another key consideration when selecting sunshade systems. They should complement and not clash with the building's façade. Fortunately, manufacturers offer custom sunshade programs that give complete control over visual elements. For example, there are various blade styles available such as rectangular, square, round and airfoil blades. Outrigger options include square, tapered square, bullnose and tapered bullnose. For added customization and visual compatibility, sunshades can be finished with powder coat paints, Kynar coatings or RAL color-matched paints.
If customization isn't needed, stock options with fast turnaround times are available. One example is sunshades with perforated panels. They not only help protect interiors from solar heat gain, but also create a distinct visual element that enhances aesthetics. The perforated panels typically have a notched design to allow ample daylight to pass through while effectively blocking solar radiation to reduce cooling loads.
Another stock option is single blade sunshades. Most sunshades are passive in nature, meaning their orientation cannot be adjusted based on the sun's trajectory throughout the year. On the other hand, single blade sunshades are inherently active. They feature individual operable mounting brackets that allow blade adjustment up to 35 degrees in either direction. Single blade sunshades offer a streamlined aesthetic and are a good solution for most curtain wall and storefront framing systems. 
Sunshades and green buildings
Green building design has become a critical aspect of contemporary architecture, not only because of environmental and sustainability factors, but also because of increasingly stringent energy codes such as California Title 24. That's why the construction industry is seeing a rise in net-zero energy buildings. 
Many developers are aiming to construct energy-efficient, LEED-certified buildings, and sunshade systems can provide credits needed for certification. The use of solar shading can help reduce energy consumption through reduced HVAC usage. In addition, most sunshades are made of aluminum, which is a highly recyclable material that helps minimize a building's environmental impact. 
Performance and cost
Sunshades mitigate solar heat gain to reduce energy consumption from air conditioning systems; they help create comfortable interior environments that improve occupant productivity; they can protect glazing and furniture from harmful UV rays over time; and they can enhance aesthetics by adding visual depth.
The costs associated with sunshades are offset over the life of the building via savings in energy usage and reduced wear on HVAC systems. New technologies and components are being integrated into sunshades, including photovoltaic panels and automated mechanisms that can adapt to solar conditions throughout the seasons. But, keep in mind that sunshades are just part of the equation when designing energy-efficient building envelopes. To achieve optimal performance, they should be used in conjunction with low-emissivity insulating glass and thermally broken fenestration systems.