How to Remain Competitive in the Face of the Skilled Labor Shortage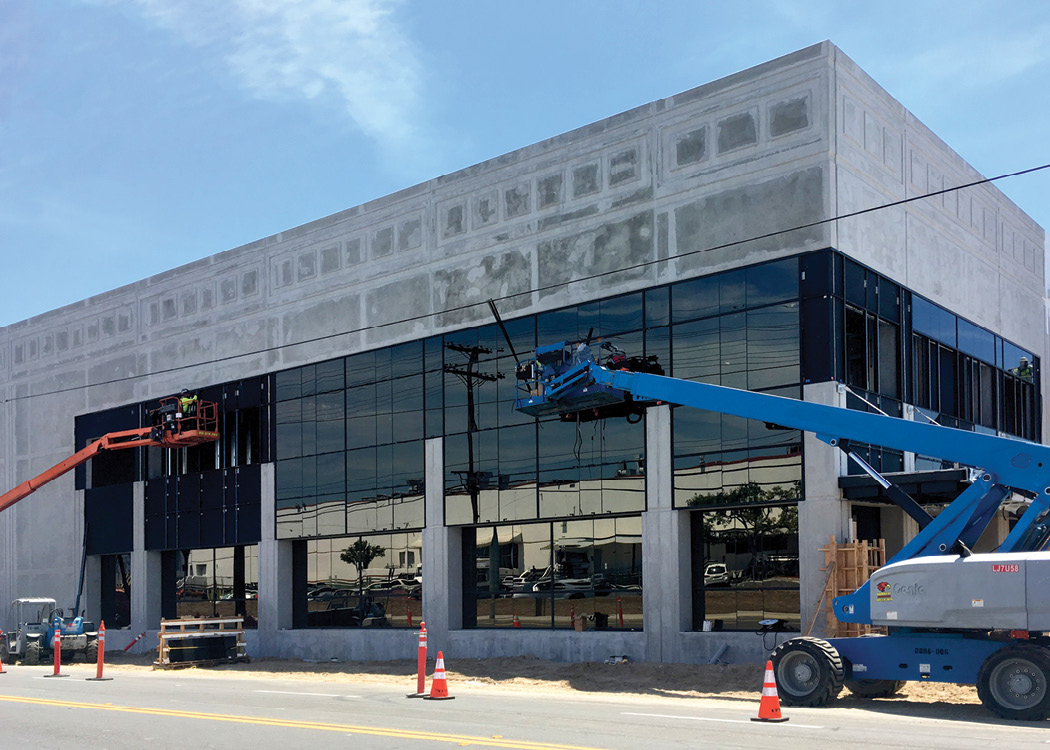 Construction on the new C.R. Laurence manufacturing and distribution facility in Los Angeles. The project features CRL-U.S. Aluminum Entrances and Window Wall, with installation by Artesia Glass. 
The glazing industry is experiencing a pervasive dilemma: a growing market with not enough skilled labor to sustain it. Many glazing contractors are limited in the amount of work they can take on. In worst-case scenarios, construction projects can be subjected to significant delays. This can ultimately have a detrimental impact on a glazing contracting company's profitability and reputation.
The shortage of skilled labor is being seen in office positions, such as estimators, but is felt most acutely in field positions. Overcoming this challenge is imperative for glazing contractors to remain competitive and prosper in a growing glass and glazing market. Fortunately, steps can be taken to circumvent the problem and minimize its effects.
1-Invest in employee training
Glazing contractors can implement training initiatives to develop new or existing employees into capable glaziers. This can take the form of placing them in apprenticeship programs, which are sometimes offered by unions, or taking advantage of education and training programs offered by organizations such as the National Glass Association. 
Larger glazing contracting companies with greater resources can establish in-house apprenticeship programs. For example, a new employee can receive education and hands-on training from a senior employee. There are several online resources that can supplement this type of venture. The NGA has developed MyGlassClass.com, which offers a variety of interactive online courses designed to teach glaziers industry fundamentals. The courses are affordable and vary in difficulty and scope. 
Some trade colleges also offer technical degrees in glazing. An arrangement can be made in which an employee receives an education in exchange for a minimum number of years with the company. 
The Architectural Glass and Metal Technician Certification Program, is undergoing beta testing and will be available in the near future for experienced glaziers. The certification program's purpose is to certify glass professionals in skills and knowledge required to successfully perform standard glazing tasks in order to minimize installation defects and failures. Job Corps offers an 8- to 12-month glazing program for young adults that prepares them for careers as glaziers. Helmets to Hardhats is a national program that provides the necessary education to transition former military service members to careers in the construction industry. 
Finally, glassdocs.com is another online resource for employee training. The website is jointly sponsored by the American Architectural Manufacturers Association; the Insulating Glass Manufacturers Alliance; and the NGA. It's a comprehensive source for glass industry technical information that will help ensure code compliance, as well as proper glazing system selection and installation.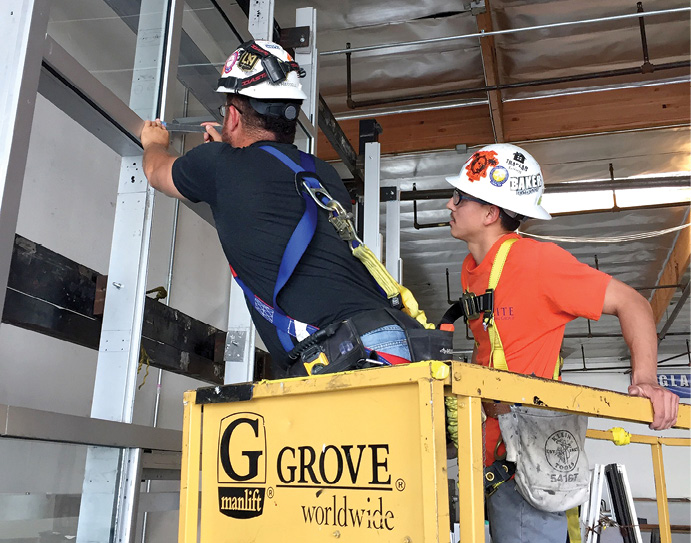 Programs such as the Southern California Glaziers Training Center operate apprenticeship training and journeyman continuing education programs to master the skills needed to have a competitive advantage in the glazing industry. Photo courtesy of Southern California Glaziers Training Center. 
2-Attract the next generation of glaziers
Baby boomers are retiring and leaving the glazing industry for good, and are not being replaced fast enough by the next generation of glaziers. Many millennials are unaware of career opportunities in glazing, and those who are don't necessarily see it as a viable career choice. 
Early exposure and engagement is key to overcoming this issue. Participating in job fairs at local high schools and offering summer internships can go a long way. Existing glaziers are also a valuable resource, as they have the ability to recruit and mentor millennials from their immediate or extended families. Beginners can be offered a junior apprentice position in which they earn money as they gain real, hands-on experience. Regional marketing and advertising that highlights success stories can also help raise awareness.
"Lack of exposure is the number one reason why the industry is finding it difficult to attract the next generation of glaziers," said Mark Bartlett, trustee at the Southern California Glaziers Training Center. "Many millennials think a four-year bachelor's degree is the only path toward a successful career, and that simply isn't true. Outreach and education is critical to changing this mentality."
With any outreach effort, it's important to highlight the benefits of a career in glazing. 
While skyrocketing costs at four-year universities are leading to extreme student loan debt, most glazing students complete their training programs debt-free. The starting pay is comparable and oftentimes greater than what you would earn with a bachelor's degree. A career in glazing offers the same healthcare and 401k plan benefits as a corporate job. Also, new glaziers don't face the same challenges of career saturation and competition that are seen in other fields.
3-Look to automation
Although glaziers make up a considerable portion of the skilled labor shortage, this issue is also present in the office environment. Glazing contractors are finding it difficult to provide quotes fast enough due to the shortage of estimators. This can lead to lost business opportunities, which can hurt a company's growth initiatives and long-term profitability. 
Automated quoting and design software offers an effective solution to the problem. It speeds up the design and estimating process because its intuitive interface does most of the work for the user. It ensures accurate quotes and that the system is within spec. The software's ease of use also allows glazing contractors to transition inexperienced staff into capable estimators in a short amount of time to close the skill gap. 
Automated quoting software is available from select manufacturers and glass fabricators. It can be used to design and quote entrance systems, storefronts, curtain walls, glass railings, frameless shower doors, and other types of architectural glazing systems. 
"Quoting and estimating is a time-consuming process. This can lead to missed opportunities, especially in an active construction industry where glass and aluminum remain preferred building materials," said Jeff Ziesche, brand manager at CRL-U.S. Aluminum. "That's why we've developed our Storefronts Online estimating software. It allows glazing contractors to bid more jobs in less time and maximize revenue potential."
4-Select easy-to-install glazing systems
Diligent product selection is key to mitigating the effects of the skilled labor shortage. Some glazing system manufacturers are aware of the problem and consistently innovate to provide products that are easy to install, thus reducing the amount of field labor required to complete a project. 
Glazing contractors are taking advantage of the benefits that unitized systems have to offer. Unlike standard curtain walls and window walls, unitized systems can reduce the amount of field labor required by as much as 50 percent because frames are assembled and glazed in a controlled shop environment. They are then transported to the jobsite, where they can be easily installed into openings by glaziers with minimal experience.
When working with entrances and storefronts, glazing firms should look for systems that are shipped completely fabricated to simplify and expedite installation. For example, systems should arrive on the jobsite with all the hardware, gaskets and accessories required for assembly. Materials should be bundled by elevation for easier handling. Glass sizes and step-by-step instructions should also be included. This turnkey approach ultimately reduces the amount of field labor needed. 
5-Increase efficiency with glass handling equipment
Glass handling equipment can go a long way when a contractor is shorthanded. Investing in glass handling equipment can increase safety, prevent glass damage, and let a single glazier lift and move heavy glass lites. Additionally, it can help companies get jobs completed on schedule. 
There are several types of glass handling equipment options to choose from. Rolling glass manipulators, for example, are ideal for one-man glass transportation. They can be used to unload glass lites from truck racks, and typically allow glass rotation for easier installation. Equipment should be selected based on glazing company size and job types.