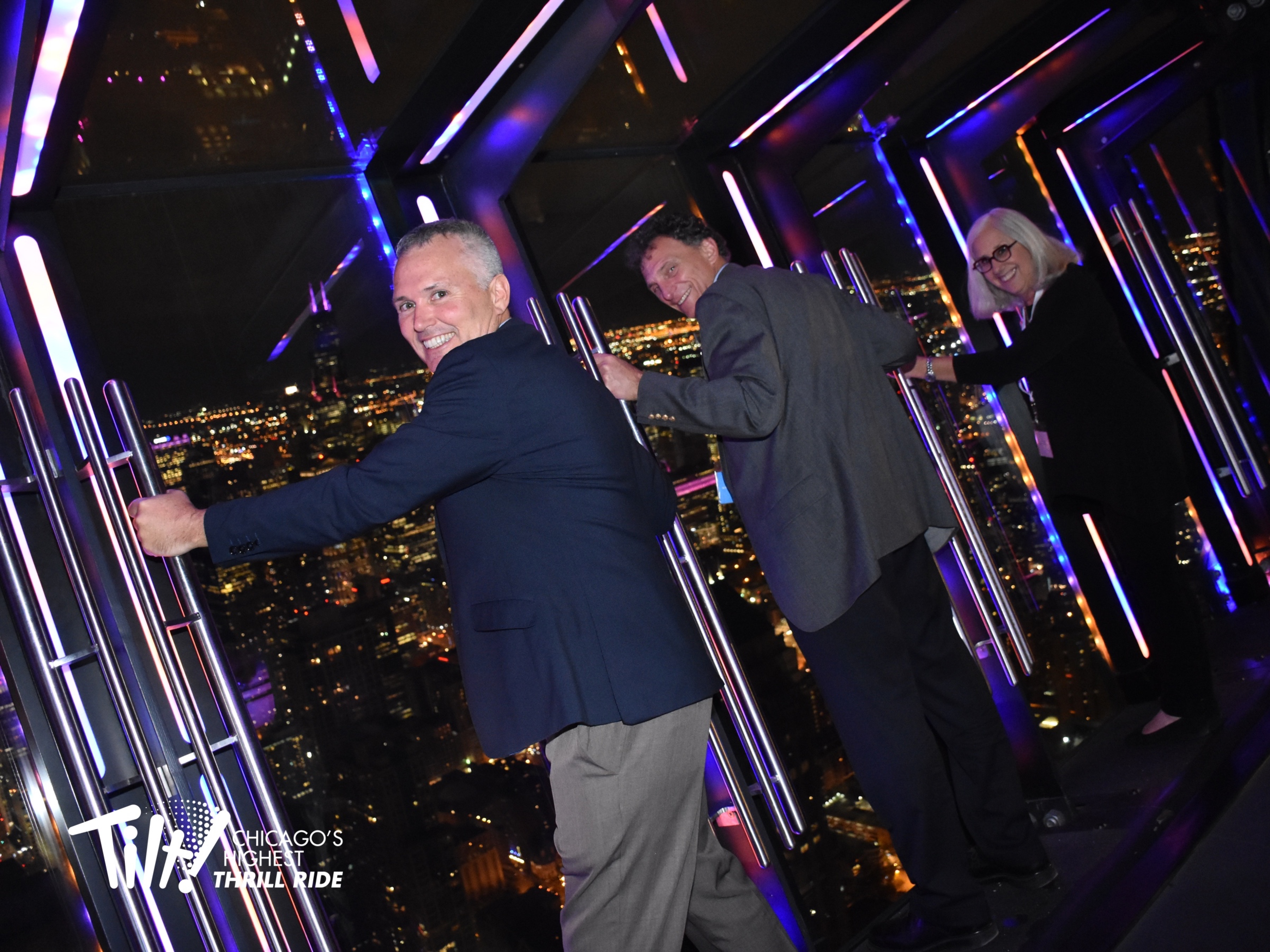 Kuraray team members at the Tilt! Chicago glass attraction.

In October, I attended an educational event at the top of Chicago's John Hancock Building, where the glass-enclosed Tilt! attraction offers visitors a thrilling downward-facing view of the city from 1,000 feet in the air. The event, sponsored by Kuraray, featured presentations from Tilt! engineer Matt Kuba of Thornton Tomasetti, and James O'Callaghan, senior director of Eckersley O'Callaghan, the engineers instrumental in Apple's structural glass revolution at its new headquarters and global retail locations.
Kuba and O'Callaghan discussed the hurdles they faced in pushing the glass envelope—quite literally. The last two decades have seen glass in increasingly ambitious structural installations; glass in larger sizes and more complex shapes; and glass as a structural material used in lieu of metal systems and hardware.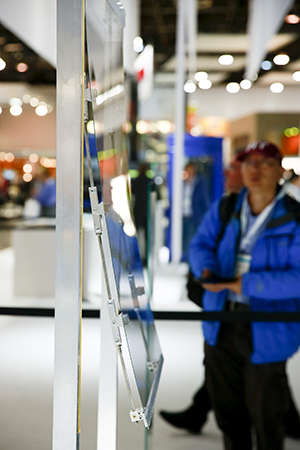 The evolution in structural glass continues, O'Callaghan says. "Now we have glass that is 18 meters, 19 meters long. For an Apple store in Macau, we're laminating glass with translucent marble," he says.
The future industry will also feature new ways of using glass, O'Callaghan says. "There have been great inventions in glass, some of which don't make it into buildings, some which do," he says. "We're looking at the thin glass industry and additive manufacturing. Think about the power of what we can do [with new technologies]."
O'Callaghan also encourages the industry to look beyond structural and material evolution. He is part of a research group at Dutch university TU Delft. The group is pushing for development in areas including recyclability and energy performance.
Building materials and construction are responsible for 11 percent of global carbon emissions; building operations are responsible for 28 percent, O'Callaghan says. "We have a responsibility. How can we reduce embodied carbon in our materials and in our buildings?" he asks. "We only have one planet and we need to make sure we look after it."
This December issue of Glass Magazine closes out an amazing decade in the industry—one that has witnessed a redefining of what's possible with glass. What will the next 10 years bring? What are the long- and short-term trends, challenges and opportunities for architectural glass? How can industry leaders ensure they aren't left behind?
This issue looks at a few of these key topics. Read about the next stage of the "Battle for the Wall"—the industry's fight to ensure glass and glazing products aren't limited in codes and standards. The issue also provides an in-depth look at recruitment and retention for the next generation. Learn about how Linetec is building the green factory of tomorrow, and learn about next-level handling and transportation solutions.