Museum Honors Native Worldview
Glass companies collaborated on the unique design of the First Americans Museum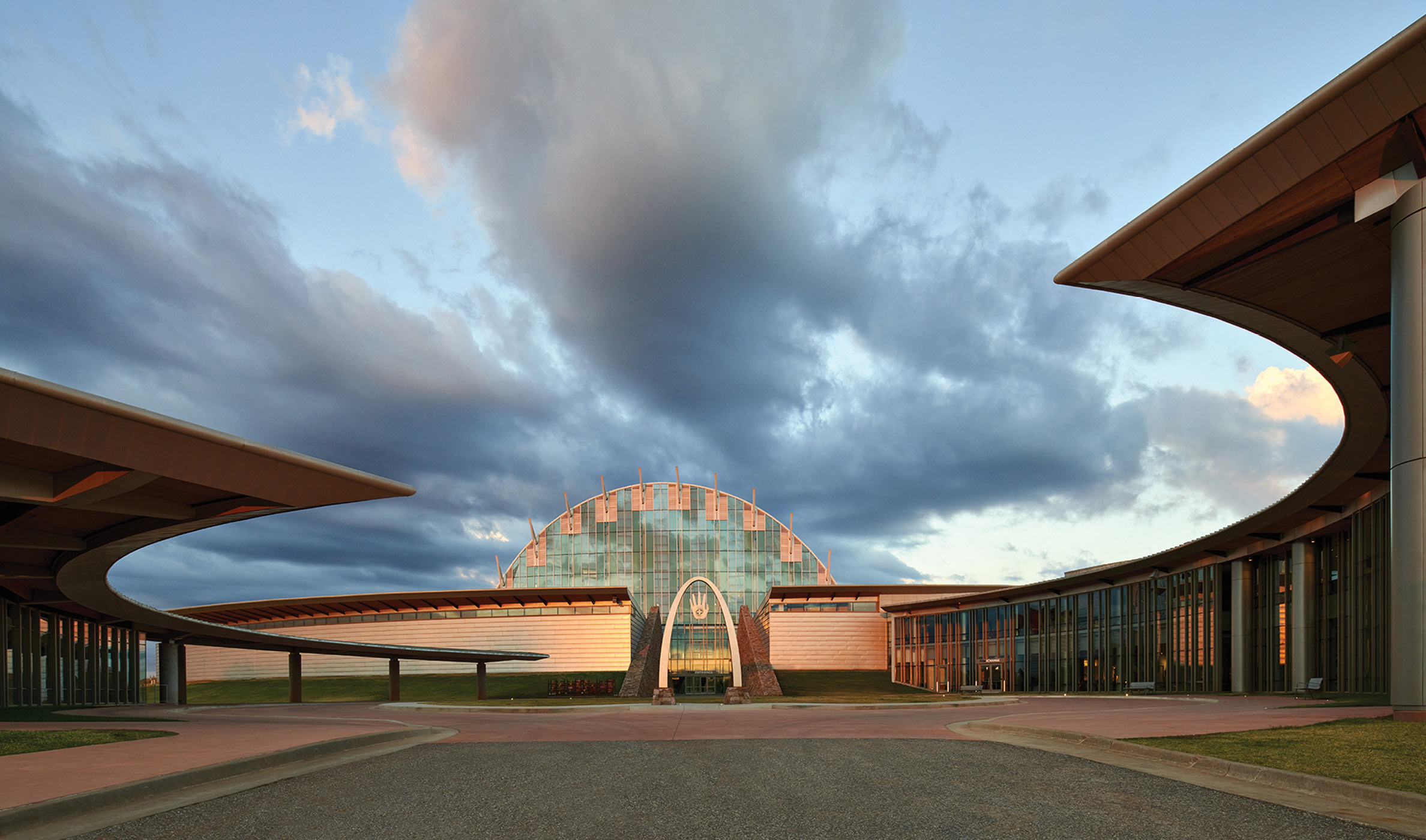 Above: The First Americans Museum opened in Oklahoma City after 25 years of planning. This project thoughtfully implements the Native American circular philosophy rather than the traditional Western linear approach to architecture, according to a press release. The buildings and grounds primarily use spirals and ellipses instead of right angles and corners, and  glass and metal systems were critical elements in helping the design team achieve this goal.  
Digging deep into design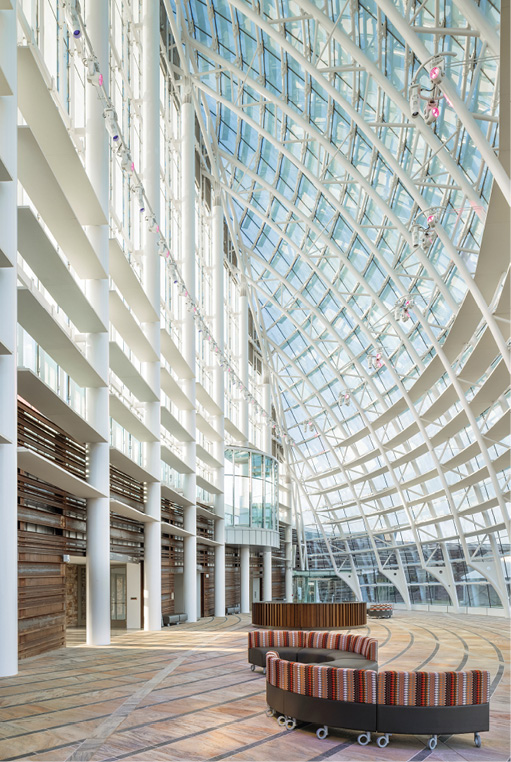 Arizona State University professor Donald Fixico was the cultural and heritage advisor for this project. Fixico was the one who broached the idea of honoring the holistic, non-linear ways of native people, or the "circular" way of seeing the world.  
While Western culture values land as a commodity, native cultures value it spiritually. Circles relate to the cycle of life, the seasons and the earth's rotation, reflecting the native tradition of a circular worldview, according to a press release. The design evolved out of multiple circles suggested by arcs.  
The concept for the museum honors 39 tribes in Oklahoma. The overall structure is a spiral that "begins in the earth and ascends to the heavens." It comprises two arcs: the western arc featuring permanent and rotating exhibitions and the northern arc that houses theaters, retail, dining, and other services.
A 110-foot-tall prismatic glass structure called "The Hall of The People" acts as a starting point for visitors and a central gathering space. A Wichita grass lodge inspires its form, and it features 10 26-inch-diameter columns to represent the 10 miles per day that native people were forced to walk during the expulsion from their lands. Three sky terraces, representing the sun, moon and stars, provide visitors with views of the Oklahoma River and Downtown Oklahoma City. 
Where glass fits in 
Founder of Tietsort LLC, Gus Tietsort, was the lead glazing contractor for the project. Tietsort LLC is an Oklahoma City-based glazing contractor. 
"We [Tietsort LLC] like the challenging projects. We really got to spread our wings and stretch our ability," says Tietsort. "There were a lot of unique challenges we had to navigate through with the non-traditional details included. Those took a lot of collaboration to complete."
The glass systems used for this project included YKK AP America curtain wall with 1-inch tempered glass units by Tristar Glass Inc.;  glass entrances manufactured by Assa Abloy;  a glass vestibule with 1 ½-inch laminated glass units in a ceramic frit pattern manufactured by Novum;  a glass floor made with laminated floor panels by M3 Glass; a glass balustrade with clear tempered laminated glass by M3; and Dormakaba stacking partitions made with 1/2-inch Starphire glass from Vitro, fabricated by Tristar Glass Inc. The museum also features aluminum entrances by YKK AP with hardware supplied by Assa Abloy. Colorlite-painted glass wall panels manufactured by Tietsort are also featured in the museum. Tietsort exclusively produces these, which include architectural back-painted glass wall panels, partitions, doors, marker boards, countertops and more.
"It's a great landmark for Oklahoma City and, as far as glazing goes, it's highly visible, unique and significant for [our industry]," adds Tietsort. "I can appreciate working on a project where design sometimes takes precedence over function. It's nice to have the ability to participate in those projects."
More project specifics
The museum is 175,000 square feet, including a 4,000-square-foot First Americans Museum Center and a 280-acre campus along the Oklahoma River. The design architect for this project was Johnson Fain, an architecture, planning and interior design firm based out of California. Hornbeek Blatt was the associate architect. 
A nonprofit corporation, the American Indian Cultural Center Foundation, manages FAM. The AICCF was initially established in 1998 to facilitate fundraising activities for the project and manage funds received through charitable gifts and grants.
The museum was recently selected as one of 10 Urban Land Institute's Americas Awards for Excellence winners. Learn more at famok.org.