Product Solution | 2500 UT Unitwall® System by Kawneer
Taking thermal performance to the next level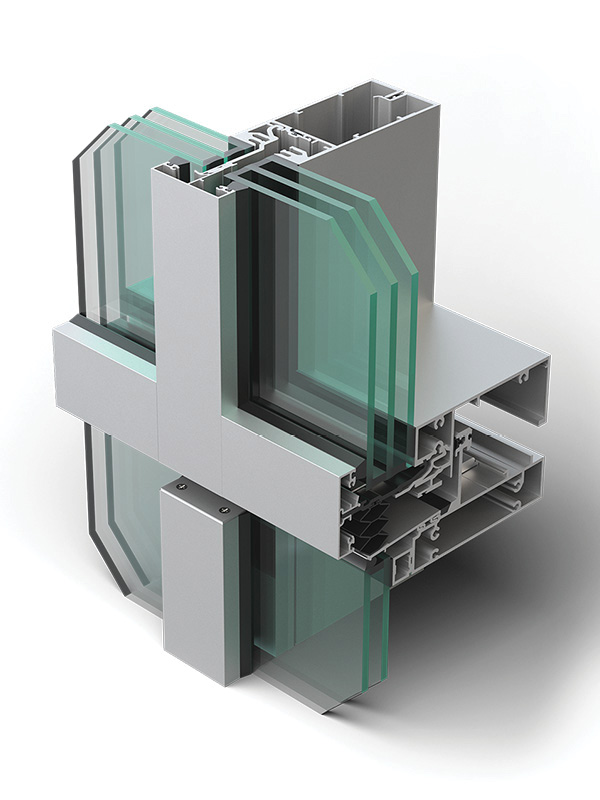 Key Features

Sturdy, high-performance system
Ultra-thermal performance
Mid- to high-rise applications
Seismic rated (AAMA 501.4 and 501.6 standards)

The 2500 UT Unitwall® System marries the elegant aesthetic of a gleaming glass, unitized curtain wall with ultra-thermal performance built into the design. The 2500 UT Unitwall® System is a cost-effective, unitized framing system that reduces the time required to fabricate, assemble, glaze and install.
With a variety of flexible options—from four-sided captured exterior covers to structural silicone glazed (SSG) or structural glazing tape (SGT) configurations—this sturdy, high-performance system is ideal for commercial applications, mid- to high-rise projects and more.
The 2500 UT Unitwall® System employs a continuous polyamide thermal break vertically and horizontally, providing ultra-thermal performance levels in a cost-effective unitized curtain wall system. In addition, the one-piece polyamide thermal break eliminates pressure plates and fasteners, reducing the amount of metal used and time required to assemble the system.
Additionally, its ultra-thermal performance allows architects and designers to take their vision to a new level, regardless of climate or location. The 2500 UT unitized curtain wall system's virtually seamless walls of glass connect interior building spaces comfortably with the outside world, elevating performance and expanding aesthetics.
Economy and flexibility
The 2500 UT Unitwall® System provides options that allow architects and contractors to meet tough project timelines while delivering enhanced thermal performance and lower overall operating costs for building owners.
Unitized construction accelerates installation while minimizing disruption to the surrounding area or existing tenants, making it an exceptional choice for new or retrofit applications, particularly in urban areas or where space is limited. The system is available to glazing contractors in stock lengths, fabricated or pre-assembled and glazed—offering the flexibility to meet a range of budgets, worker availability and timelines.
With stock lengths, glazing contractors can provide fabrication and pre-glazing under controlled conditions in their own shop.
Factory-fabricated and glazed units make it easier to meet tight construction schedules, reduce field labor costs and lessen the demand for jobsite equipment.
SGT option offers the aesthetic of structural glazing without the cure time required by silicone, helping to speed up final delivery times. Cost savings on metal and fabrication materials can be realized when compared to a typical curtain wall configuration.
Learn more
Visit kawneer.com.