Product Solution | Kodiak® Glass Edging Machinery and Tooling by Salem
Innovative, exclusive line of glass polishing equipment and tooling

Key Features

Superior Cast element bearing track with riveted pads 
Built tough with heavy-duty frame construction and 77-pound spindles 
Easy-to-use operator interface with intuitive displays 
Industry-leading 18-month mechanical, 12-month electrical warranty
Premium tooling lineup chosen and tested specifically for KODIAK® machinery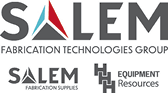 With more than 100 years of experience, Salem Fabrication Technologies Group Inc. brings the glass industry an innovative, exclusive line of glass polishing equipment and tooling designed specifically with North American fabricators in mind. 
Heavy-duty edging, mitering and beveling machines
HHH Equipment Resources, the machinery division of SFTG, now offers the KODIAK® line. These robust machines feature heavy-duty frame construction with 77-pound spindles and long-lasting track elements, including riveted pads. Designed for continuous use and handling of large lites of glass, they include user-friendly 10-inch display screens, automatic lubrication and UL-certified components. Each KODIAK® machine comes backed by an industry-leading 18-month mechanical, 12-month electrical warranty and is fully serviced in the United States.
KODIAK® machines' cast aluminum caterpillar track system consists of linking elements fitted on special bearings. The track motion is performed by gears, without chains, for high precision and long life. The riveted back track pads are coated with 7 mm of thick rectified rubber—allowing for multiple grindings and longer track usage. The riveted front track pads are coated with a special grooved rubber to firmly grip small pieces of glass and compensate for uneven glass surfaces.
KODIAK® glass polishing machines come fully supported by HHH's experienced team of U.S.-based technicians. HHH provides 24/7 support out of four service centers and has faster response times than overseas competitors, reducing downtime and ensuring optimal performance.

Exclusive line of tooling setups
Salem Fabrication Supplies, the tooling division of SFTG, equips KODIAK® machinery with an exclusive line of diamond and polishing wheels specifically for the KODIAK® lineup. These tooling setups, which include premium metal bonded diamond wheels, SUPERIOR resin diamond wheels and Vero cerium polishing wheels, produce the highest-quality finish with excellent life.
The metal-bonded wheels of the KODIAK® tooling setups are produced by Italian manufacturing partners and are of the highest quality available in the industry. The SUPERIOR line of premium resin diamond cup wheels features a unique "S" pattern and are designed for the removal of interlayer when processing laminated glass—while also performing very well on monolithic glass. Vero wheels are among the best cerium polishing wheels in the industry. Their unique composition is very durable and achieves the highest quality polish.
The KODIAK® machinery line, along with its premium tooling setups, will redefine standards of productivity.
Learn more
Learn more at salemftg.com, 800-234-1982.