Product Solution | SuperClear® 45-HS-LI
By SAFTI FIRST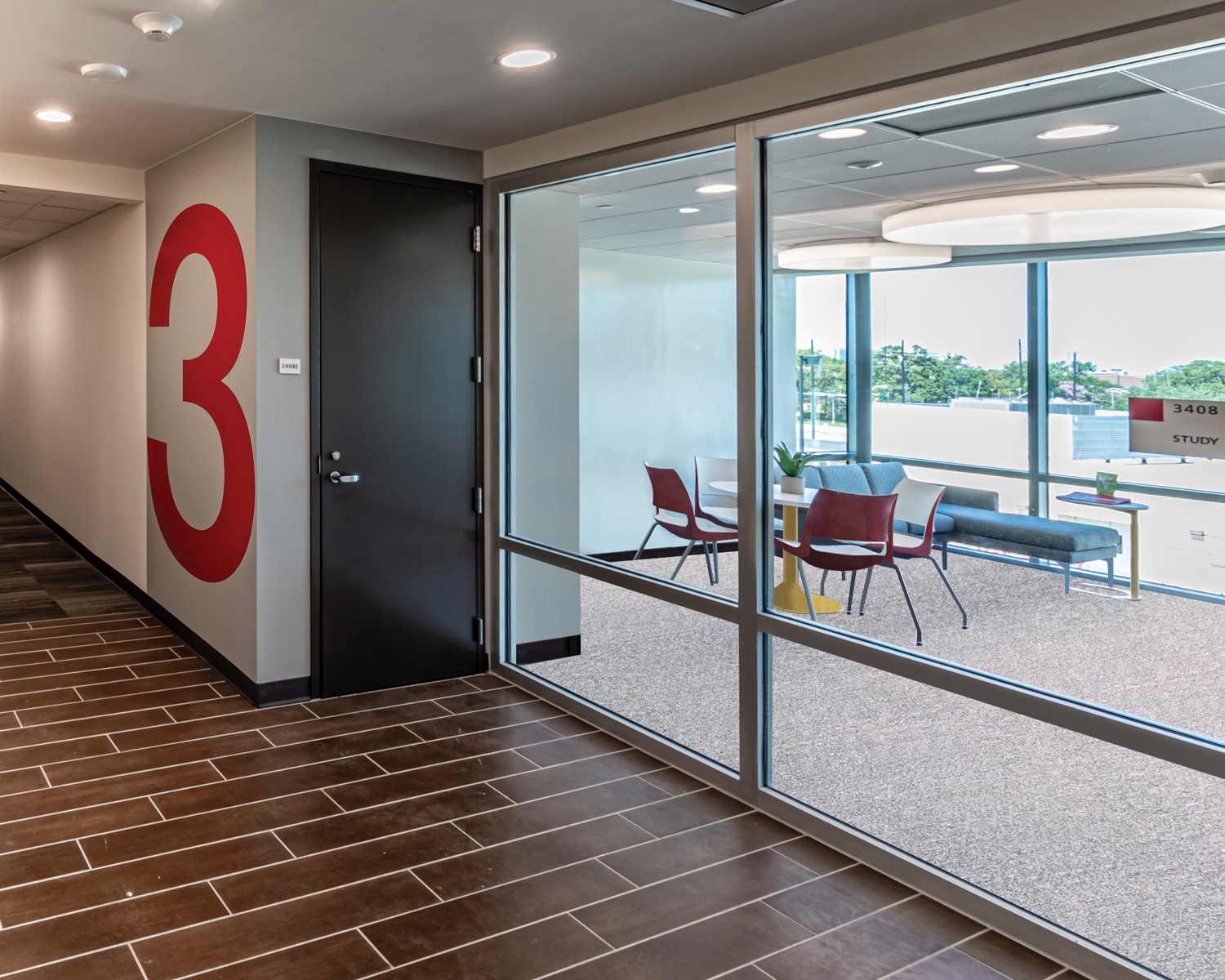 Above: SuperClear 45-HS-LI fire protective glazing by SAFTI FIRST used in The Quad at the University of Houston
Key Features

Meets all fire, safety and hose stream requirements
Clear, low-iron glass without wires, tints, films and laminates
Readily available with affordable pricing and lifetime warranty
Superior durability means less breakage and replacement costs

SuperClear® 45-HS-LI (hose stream, low-iron) is a new, patented, USA-made, fire-protective glazing that meets all fire, safety and hose stream requirements for 45-minute doors, sidelites, transoms and openings. With its superior performance, durability and affordable pricing, SuperClear® 45-HS-LI is the ideal product for schools, hospitals, laboratories, offices or any other institutional or commercial project.
Ultimate transparency. SuperClear® 45-HS-LI is the only monolithic, 45-minute fire-protective product that incorporates low-iron glass for ultimate transparency. It does not have embedded wires or tints typical of filmed or laminated ceramics used in the same application. This means SuperClear® 45-HS-LI will blend seamlessly with other non-rated glazing in the same project.
Superior durability. SuperClear® 45-HS-LI meets the CPSC Cat. II, the highest impact safety requirement. Not only does it pass the test but it is more likely to survive the impact without breaking compared to filmed or laminated ceramics. This means less replacement costs over time, adding to more savings.
Affordable and readily available. Proudly USA-made, SuperClear® 45-HS-LI has a lifetime warranty and is readily available at an affordable price. Listed and labeled by UL and Intertek, it can be used in standard hollow metal doors and frames or with any SAFTI FIRST fire-rated doors or framing.
Multifunction performance. SuperClear® 45-HS-LI can be customized to provide additional protection against bullets, forced entry, vandalism, blasts, hurricanes or any other threat. Decorative, privacy and energy-efficient make-ups are also available. SuperClear® 45-HS-LI is an approved glazing component in the NFRC CMAST database. It also has inherently high STC and OITC ratings, offering additional sound attenuation benefits.
Learn more
Learn more at safti.com, 888 /653-3333. 
Watch SuperClear 45-HS-LI pass the CPSC Category II safety glazing impact test.