Protecting Wildlife with Glass
The glass industry steps up to protect animals with architectural glass solutions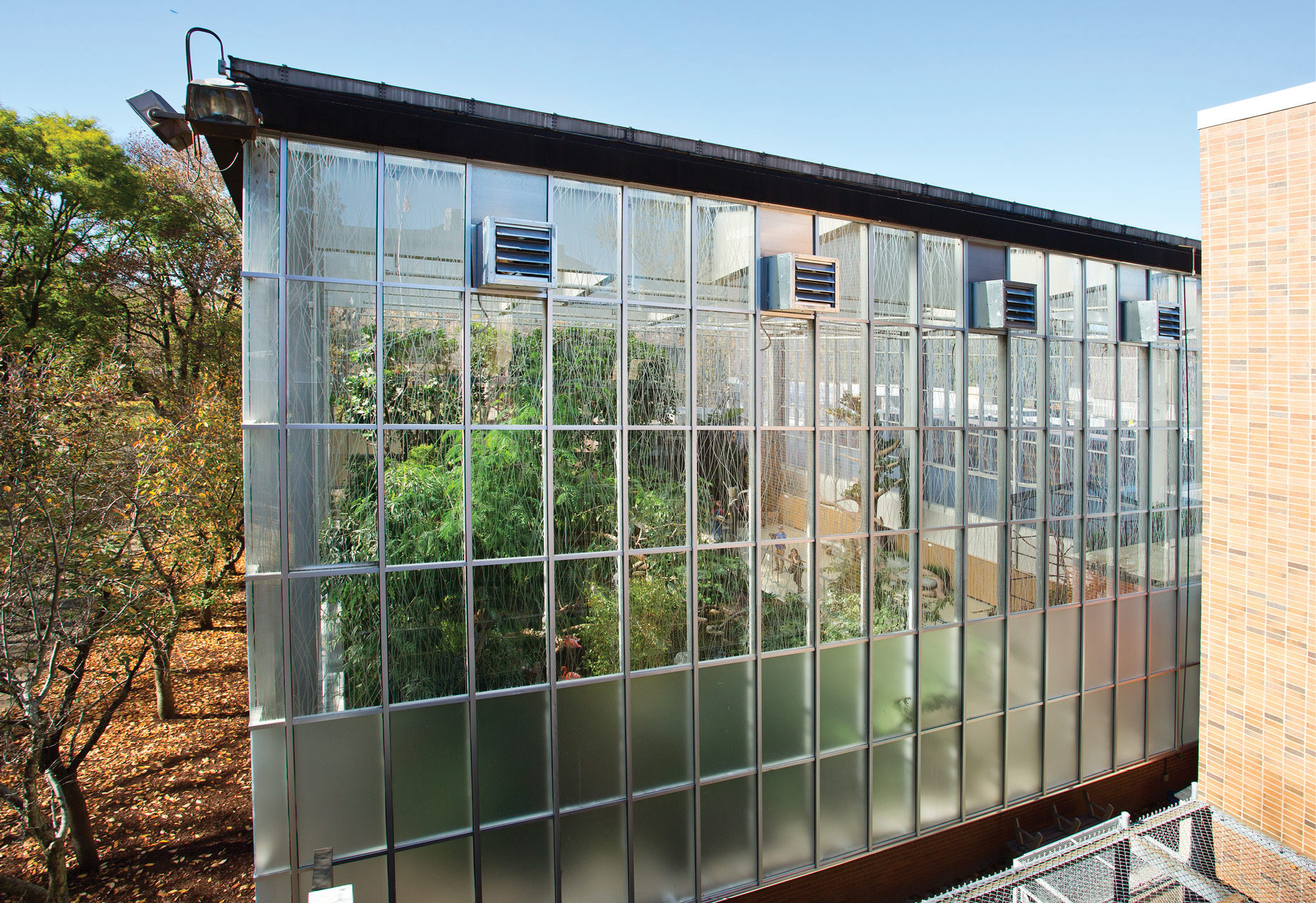 Above: Walker's Starphire Ultra-Clear glass used for the Tropical Rainforest Habitat at the National Aviary in Pittsburgh. The roof and lower wall panels with Walker Textures Velour finish on surface 1 and the upper wall panels with AviProtek pattern 214 on surface 1. Photo by Walker Glass. 
Just as the use of glass in buildings can affect the overall well-being of people, glass and glazing provides the same benefits to animals, birds and reptiles. It protects wildlife by mitigating impact collisions, heat stress, habitat fragmentation, and light and noise pollution. It allows animals to maintain crucial circadian rhythms and physiological cycles. It also provides regulated climate and protection from disease. Glass creates a safe and non-claustrophobic barrier that allows animals to interact with their surroundings and humans to view and engage wildlife for education and research. From urban hubs and residential areas to zoos, aquariums and wildlife sanctuaries, glass enhances the welfare of animals. This article looks at the role of glass and glazing in protecting wildlife in three applications: bird-friendly glass, turtle glass and habitat enclosures. 
Safety is for the Birds
Birds have a fraught history with glass. Bird glass collision, also known as bird-window collision or bird strike, refers to instances when birds collide with glass surfaces, such as windows or glass curtain wall façades.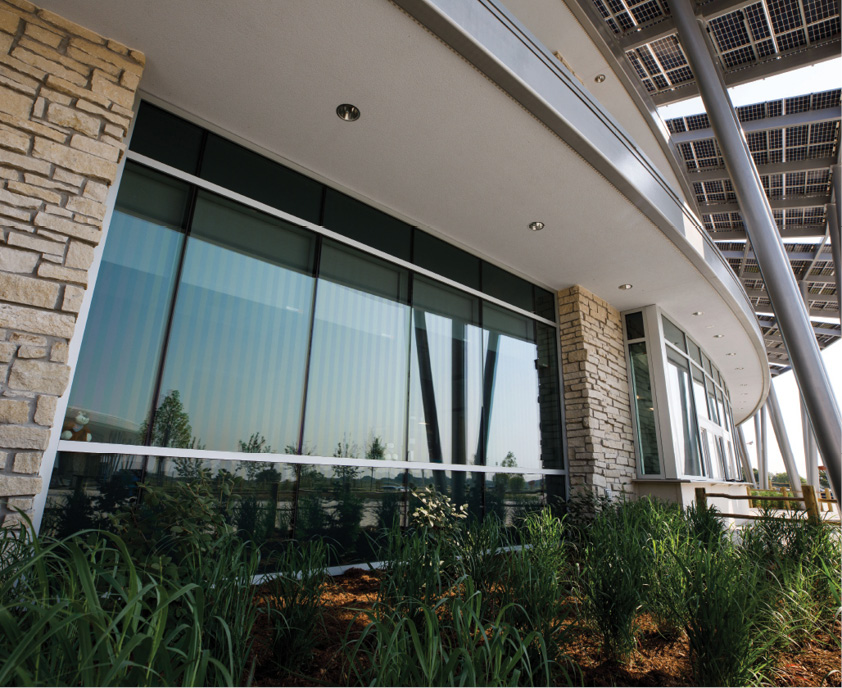 The challenge 
Both clear and reflective glass pose problems for birds. Birds cannot perceive glass as a solid barrier. They may see a clear passage or a reflection of the surrounding environment, tricking them into thinking they're flying through trees or clouds and leading to fatal collisions. 
Up to 988 million birds die annually in the U.S. alone due to collisions with buildings, including both residential and commercial structures, according to the U.S. Fish & Wildlife Service. The National Audubon Society says that number is much higher, citing as many as one billion bird deaths annually from building collisions. 
Bird-friendly glass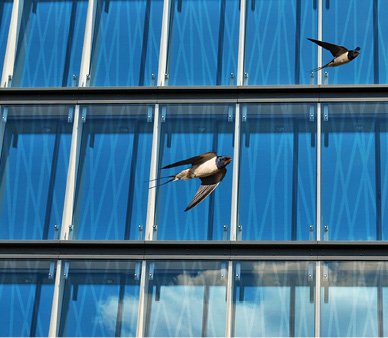 Research on bird-glazing collision prevention has guided the development of bird-friendly architectural glass and building design, transforming clear and reflective glass into barriers that birds will see and avoid. Particularly important in urban areas or regions with high bird populations, bird-friendly glass employs various strategies to make the glass more visible to birds, including patterned or frosted glass, acid-etched glass, UV-reflective coatings, and films or coatings. 
Birds begin to perceive buildings as objects to be avoided through distance between features or patterns on the glass. The denser the pattern the more effective it becomes in projecting itself as a solid object perceived by birds. Most bird-safe building code requirements use a 2 by 4 or a 2 by 2 rule—meaning patterns should be no more than 2 inches apart vertically and 4 inches apart horizontally, or 2 inches by 2 inches apart. 
Legislating safety 
In North America, there are nearly 30 locations that have bird-safe building regulations, including New York City; Portland, Oregon; and San Francisco; the states of Illinois and Minnesota; and various Canadian cities such as Vancouver, Calgary and Toronto. By October of this year, bird-friendly glazing might be a requirement on specific buildings in Washington, D.C. While not a law, LEED certification also provides guidelines for constructing bird-friendly buildings and includes credits for incorporating bird-collision deterrents into design and construction. 
There are also moves for federal bird-safe legislation. The National Glass Association, as part of its advocacy efforts for safe and sustainable glass and glazing practices, supports the implementation of bird-friendly design strategies such as the Federal Bird Safe Buildings Act of 2021. 
"As federal legislation is passed to require more bird-safe building materials, this market continues to grow," says Tim McGee, sales manager, Glass Coatings & Concepts. 
Industry solutions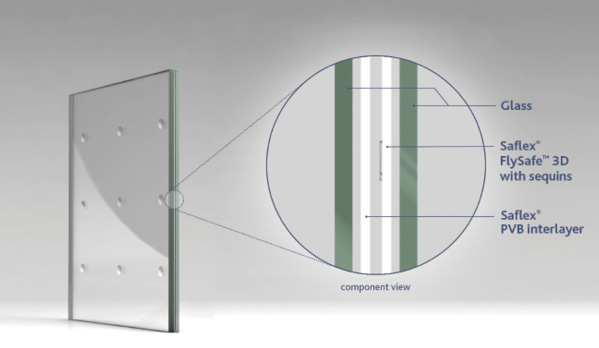 Over the last decade, interest in bird-friendly glass has grown among building industry professionals such as glass manufacturers, architects and developers. Many glass companies have stepped forward in the last few years with products designed to prevent bird collisions. Today, there are many products tested and marketed as bird-safe. 
The glazing industry offers "innovative new products to help prevent birds from colliding into glass," says Priya Kalsi, global segment market manager, Eastman. "As technologies work to make glass noticeable to birds without obscuring or distorting views through glass, and as humans visualize and use the material, more bird-friendly cities are likely to be on the horizon." 
McGee adds, "Our solution needed to be two-fold: develop a product that would deter bird collisions and engineered to meet durability requirements while exposed to external elements and various climate conditions." 
Glass and glazing products such as etch, frit, film, decals, fenestration patterns of vertical and horizontal mullions, decorative grilles and louvers, artwork, and ultraviolet patterns can help minimize bird-related injuries by creating visual markers. Additionally, strategies to mute reflections, such as angled glass, awnings and overhangs, sunshades, screens, grills or mesh, shutters, louvers, and window film, are essential in glass facade design. 
"As awareness grows around the impact of window collisions on birds, building owners interested in environmental stewardship demand more bird-friendly approaches—as do governments at multiple levels," says Jacob Kasbrick, director of commercial segment and technical services, Guardian Glass North America. "With different priorities, geographic considerations and legal requirements, every bird-friendly architectural project is unique. Designing for bird safety in conjunction with other project goals and constraints can be a challenge."
Safe Paths for Sea Turtles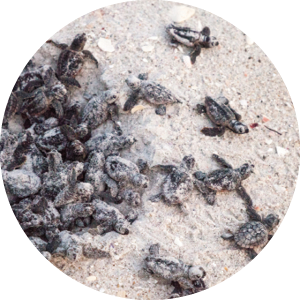 As highly migratory animals, sea turtles rely on specific habitats throughout their life cycle, especially where it involves coming onshore to nest and lay eggs. They can be affected by glazing and window glass near coastal areas or beachfront properties, which interferes with the natural light they use for navigation and can disorient hatchlings, causing them to move away from nests and become prey to predators. This habitat fragmentation also disrupts their migration patterns.
The challenge
The increasing use of glass flood walls, widespread near coastal residential buildings as a protective barrier that allows unobstructed water views, also threaten sea turtles. The turtles often mistake these glass barriers for open water, fatally hitting the glass as they attempt to swim through it or become trapped between it and the water's surface. Many Southeast and Gulf Coast states are turning to impact-resistant and floodproof glass sea walls to combat the threat of sea level rise in coastal areas, which may affect the Loggerhead, Green and endangered Kemp's Ridley sea turtles.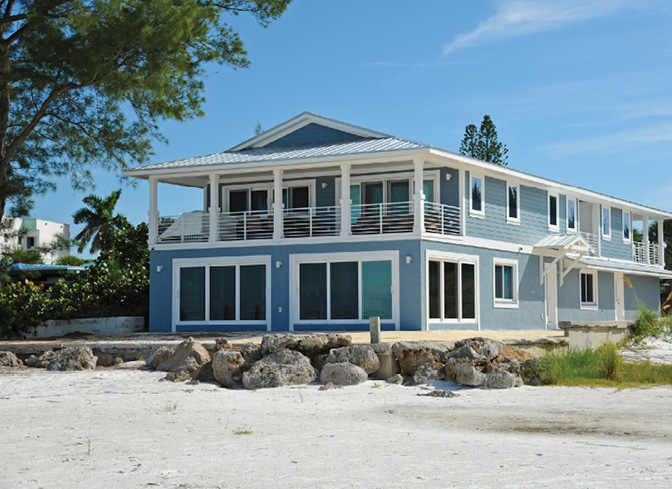 Sea turtle glass
Many coastal residents install "turtle glass" on oceanfront windows, door openings, and other transparent surfaces on buildings near nesting beaches. Treated with a special greenish coating, turtle glass protects sea turtles and their nesting habitats. It limits reflective glare from outside sources and the amount of light transmitted through the glass from the interior.
Turtle glass may incorporate low-reflectivity, UV protection, and darkened or tinted glass to minimize visual distractions. The glass also affects visible light transmittance, or VLT, the amount of visible light that can pass through the glass. 
Legislating safety
In the U.S., all sea turtles are protected under the Endangered Species Act and Marine Turtle Conservation Act. The first in the nation, Florida's Marine Turtle Protection Act and the Florida Building Codes mandate that oceanfront property use turtle glass or dark gray tinted glass on openings facing the water. Colloquially known as "turtle codes," they are the state regulations pertaining to sea turtle conservation and protection of habitats and nesting areas. These codes specify a VLT of 45% or less in new construction. Many tinted, low-emissivity and reflective coated glasses meet this VLT requirement and missile-impact glass that complies with the state's building code requirements for windborne debris protection can also be constructed with these products.
While 70% of the nation's sea turtle nesting occurs on Florida beaches, several state coastlines are habitats for sea turtles, including California, Delaware, Georgia, Hawaii, Maryland, North Carolina, New Jersey, New York, South Carolina, Texas and Virginia. Several have implemented or are considering turtle codes or regulations. Last year, South Carolina Rep. Greg Hembree introduced amendments to the Sea Turtle Protection Act that states beachfront homeowners should use tinted or filmed glass on ocean-facing windows above the first floor of a multistory structure.
Industry solutions
Various wildlife conservation agencies, environmental groups and researchers have been collaborating with industry associations to develop strategies and guidelines to mitigate the impacts of glass on sea turtles and develop turtle-friendly glass and glazing practices.
For two years, the Fenestration and Glazing Industry Alliance has worked with Florida Fish and Wildlife Commission representatives to better understand what sea turtle hatchlings see at night through glass used in windows and doors. The FWC conducted research with Florida sea turtle hatchlings in the summer of 2022 using glazing samples in a wide range of visible transmittance levels. FGIA members donated the glazing samples FWC used in the independent study. The first-of-its-kind research will help inform FWC's future recommendations for suggested VT levels in glazing in Florida coastal areas.
"FGIA and its members are working with the FWC and others to help consider options that benefit the needs of sea turtle hatchlings and people," says Kathy Krafka Harkema, U.S. technical operations director, FGIA.
Wildlife habitats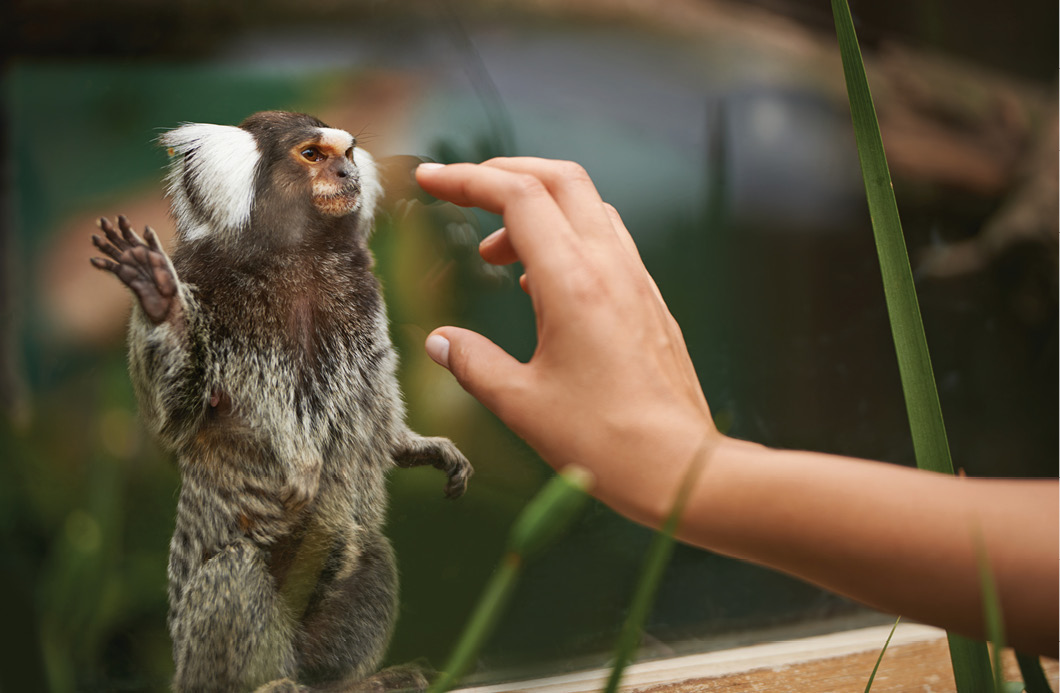 Renovating wildlife habitats and enclosures using glass and glazing can help protect animals and provide them with suitable living conditions. Glass glazing offers several benefits regarding animal welfare, visitor experience and conservation efforts.
Glass glazing can provide a transparent, noise-reduced barrier that ensures the safety and comfort of wildlife within their habitats, allowing visitors to observe and appreciate the animals without stress. Glass can also help create a controlled environment within enclosures, allowing for better temperature, humidity and ventilation regulation. Properly designed glass glazing enables natural daylight to enter the enclosures and filters out harmful ultraviolet radiation. And glass surfaces are generally easier to clean and maintain, ensuring a hygienic environment and reducing the risk of diseases and infections.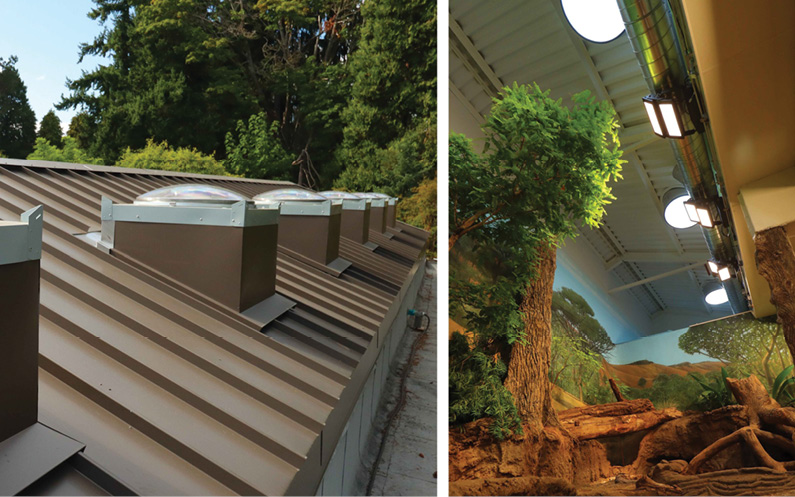 Wildlife glass
NGA's GANA Glazing Manual, IYOG Edition, includes information on special glass applications for viewing windows in large aquariums and animal enclosures. In short:
Animal enclosure windows consider the applied force—weight, impact velocity, glass rigidity and support cushioning—of animal impacts on the glass. Calculating the required glass to withstand this force involves estimating the animal's deceleration, which determines the applied force and can be four or five times its weight for highly active animals. Glass selection should consider potential breakage from impact, mechanical and thermal stresses, and inclusions. Typically, a proper design involves laminating at least two plies of tempered glass, with the safety factor influenced by the threat to people. Thicker laminates may be needed for butt-glazed applications to decrease the deflection of direct animal contact.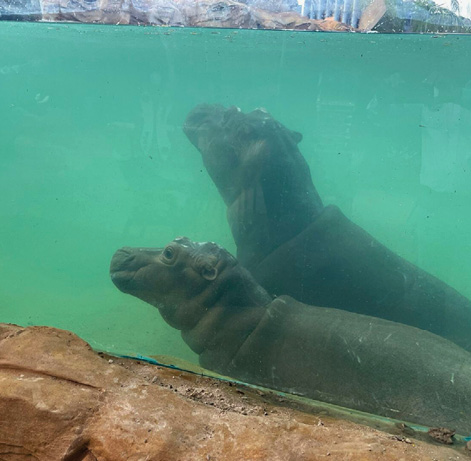 Aquarium view windows require a different design approach than windows in buildings subjected to wind loads. The continuous, long-term loading and greater magnitude of water pressure, as well as factors like marine animal weight and impact, make standard glass thickness charts and uniform load-based design procedures inadequate for aquariums. Safety considerations, including impact, mechanical and thermal stresses, and some inclusions, necessitate using laminated glass to prevent complete failure.
Industry solutions
Many glass companies specialize in enclosures for zoos, including Cristacurva with its curved and tempered glass products for animal habitats, Oldcastle BuildingEnvelope and Pilkington's specialty enclosure glass, Vitro Architectural Glass' energy-efficient options, and Agnora Architectural Glass, Kuraray America, Isoclima Specialty Glass and Solatube products.
"We love working with zoos and helping to install the right glass constructions for their spaces. We've provided glass for bears, tigers, leopards, chimpanzees and many other exhibits in the U.S.," says Trent Thiry, vice president of sales and marketing, Isoclima Specialty Glass. "For us, it is all about safety and design; maximizing the interaction that the animals have with the environment and allowing the visitors to interact with the animals safely. Glass allows a more natural design appearance to the environment." 
Resources

Bird-friendly glass and glazing design strategies

Coastal Glazing and sea turtles

Aquarium view and animal enclosure windows

Task group member companies who contributed to NGA's bird-friendly resources

3M
Agnora
Alliance Glazing
Cardinal
Dip-Tech a Ferro Company
Eastman 
Chemical 
Company
Fusion Ceramics
Glas-Pro
Glass Coatings and Concepts
Goldray Glass
Griffin Glass & Metal Werks
Guardian Glass
ICD High 
Performance Coatings
Intertek
Kuraray America
Madico
Manko Windows
McGrory Glass
Oldcastle BuildingEnvelope
Pilkington North America
Thompson 
Innovative Glass
Tristar
Trulite
Viracon
Vitro
Vitrum Glass
Walker Glass