Protective Glazing to Improve Workplace Safety
Glass Companies Pivot to Provide Protections for Workers
May 26, 2020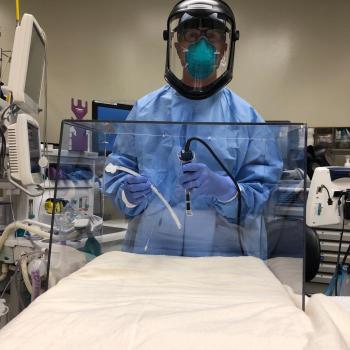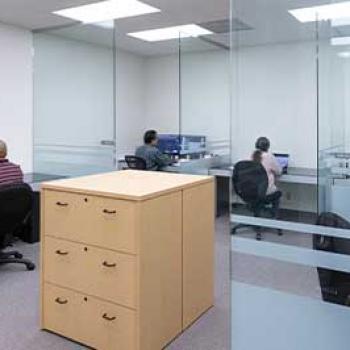 Numerous glass industry companies have stepped up to help protect essential workers during the COVID-19 pandemic. Glass businesses have pivoted to provide guards and shields at checkout counters, for groceries, hardware stores and even traditional retailers. Meanwhile, other companies have made moves to provide shields specifically for health care applications. 
This article highlights news updates from companies pivoting to provide glass guards and similar products.
To share your product pivot news, write to kdevlin@glass.org. 
 
Protective Glazing Product Showcase

Industry companies pivot to protect workers during the COVID-19 pandemic, producing products from checkout counter guards to shields for health care applications to new office partitions. 
Glass companies pivot
OBE Announces Health Care Glass Enclosure
Oldcastle BuildingEnvelope developed a glass enclosure to address the challenges communities and health care workers face in the current pandemic environment. The health care worker protection glass enclosure provides an easy-to-clean, physical barrier between a patient and caregiver, mitigating pathogen exposure. Its use not only protects frontline health care workers, but reduces the need for personal protective equipment that is in critically short supply.
The system is offered in two formats—three-sided or four-sided fully enclosed—that are modular in nature and can be combined in varying configurations to meet health care facility needs. Oldcastle BuildingEnvelope has requested an Emergency Use Authorization from the FDA in an effort to rapidly deploy the product. 
Binswanger Glass Produces Intubation Boxes
Binswanger Glass is producing intubation boxes for hospital intensive care units, to aid in the battle against COVID-19, say company officials.
Binswanger's intubation/aerosol boxes are being used in Topeka, Kansas, ICUs to protect front-line health care workers. The company can customize and ship these packaged flat anywhere in the country for quick and easy onsite assembly. Pickup/delivery of fully assembled units are available from 61 locations in 14 states. Custom sizes, aperture openings and arm hole sizes/placements are available.
FHC Supplies Protective Guards, PPE
Frameless Hardware Co. is manufacturing free-standing glass guards, which do not require mounting holes. The guards are available in stock and custom sizes, according to the company. FHC is also supplying disposable face masks and bio-degradable disposable gloves.
MY Shower Door / D3 Glass Manufactures Protective Guards
Amid deep safety and health concerns over the spread of the coronavirus, Southwest Florida-based MY Shower Door / D3 Glass is building glass health guards that can protect businesses, their employees and the community, say company officials.
Bill Daubmann, president and founder of MY Shower Door / D3 Glass, says the company is ramping up production of these protective health guards of custom sizes for rapid delivery. These guards can be a great deterrent in preventing the spread of COVID-19 through direct droplet transmission. The guards can be installed in register aisles, at cashier counters and in food areas. Office space—both permanent and temporary—can be fabricated with large glass panels where individuals can work, be protected and be separated from the public.
Giroux Glass Offers Essential Protective Services
Officials from Giroux Glass posted updates on its essential protective services during the COVID-19 crisis, including installation of social distancing partitions. "We can help enforce social distancing and shield office workers from potential airborne germs by quickly erecting glass partitions between desks in open work environments. We can close off offices that used to open onto shared hallways, keeping workers contained within their own safe air space," according to the company. 
Giroux is also promoting its hands-free door devices to allow owners to reduce touchpoints.  
HMI Cardinal Provides Cardinal Shield 
HMI Cardinal offers the Cardinal Shield glass barriers for retail and office applications. The glass protects employees and customers from  exposure to respiratory droplets, according to company officials. The Shield barriers can be customized for size, cutouts and configurations. Additionally, the surface is easy to clean, resists scratches, and holds the color of its natural state. 
CRL Introduces Portable Protective Barriers
C.R. Laurence Co. introduced two portable protective barrier systems: the Acrylic Barrier Kit and Protective Barrier Posts. The Acrylic Barrier Kit comes in two sizes: 24 inches by 32 inches with a ¼-inch acrylic panel, and 30 inches by 40 inches with a 3/8-inch acrylic panel with a pass-through window. The protective barrier posts also come in two sizes—24 inches and 36 inches in height—and can be used with glass or acrylic. Both systems feature brushed stainless steel. 
Carvart Offers Glass Screen Products
Officials from Carvart announced a range of glass screen products that are easy to mobilize, provide an effective screen for commercial transactions, and reduce transmission of COVID-19, according to company officials. The line of products, known as glassScreen > Shield, includes counter-top shields, some available with transaction windows and no-draft speak-throughs.  
EnduroShield Promotes Easy-clean Sneeze Guards 
As numerous glass companies expand product ranges to include glass shields, sneeze guards and partitions, EnduroShield is promoting its options for easy-clean surface treatments. "With the ongoing cleaning requirement for these surfaces, our partners are pre-treating the glass with EnduroShield. While the coating itself is not anti-viral, the water and oil repellency provides an easy-to-clean surface with added protection from exposure to dirt, grime and fingerprints," according to company officials. When the glass is cleaned, EnduroShield also helps to reduce streaks that can be left behind, making cleaning faster and more effective.
Bendheim Promotes Naturally Hygienic Properties of Glass
The hygienic properties of glass make it a perfect surfacing material for high-traffic spaces found in health care, hospitality, commercial offices, lobbies, schools and universities, and elevator interiors, say officials from Bendheim. From partition walls to privacy screens, wall cladding to writing surfaces, glass can be used in a wide range of applications to provide a healthy environment and good design. 
Bendheim's range of glass types gives bacteria and germs no place to hide as they enhance building environments. Surfaces can easily be cleaned and disinfected, dramatically reducing the risk of exposure to viruses, say company officials.