Q + A with CRL | Innovation Boosted by Vigorous Testing
In-house product testing moves the needle toward modular solutions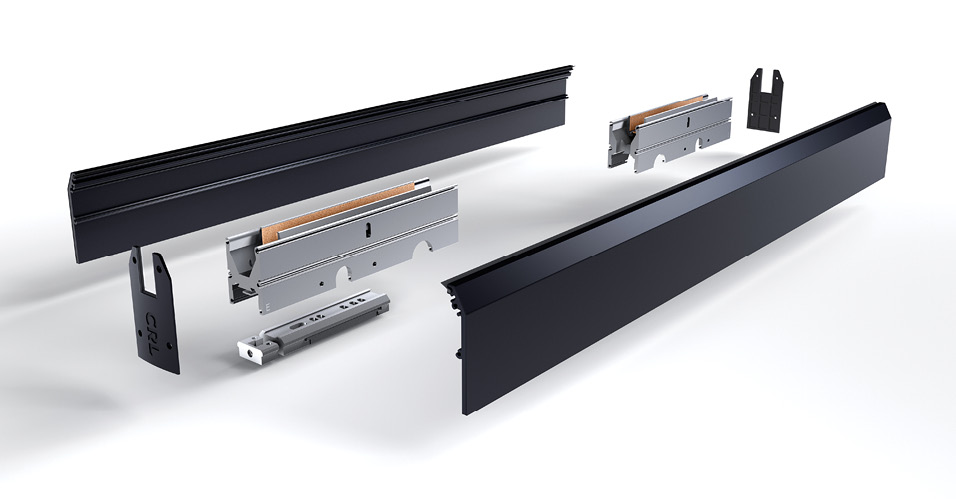 Above: The CRL DRX™ Modular Door Rail System comprises independent parts, including rail bodies, adjustable slide block, side covers, gasket and end caps. DRX component parts can be attached to the glass as soon as it's fabricated to eliminate lead times on custom doors. Photos courtesy of CRL.
A vital component of the innovation process, in-house product testing helps companies enhance product quality, iterate on designs, streamline development cycles, protect intellectual property and foster a culture of invention. The insights gained can be leveraged to help continuously improve a company's products and deliver innovative solutions to meet customer needs.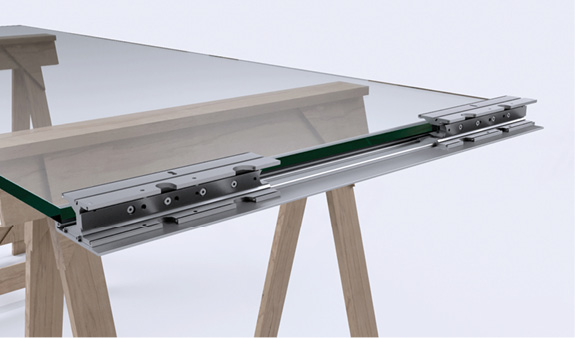 CRL is a leading provider of architectural metals, glass fittings and professional-grade glazing supplies required by professional glaziers and glass shops to complete the installation of architectural glass in both commercial and residential markets. With a reputation for quality and expertise, the company's innovative designs, subjected to rigorous in-house product testing and certification, offer modern aesthetics to the glazing and architectural hardware industries, as well as new approaches to product design that address the industry's need to complete projects on ever-shortening timelines.
In June, I was able to sit down with Mark Suehiro, technical director, architectural hardware, at CRL to discuss the company's process to identifying areas for innovation, its in-house design testing, and some of the leading product trends they're seeing, including a move to modular solutions to address tight installation timeframes.
Here are some highlights of my conversation with Suehiro.
As both a designer and manufacturer of products, what is the company's process to identifying areas for innovation?
CRL's approach is based on listening. We go to great lengths to understand the challenges, large and small, that our glazing partners and their customers are dealing with. Sometimes the issues are business related, such as the need to increase efficiencies or meet ever-shortening installation deadlines. Sometimes the issues are technical and product focused. Occasionally, these issues are combined, requiring an approach that solves a business issue through a completely new product or design approach.
Tell us about the role of design and testing in the innovation process.
We don't outsource the design process. It's critical that our in-house staff—engineers and designers—collaborate with our product, sales and manufacturing teams. This enables us to maintain a laser focus on the problem throughout the design phase, ensuring the solution is usable, while accounting for manufacturing considerations that make the solution viable in the marketplace.
We also insist on handle testing in-house, with nearly 4,000 square feet of space in our [Los Angeles, California] facility dedicated to putting our products through their paces. The real world is an unforgiving crucible for testing the operation and durability of mechanical parts. There is simply no technical or theoretical substitute for thorough, real-world testing of new innovations.
What part does customer feedback from contractors and installers play in the innovation product testing process?
CRL constantly seeks input from glaziers as well as the architects, interior designers and building owners they serve, to assess current needs and to evaluate how our solutions address those needs. We also monitor feedback from our customers, and our expert contractors and installers. Their feedback is critical as it emphasizes real-world applications. Glazier and customer feedback informs all of our solutions, making them more usable and more valuable.
Let's talk trends. What are the leading product trends you're seeing in the industry? How is CRL innovating to meet these changing needs?
Labor issues continue to plague the glazing industry. Our glazing customers simply can't find enough qualified, skilled professionals to fill their ranks. We are constantly researching and considering process and product improvements that will address issues precipitated by the shortage of skilled labor, which is compounded by ongoing, industry-wide supply chain and inventory bottlenecks that cause project delays.
Other trends deal with products that help speed up the installation process, whether it's unitized systems or modular systems that cut down on lead times.
We're seeing a trend toward product modularization. Can you speak to how this is affecting your customers?
Recently, glazers have begun dealing with a different business problem—extended fabrication timeframes for custom commercial glass doors, which delays installations. Waiting for the manufacture of custom doors or even unitized products—prefabricated products like curtain walls that are manufactured in a controlled factory environment, then shipped to the job site as pre-glazed units ready for installation—can put entire projects behind schedule. A new approach to the product—a modular approach—was the innovation needed to address this business problem.
The new CRL DRX Modular Door Rail System deconstructs a standard door rail into independent parts giving glass temperers and glazing contractors greater control over when, where and how door rails are installed, adjusted and updated. Unlike standard door rails, the DRX system features independent side covers and end caps that can be easily installed or replaced without having to remove the door from the pivot. The system also features 10 ½-inch-length rail bodies that can be moved along the glass to accommodate standard or custom door lengths. Because of this, they can be stocked to virtually eliminate lead times for installing custom glass doors.
What part does in-house product testing play in maintaining quality and determining the lifespan of your products?
Testing plays a central role in new product development. We make sure our products are up to code and meet or exceed industry testing standards by staying on top of industry developments and applying the latest testing equipment. Each new product—including our latest innovation, the CRL DRX Modular Door Rail—benefits from rigorous testing and strenuous protocols. The DRX has been tested to 500,000 cycles to ensure lasting durability, and it features a superior glass clamping force, able to withstand a pull force test of 1,300 pounds.
This really sets us apart because we focus not only on meeting current customer challenges but anticipating future challenges that may arise through changing industry dynamics.