Ramping Back Up
Safety and automation considerations for companies during the time of COVID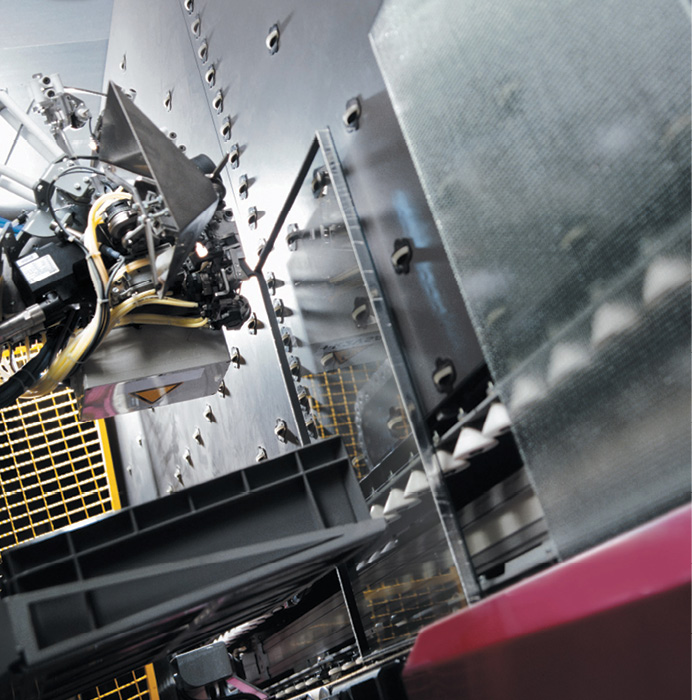 The year started with such optimism. Most in the building and construction industry were seeing upticks in sales and construction forecasts were on the rise. Then came March. The uncertainty. The pausing of projects. For some, shutdowns and supply issues.
Now, as the world steadily reopens with new rules, we're looking at a very different market than we were in January and February. While construction is down across many commercial sectors, there are still some areas of potential optimism, such as health care, industrial and education. Many forecasts also indicate that we will not hit the same level of decline as we did during the housing crisis, and that we will rebound more quickly. 
Even though the outlook is different than what we expected, business must still go on. And if there's one bright spot in all of this, it's the incredible creativity and adaptability I have seen from co-workers, colleagues and customers over the last few months. We've been so nimble as an industry that we might forever be changed by this—in a good way. We're seeking opportunities to work more safely and efficiently, while providing the utmost care to our employees and customers.
So, as we ramp back up, we must keep that fighting spirit going in how we serve our customers and take care of each other in this new world. To follow are a few tips to help you along the way.
Put safety first
While OSHA and the Centers for Disease Control and Prevention have provided guidelines for operating safely during the COVID-19 pandemic, there are other initiatives that should be considered to help continuously foster a culture of safety—now and into the future.
First, communicate and communicate often. There is no such thing as overcommunication when it comes to safety, especially at a time when the narrative is constantly changing. Employees need to hear from leadership, understand the challenges and opportunities for the business, and feel safe and comfortable in their work environments. A commitment to safety must start from the top and there has to be follow-through.
And whether we're talking sales, forecasting, customer concerns, product production, supply chain management, or anything else, every communication should begin with how the company is prioritizing employee safety in relation to that subject. In short, it's one thing to put new policies in place, but it's another to talk openly about safety across all levels of the organization.
Second, encourage common sense. Sometimes it can be difficult for employees to express safety concerns, especially when it means calling out co-worker behavior. This is an opportunity to treat any feedback employees have as a positive as we both listen and respond. It means they are looking out for the company and for each other. 
Every employee should feel like they're able to stop unsafe behavior if they see it happening. Promote this kind of good common-sense decision-making, and it will soon become second nature to everyone.
Minimize human touchpoints
Another consideration when ramping back up is the role automation can play in safely operating. The benefits that fenestration manufacturers have sought in automated insulating glass lines—minimized human touchpoints and easier transport of units across the shop floor, for example—will also help as we work to minimize viral spread in our facilities. 
New equipment and machinery also can open new opportunities to rethink the flow of a plant. 
Finally, an automated IG line can help bring significant return on investment and ultimately cost savings on fabrication, and organizations should be investigating all options to optimize their bottom line right now.
Manufacturing might forever be changed in the face of this crisis. I suspect we are just at the beginning, and automation will be a key part of ongoing strategies to protect workers and ensure optimal productivity and efficiencies on the plant floor.
Be flexible
Over the last several months, I think it's safe to say that we've learned some things about our businesses and ourselves. We were forced to be creative in ways we might not have thought possible before. We implemented new safety measures in record time, mobilized to communicate with employees and our customers, and pivoted just about every aspect of our businesses.
This crisis has shown us that we can be creative when we need to be, and personally, I'd like to see that flexibility and ability to be nimble carry on in our operations and as an industry going forward. We have opportunities to use what we've learned and plan for our futures.
Forward-thinking manufacturers are using this time to work on proactive strategies to boost safety and operational efficiency, and to ensure ongoing profitability. There was a place to act quickly, and now is the time to be planful about our futures and implement new safety protocols, maintain ongoing communications and revisit plant floors so we are ready for the rebound.