Sunshades as a Solution to Combating Solar Heat Gain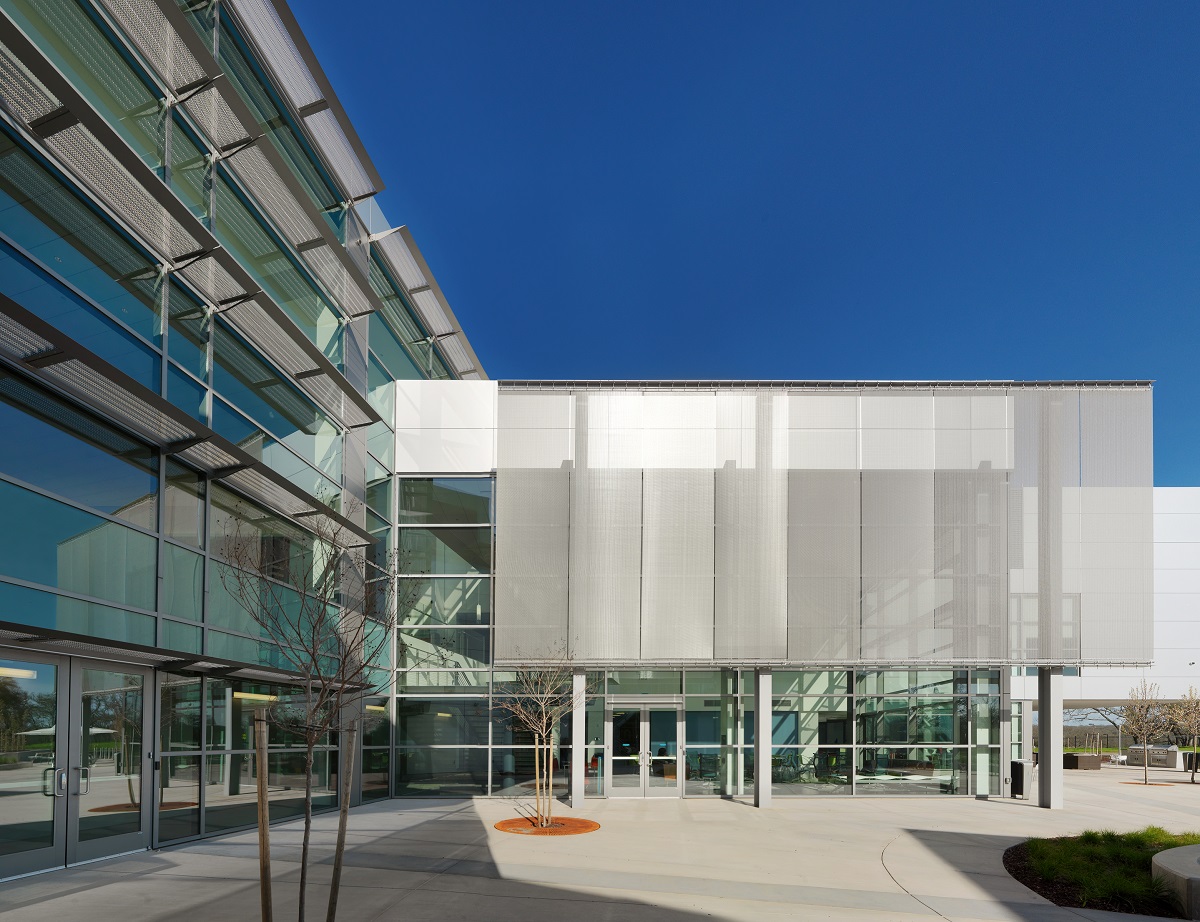 The effects of climate change are many, but one of the most prevalent is a steady rise in temperatures and cases of extreme heat. This causes commercial buildings to increasingly rely on air-conditioning systems to keep interior temperatures at a comfortable level, making them less energy efficient.
There are several ways to combat the rise in temperatures and corresponding effects of solar heat gain on buildings. Some examples are next-generation thermally broken curtain walls and insulating glass units. But architects and contractors are going an extra step and selecting sunshade systems.
Sunshades can play an important role in energy-efficient building design. When properly specified and installed, they can help mitigate the effects of intense direct sunlight on the building envelope, particularly during the summer months when the sun is at its peak and glass façades are most vulnerable.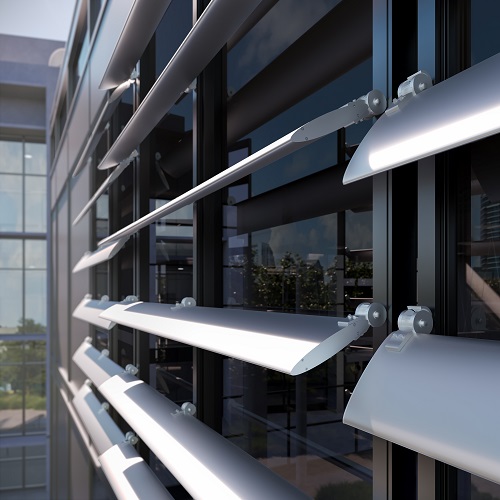 Key considerations
Installation. Sunshade systems can be attached directly onto a building's façade, including on concrete slabs and aluminum extrusions. In the northern hemisphere, sunshades are commonly installed on the south-facing walls of the building. This allows them to block a significant amount of direct sunlight during hot summer seasons when the sun is higher in the sky.
Location. A building's geographic location should be carefully considered before installing sunshade systems. This dictates the extent of sunshade coverage needed on the building's south-, east- and west-facing walls. It will also define the sun's progression across the sky at different times of the year, which will identify critical areas to be shaded.
Aesthetics. Aesthetics is another key consideration when selecting sunshade systems. They should complement and not clash with the building envelope's design. Fortunately, manufacturers offer custom sunshade programs that give control over visual elements. Single-blade adjustable sunshades are the latest example of this. They are highly versatile and feature operable mounting brackets that allow vertical blade adjustment anywhere from 0 to -35 degrees. Single-blade sunshades offer a streamlined aesthetic and multiple blades can be installed directly onto curtain wall, window wall and storefront extrusions.
Other custom sunshade systems offer a selection of blade styles such as rectangular, square, round and airfoil blades. Outrigger options include square, tapered square, bullnose and tapered bullnose. These sunshade systems typically have a three-foot projection.
If custom sunshades are not required, standard options are available. Sunshade systems with perforated panels not only help protect interiors from solar heat gain, but also create a distinct visual element that enhances building aesthetics. The perforated panels typically have a notched design to allow daylight to pass through while effectively blocking solar radiation during peak times to reduce cooling loads.
Regardless of the design, sunshades can help mitigate solar heat gain while enhancing aesthetics by adding dimension and depth.
LEED credit
Green design has become a critical aspect of contemporary buildings, not only because of climate factors, but because of increasingly stringent energy codes such as California Title 24. That's why the construction industry is seeing a rise in net-zero energy buildings.
Many building owners and architects are aiming for LEED-certified structures, and sunshade systems can provide some of the credits needed for certification. The use of solar shading can help reduce energy consumption by placing less strain on HVAC systems. This qualifies for LEED points under the article Energy and Atmosphere 1 – Optimize Energy Performance.
Another way sunshade systems can provide LEED points is under the article Material and Resources 4.1 – Recycled Content. Most sunshades are made of aluminum, which is a recyclable material that minimizes a building's environmental impact.
Cost-benefit
The benefits of sunshades are numerous: they mitigate solar heat gain; they help create comfortable interior environments that improve occupant well-being; they protect glazing and furniture from intense UV rays; and they can enhance aesthetics by adding visual depth.
The costs associated with sunshades are offset over the life of the building via energy savings and reduced wear on HVAC systems. New technologies and components are being integrated into sunshades, including photovoltaic panels and automated mechanisms that can adapt to solar conditions throughout the year.
Keep in mind that sunshades are just part of the equation when combating climate change and the effects of extreme heat on building envelopes. They should be used in conjunction with next-generation thermally broken curtain walls, insulating glass units and low-E glass to achieve optimal performance.