Top Takeaways from the Commercial Construction Forecast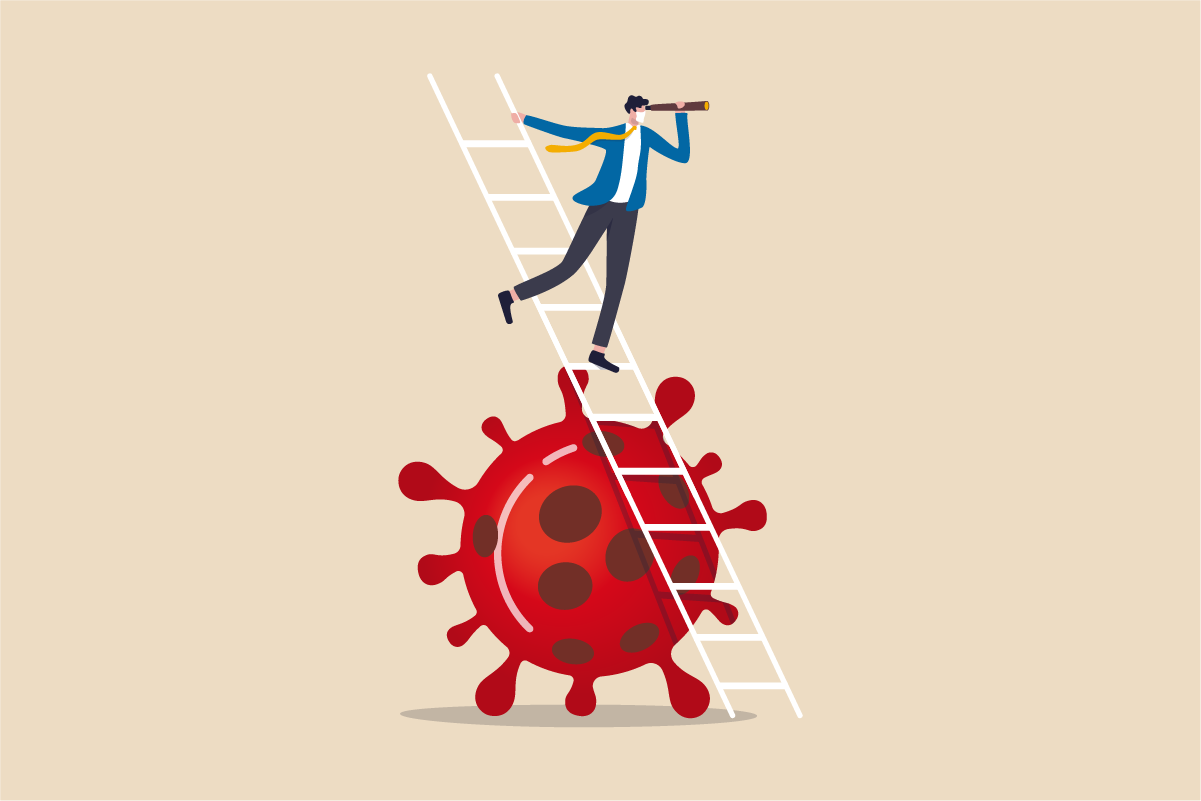 The pandemic disrupted commercial construction in 2020. What will 2021 hold for industry companies as the market and the overall economy continue to recover? Check out these top takeaways for commercial construction. 
By the numbers
 
9 
Consecutive years of expansion—2010 to 2019 
-23%
Commercial starts contraction in 2020
-18.7%
Spending forecast for 2021 relative to 2019 peak
Information is based on projections from the Dodge Construction Outlook 2021 from Dodge Data & Analytics. Read the complete Glass Magazine Annual Forecast in the January/February edition.
The 2021 commercial construction outlook
2020 was rough for commercial construction.
It was difficult to find much good news in the commercial construction sector in 2020. Commercial construction starts dropped an estimated 23 percent to $107 billion (690 million square feet) during the year, according to the Dodge Outlook from Dodge Data & Analytics. "Total construction took a big hit as bans on construction took effect [early in the pandemic]. As time passed, we saw improvement. … While we continue to make modest progress, it seems for every step forward we take a step back," says Richard Branch, chief economist, Dodge Data & Analytics.
We saw the commercial construction growth trend come to an end.
Commercial construction expanded for 9 consecutive years—2010 to 2019—in which starts grew from $42 billion to $139 billion, a 231 percent increase. 2020 brought that growth trend to an end.
Commercial building will bounce back some in 2021 but will remain far below peak.  
Commercial construction starts are expected to rebound slightly in 2021, growing 5 percent year-over-year. However, forecast spending will still sit 18.7 percent below the 2019 peak.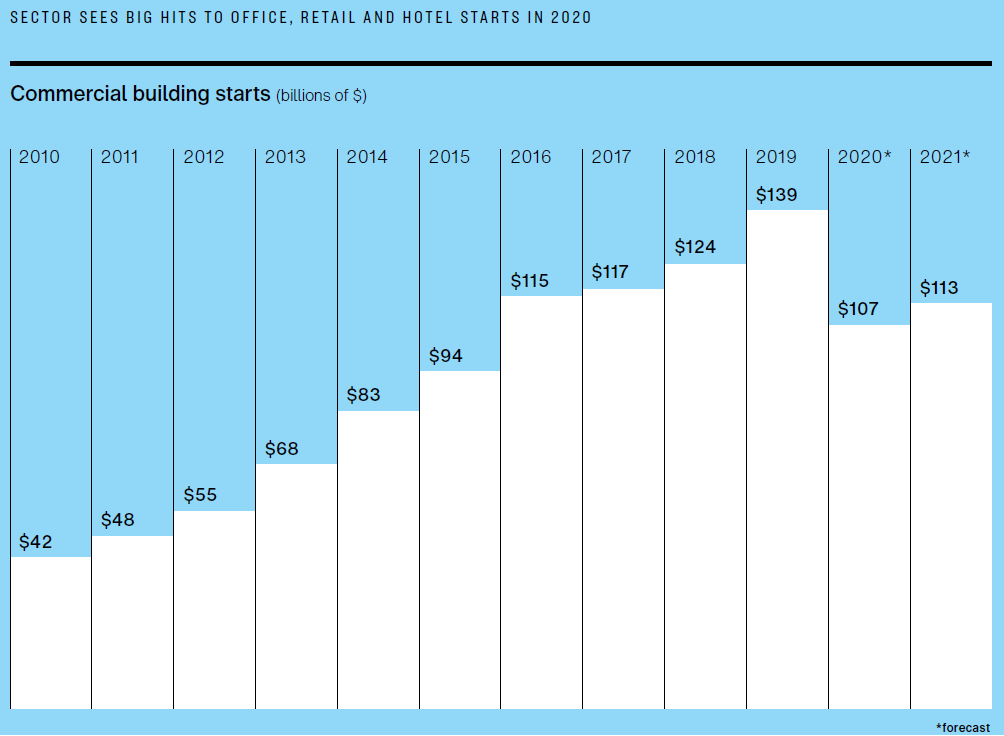 Source: Dodge Data & Analytics. 
Work from home "turned the office market on its ear."
"Workers have shifted out of [cubicles] and into our dining rooms, and a good portion have not returned to the office," says Richard Branch, chief economist, Dodge Data & Analytics. As of fall 2020, only 25 percent of office employees had returned to the workplace full-time.
Even so, office construction should return to growth in 2021.
Branch says he questions whether the work-from-home trend will continue at such a high rate once employees can return safely. While office starts dropped 22 percent from 2019 to 2020, falling to $42.4 billion and returning to 2017 levels, 2021 should see slight expansion of 5 percent for the segment, according to the Dodge forecast.
Bankruptcies will stymie recovery for retail.
Retail starts fell 25 percent in 2020. They are expected to rebound 7 percent in 2021 to $13.3 billion, putting them at just below 2011 retail spending levels. "It's bad news for retail. We're going to see bankruptcies rise until early 2021, which will push vacancy rates up and suppress starts," Branch says.
There's not much good news out there for hotel construction.
The hotel market took the greatest hit among commercial building segments in 2020, dropping 46 percent from $18.1 billion in 2019 to $9.7 billion in 2020. The segment won't fare much better in 2021, with an additional 7 percent decline projected.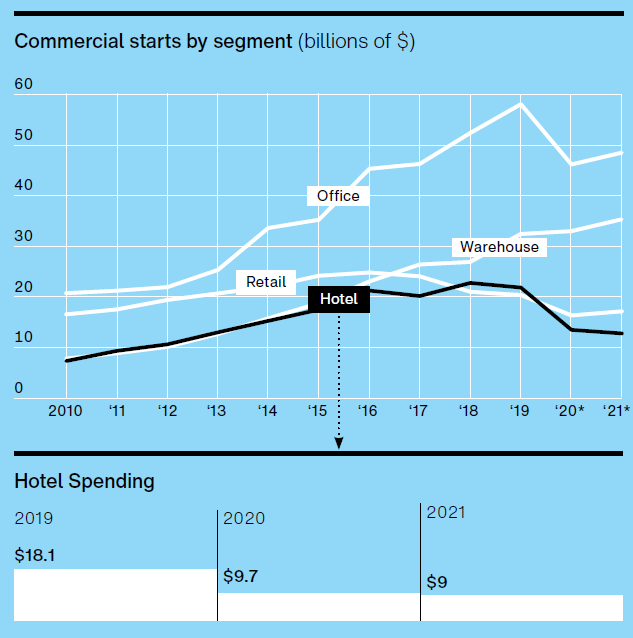 Source: Dodge Data & Analytics. 
Warehouse was the only area of growth in 2020.  
The only commercial building segment to see gains in 2020 was warehouse building, growing 2 percent to $30.7 billion. The sector will grow another 8 percent in 2021, according to forecasts. Notably, warehouse construction has grown eight-fold since 2010.
Thank Amazon for that warehouse growth.
Amazon represented 16 to 18 percent of total market share for warehouse construction in 2020, according to Branch.