Unitized Railing Systems
Considerations and benefits for the latest development in prefabrication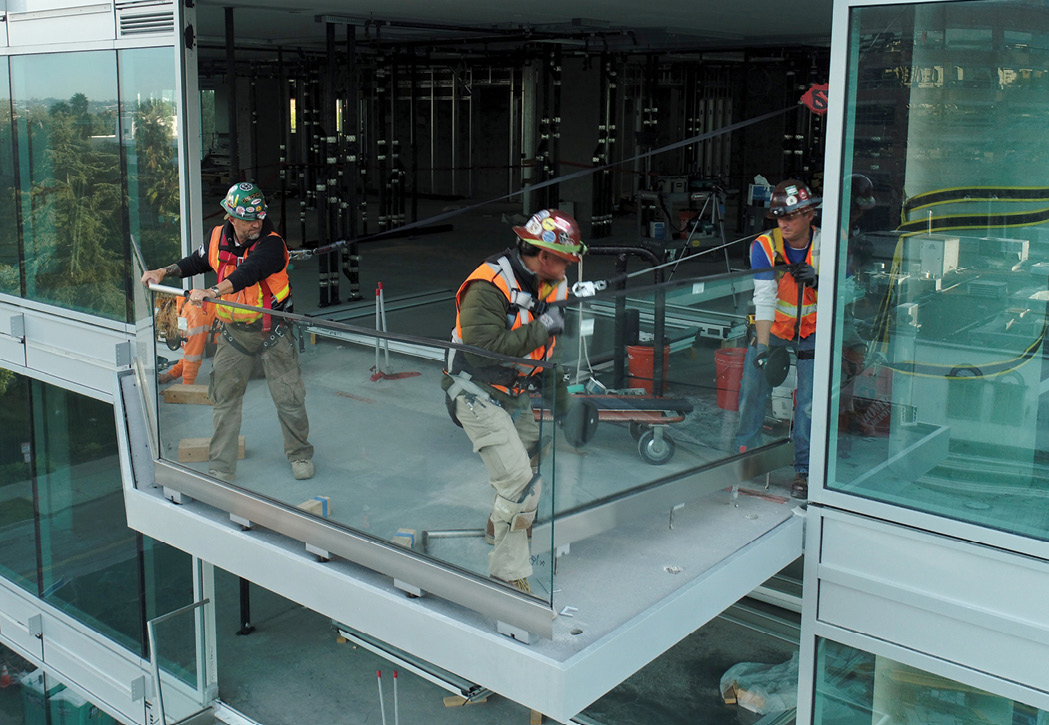 Above: CRL Unitized Glass Railing installation on balconies at the Wilshire Curson Residential Tower in Los Angeles. Photo by Drone Snyder.
Unitized glazing systems have been rising in popularity the past several years for good reason. Saving time, improving installation quality, and reducing field labor costs are all enticing benefits to both specifiers and contractors. Unitized curtain walls, window walls and storefronts are innovative solutions that pave the way to more effective project delivery. The latest entry into the prefabrication market is unitized glass railing systems. 
Similar to their building envelope counterparts, unitized glass railings are factory assembled and shipped directly to the jobsite, typically on A-frame racks. For a unitized railing project to be successful, prefabrication must be decided on very early in the process by the developer or general contractor. It's best to work with manufacturers with wide distribution networks because local jobsite delivery is required. Manufacturer collaboration is key because they can design the right unitized system that will comply with local building codes and meet aesthetic goals.
Unitized railing systems offer several benefits that can go a long way in maximizing construction efficiencies.
5 benefits of unitized railing systems
1. Improve quality with factory assembly
Unitized glass railing systems take advantage of optimized workflow processes that are specifically developed for prefabrication. A controlled factory environment allows close supervision and thorough inspection, which greatly improves product quality and performance. Unfavorable conditions associated with field assembly such as bad weather and congested jobsites are also avoided.
With a typical unitized glass railing assembly, glass panels are inserted into base shoe units and sealed on both sides. Cap rail rubber inserts are attached to the top glass edges, and steel anchors are fastened to the bottom of base shoes for insertion into core-drilled holes. Each process is performed under explicit quality control parameters.
Laminated or monolithic glass can be specified, as well as customized cap rail and base shoe features. Some current base shoe models feature a unique multiple-hollow design that makes them approximately 33 percent lighter than standard shoes for easier onsite handling.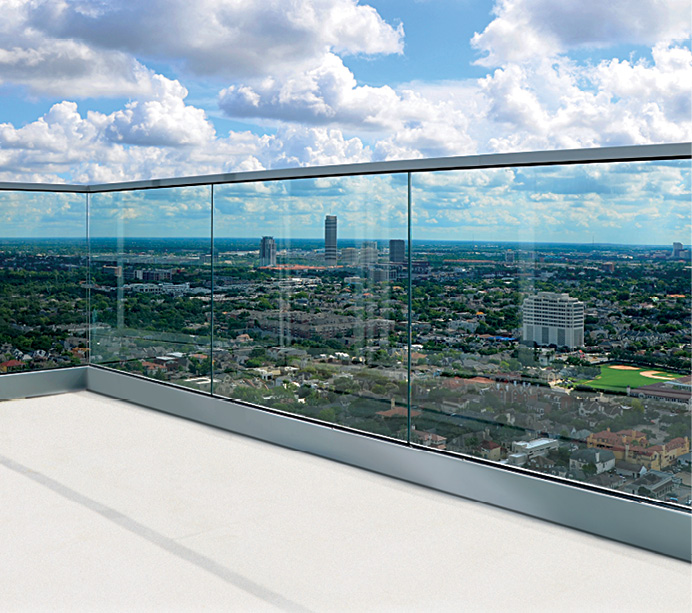 2. Expedite project completion 
Standardizing and simplifying installation procedures is one of the key benefits of unitized glass railing systems because it leads to faster project completion. This is particularly important in today's era of tight construction schedules.
The streamlined process of installing a unitized glass railing system typically takes three steps. The first involves drilling holes in the concrete for the glass railing units to be inserted. The holes can then be filled with anchoring cement. Second, the glass railing unit anchors are aligned with the core-drilled holes and lowered into place using vacuum cups. Finally, prefabricated cap rails are attached to the top of the glass. 
This simplified method of installation lets contractors better manage their schedules and stay organized. Less time spent installing the railings means they can move on to the next phase of construction faster. 
3. Lower labor costs and address the skilled labor shortage
Installing standard glass railing systems can be a time-consuming and labor-intensive process, particularly in larger jobs or when using a wet-glazed system. With unitized glass railing systems, however, a substantial amount of field work is bypassed due to prefabrication benefits and superior installation efficiencies. This reduces labor costs because less time and less manpower is needed. This lets contractors better manage labor budgets and schedules. 
A shortage of skilled labor has impacted the glazing industry in recent years. Unitized glass railing systems offer a practical solution to help mitigate its effects because of their fast and easy installation. This is especially true when used in conjunction with other unitized systems. 
4. Improve installer safety
Normally, glaziers need to reach over a glass railing to roll in the exterior base shoe rubber seal. This action prolongs installation and increases the risk of injury at higher elevations since glaziers can fall over the railing. With unitized glass railing systems, both the interior and exterior rubber seals are preinstalled, which bypasses this step. 
Unitized glass railings also create a clutter-free environment. Units are delivered completely assembled and ergonomically packaged. Individual components—such as base shoes, glass panels, and anchors—no longer have to be spread about an active workspace, preventing accidental trips.
5. Enhance aesthetics
Precision engineering, quality components, consistency in production and meticulous inspection in a controlled factory environment together lead to enhanced aesthetics in unitized glass railing systems. 
Once installed, unitized glass railings offer long, uninterrupted glass spans with minimal vertical breaks. The glass arrives perfectly plumb and leveled within the base shoe unit, which produces precise sightlines. A much smaller probability of error during installation also helps improve visuals.