All That Glass Can Do
A conversation with Urmilla Sowell, technical and advocacy director, National Glass Association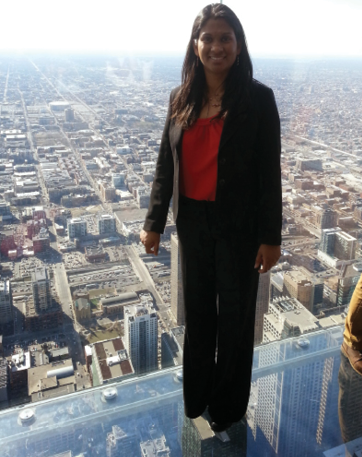 Why glass? I posed this question recently to my colleague Urmilla Sowell, the technical and advocacy director of the National Glass Association. Sowell is a civil engineer with a technical background that prepared her for a career in any segment of the building industry. So, why glass? 
"Glass is so versatile," she answered. "It is the only building envelope product that is as strong as steel in compression of force while also offering a window to the outside. … You're able to do so many things with glass. It's not just for energy efficiency, not just for daylight. It's structural, it's impact. It protects you in your home and lets you live." 
Sowell received both a bachelors and masters in civil engineering from Texas Tech University, where she focused on wind engineering. This led her to receive professional engineering licenses in Florida and to a position at a hurricane test lab in 2000. She became affiliated with glass industry technical leaders while working to develop a hurricane impact test at ASTM and joined the glass industry in 2007, working on the technical team at the Glass Association of North America, which merged with the National Glass Association in 2018. 
"We have a product for any application, any need," she said. "Look back to Hurricane Andrew, which came across [Florida in 1992] and leveled homes. That's when the codes [pushed] to do something about buildings to protect them. The glass industry was able to say, we have laminated glass. … The same thing has happened with blast mitigation and security."
Glass companies are also looking beyond code to achieve next-level performance, she said. "The industry is figuring out what else we can do with glass," Sowell said. "Companies are looking to harness solar power from our vision units, developing VIG for the retrofit market, looking at thin triples. … We have even seen 3D printed glass. It changes everything we know about glass." 
What excites Sowell most about glass, she said, is its ability to connect people with nature and their surroundings in a new way. "With glass, you're able to go and have dinner at a lion exhibit. There are glass slides on the side of buildings. You can walk on a glass bridge," she said.  
I reflected on this conversation as I prepared the final installment of Glass Magazine's six-part Glass & Metals Guide for architects and specifiers. In previous editions, I looked at protective glazing, interior glass, specifications for complex façades and more. So, for the conclusion of the guide, I follow Sowell's lead and offer a comprehensive view of all that glass can do. From performance to structure, and décor to protection, glass has the answer.