Next-level Lifts
GlassBuild exhibitors discuss trends in glass handling
The glass lifting and handling market is booming, driven by a need to handle larger and heavier lites, to keep employees safe, and to accomplish more with fewer workers. During GlassBuild America, Glass Magazine editors spoke with a number of lifting and handling equipment companies about the big trends driving technology evolution in the sector.
1. Larger, heavier glass
"Everything is getting bigger and bigger," says Chip Olson, head of U.S. sales, Quattrolifts.
"This trend hasn't changed. Lites keep getting larger," agrees Alan Nudi, director of sales and marketing, Ergo Robotic Solutions. "We just did a job where they have an 8,000-pound piece of glass. We're in constant need for machinery to lift larger and larger units."
Glass is also getting heavier, in part due to increasing sizes, but also due to market trends toward more laminated units. "A lot of this is impact requirements," says Tom McKendree, vice president of sales for compact lifts and material handling equipment, at Ruthmann ReachMaster North America.
Flemming Storm Nielsen, president of Smartlift US, agrees. "The major trend is heavier glasses. Double or even triple-laminated glasses becoming more common. This poses safety issues for workers trying to lift it manually."
Handling equipment accommodates the larger and heavier loads while protecting workers. "Glaziers are being proactive in getting equipment that helps employees," says McKendree.
2. Micro movements
Glass manipulators must be able to tackle small movements on the jobsite, such as a turn around a corner, passage through an entry way, or a tight squeeze into an elevator.
To address maneuverability concerns, Quattrolifts developed systems that can pivot around corners. "We're trying to make it as nimble as possible. The glass rounds the corner thanks to a floating head, then the rest of the machine rounds the corner," says Olson. Additionally, the company offers 3D modeling to ensure their machines can fit into freight elevators. "This is something we will do for a lot of customers," he says.
Ergo Robotic Solutions developed a Crab Crawl feature for its lifters, which allow the machine to be moved sideways on smaller wheels. Additionally, the company uses hydraulic controls. "This prevents users from making jerky movements," says Nudi.
3. Feedback
Top of mind for many users is machine feedback. "Customers want to know what the machine is doing," says Nudi. To meet demands, Ergo designed new indicator lights for its system, allowing operators to easily check on machine function while in operation. 
Woods Powr-Grip released an app that displays the current status of each piece of equipment in use. It provides complete details on the current system performance for the operator, allowing users to rely on remote operation without sacrificing safety. "The crane app gives all the same warnings that the equipment provides. If there's a leak in the system, the app will notify the user before it's too late," says Barry Wood, vice president of marketing and commercial development, WPG.
4. Complex surfaces
Glass and glazing systems are becoming more complex, incorporating multiple materials, shapes and sizes, according to handling equipment providers.
"One big trend we see is curved glass," says WPG's Wood. WPG works with clients to develop custom solutions to handle the challenges of installations with curved glass or other complex façade products.
Nudi says Ergo is seeing more textured products. "People come in wanting to install textured products, but they can't be lifted with vacuum cups. It's not just glass. It's so much more. It's metals; it's the full enclosure. We're building machines to accommodate this, with special cups or clips with a hook to hang the unit," he says.
Top row: Wood's Powr-Grip, Ergo Robotic Solutions, Quattrolifts
Bottom row: Reachmaster, Smartlift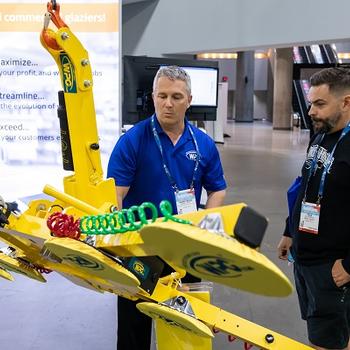 Image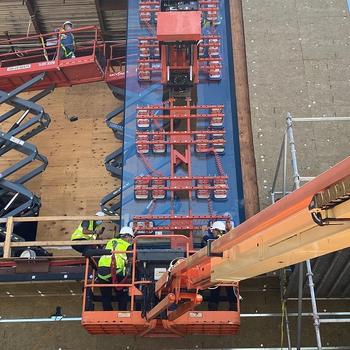 Image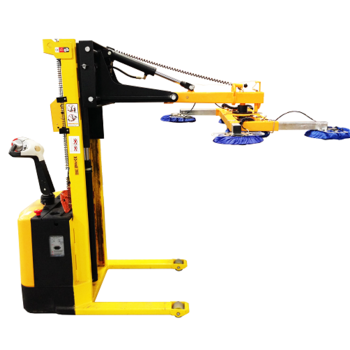 Image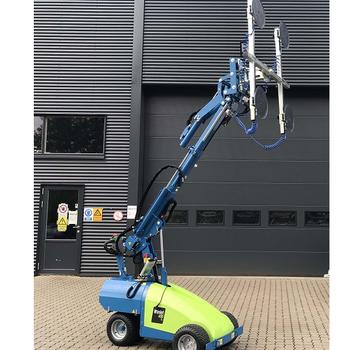 Image