4 Trends in Building for the 22nd Century
Two projects demonstrate the trends that will enable high-performance, sustainable buildings for tomorrow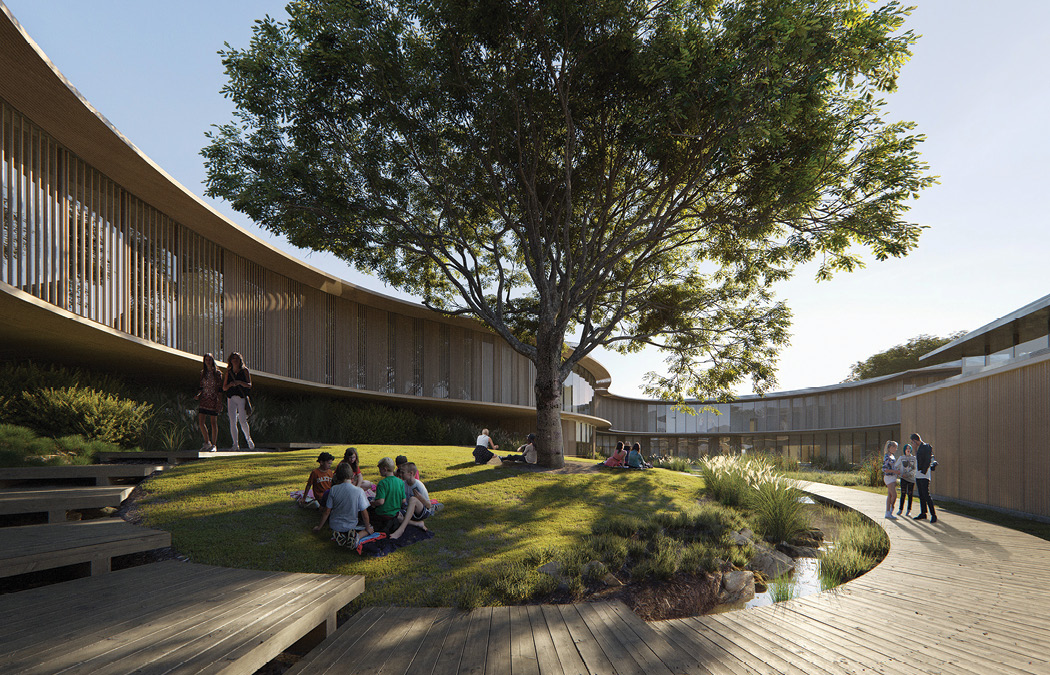 Lately, I've been thinking about the almost 90-year-old Empire State Building. I've been reflecting on its use of steel prefabrication to optimize schedule; the sheer scale of manpower and strategy required to successfully pull off its 18-month construction schedule with beautiful and crafted results; the resiliency of its construction as it evolves into this next century with a recent innovative deep energy retrofit. 
At NBBJ, we are in the midst of designing a 55,000-square-foot behavior health facility in Monterey, California, that shares an architectural ethos with the Empire State Building. Although the project is not a skyscraper, not an office building, nor constructed of steel, it demonstrates, as does the Empire State Building, trends that could carry the construction industry into the 22nd century.  
1. Prefabrication driven by performance 
The project in Monterey is a prefabricated mass timber structural system, with the added goals of prefabricating the wall and window systems. Driving the use of prefabrication for the Monterey project are a reduced schedule and quality control. The project also includes considerations for carbon reduction, biophilic connection for supporting the health of building occupants, minimized site disruption, solving for complexity before getting into the field to minimize risk and addressing the concerns over the current shortage of unskilled labor. 
The most challenging part of NBBJ's Monterey project has been the exterior wall. The team was tasked with strategizing systems that reinforced the prefabrication strategy, ensured the quality of space and elegance of the timber details, and met longevity goals for high-performance systems. An early placeholder in our budget was a unitized curtain wall. This met the criteria of prefabrication but did not present the integrated alignment with the overall quality of this space or performance criteria desired for the envelope. 
I feel increasingly disappointed in the static and resistant nature of the industry to not only embrace increased performance of its glazing systems, but also support flexibility and customization that looks to the future. This is an opportunity to craft these envelope systems utilizing technological advancement. 
2. Need for new partnerships 
In the spirit of exploring how to best leverage prefabricated strategy throughout the Monterey project, we asked: how can we reduce structural redundancy between systems that have the integrated potential to support one another? How can we be smart about prefabricating our alternative window and solid wall systems with pre-installed weather barriers, insulation and smart gasketed joints to eliminate site sealant between systems, reduce risk and reduce thermal bridging to elevate building performance? It is only through asking these questions, provoked by detailed design sketches, that we found our own atypical subcontractor partner. 
New industry partnerships illustrate the power of shedding industry silos. The stewardship between architects, builders, product manufacturers, higher education, incubators and yet-to-be-determined industries outside of construction will propel our future. In 2010, the Empire State building leveraged the power of creative partnerships. Its hallmark glass retrofit was in part a President Obama-era funded green tech company from Silicon Valley that implemented the glass retrofit. 
3. New technologies 
We are in an age of revolutionary technology and digital fabrication. This is what drives innovative and imaginative industry partnerships to realize more complex, efficient and high-performance building façades, built faster than ever before. 
In the case of the Monterey project, technology-driven manufacturing enables a unique opportunity in support of the project ideals. But machines and technology are only tools. It's how we think about their application that matters in addressing a project's aspirations, complexity and high performance. This is the intersection that transcends time and continues to be where opportunity aligns with the realization of beautifully integrated, high-performance design. 
4. Resiliency and our future 
We are often asked to build projects that will last to become 75- to 100-year-old buildings. In Monterey, the importance of quality construction and the ability to easily maintain the building, coupled with conversations about passive survivability in an age of increased rolling blackouts and wildfires play a central role in project design. The Empire State Building tells us that, with retrofitting, well-built buildings can extend their lives well beyond the 100-year benchmark. 
Our future is affordable living wall systems that can evolve over time, enabled by the technologies of the near-term future. These systems can actively give back to the environment, participating in our urban ecosystems with positive contribution toward human health, sustainability and beauty. 
I remain optimistic that our construction strategies will evolve further in the next 90 years than they have since the Empire State Building was built. I'm inspired by the emergence of these new partnerships. It sets a powerful example of what's possible and has the added benefit of supporting good stewardship in our built environment by breaking down silos and challenging the status quo of the industry.