Building Capacity: A conversation with Glas-Pro
Joe Green, president of Glas-Pro, talks about workforce development, product innovation and building trends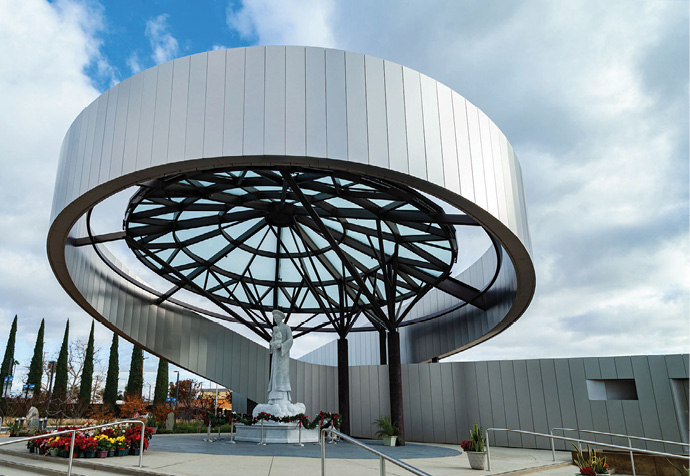 Above: The Diocese of Orange Christ Cathedral - Our Lady of La Vang Shrine., in Garden Grove, California. Glas-Pro supplied the custom-fabricated glass panels, part of the roof over the central statue of the Virgin Mary.
As demonstrated in the new Top Glass Fabricators report, fabricators have been busy this last year; busy investing in their businesses and innovating products. Top Glass Fabricator Glas-Pro, a custom fabricator based in Santa Fe Springs, California, is no exception to this. 
I sat down with Joe Green, president of the company, to talk through workforce development, product innovation, and how building trends might be changing.
Glass Magazine: What has been your experience with hiring and training during this time?
Joe Green, president, Glas-Pro: Well, certainly hiring people has been a challenge, so what we've been trying to do is buy additional equipment that reduces the need for head count, and spend a lot of time training the people that we have. We're utilizing the advancements in technology and in material-handling, and bringing the employees that we have up to speed to be able to utilize that.
Our training involves how to operate the equipment, and really essentially, how to think about a particular task—how we organize the particular custom project that we're working on at that time. That's a constant challenge, because we're not making 4-by-4 XL windows all day long; everything we're doing is custom, so the real training is in the how, in addition to what, employees are doing.
GM: What kind of capital investments have you made recently?
JG: We've added an additional tempering furnace, an additional laminating line, and an additional autoclave, which brings us up to four autoclaves. We also added an additional, very large, vertical CNC, and automated our back paint line to some degree. We've also bought some new trucks. 
We've really been trying to use this time to try to build the company out because business itself has been level, and we've been trying to use this as an opportunity to increase our capacity.
 
GM: What kind of products are customers asking for?
JG: We spent the last 3-4 years developing bird-safe glass, the demand for which we continue to see grow as those codes change across the country, requiring bird glass. We're highly invested in all the bird glass type of materials, including transparent glass, with no frit pattern. People tend to want glass as transparent as possible, and don't want to look at a storefront with patterns on it. 
Our research and development has focused on increasing the transparency of the material even further. We are anticipating and planning for a growth in that area.
 
GM: What other product or building trends do you see?
JG: I'm interested to see what happens as offices [and workplaces] shift. What does that mean for tenant improvement, and what is that going to look like? Are people going to work in an office, or are we [in the industry] going to be doing smaller jobs to build out people's home offices?
The big tech [companies] are still building spaces and campuses, but the one thing the pandemic is shifting is how we live—I don't know how we're going to react to that at this moment. Our motto at Glas-Pro is, we're going to stay flexible. 
Industry Spotlight profiles people across the glass and glazing industry, showing off the work of individuals while demonstrating the range of exciting careers in glass. To suggest someone to profile, write to Associate Editor Norah Dick, ndick@glass.org.