Taking Glazing Online: Glazier's Tool Field App For Service Glass Companies
A Q&A with Steven Albert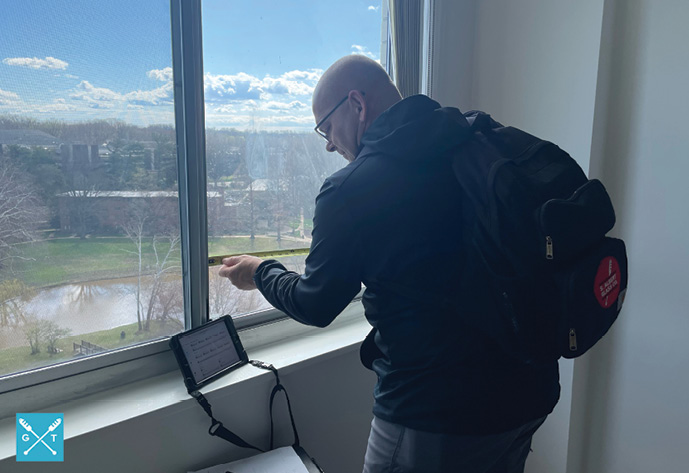 Above: An S. Albert Glass Co. employee uses Glazier's Tool at a jobsite.
Slowly but surely, the use of digital technology is becoming more common in every part of the glass industry.
Seeing this growth in the use of technology, and the potential in using mobile devices in the field, Steven Albert, sales manager of the service and maintenance division for S. Albert Glass Co., a D.C.-area contract glazier, set out to develop a web application for employees to use. Now called Glazier's Tool, the app is an all-in-one tool that can be used on any platform, including phone, tablet, PC or web browser.
Q: How and why did you develop this app?
Being younger and in the industry, I noticed how all the other trades have networks and apps supporting them, while there were very few supporting the service glazing industry.
When I started to develop the app, my goals were to not only streamline and standardize the process of onsite info gathering, but also to create a good training tool to help glass companies, which is what we ended up doing. My goal in developing the app was to help the team grow, to make our processes easier, more efficient and repeatable, resulting in the ability to produce more accurate quotes that can be turned into sales in a fraction of the time.
Q: How does the app work?
When the customer calls S. Albert Glass Co. with their issue—like broken glass, a door repair or foggy window—an employee then creates a ticket for the job in the app. From there, service managers can assign tickets to estimators out in the field, or estimators can assign it to themselves. Now that we've been using the app for a while, teams know to check to see if service calls in their areas are assigned to them. That way, if a new ticket is next door to their current job, nearby or on their way home, they can route themselves to do a site field inspection, instead of waiting until the next day.
When the employee arrives at the customer's location, the app then guides them through the estimating process: what to measure, multiple glass types, thicknesses and insulating glass combinations. The app also provides templates with graphics and drop-down menus to streamline the process. All of this information can then be sent to vendors to obtain quotes.
Q: What kind of training is required?
Our newer hires have been younger, and the way the app is written, it requires very minimal training. As long as we continue to build and update the app with the same cues as other modern interfaces, we've barely had to train new people on the app itself. I may need to train them on the products we use, but I don't really train them on how to use the app, because we use so many industry-standard functions.
The app itself trains employees on our shop processes, because of all of the functions in Glazier's Tool. I'm also very collaborative in how I update the program—if employees who use it every day say, "We'd like it to work like this, or you need to add this feature," we do it.