An Industry of "First Responders"
New ASTM International Standard Confronts School Security Threats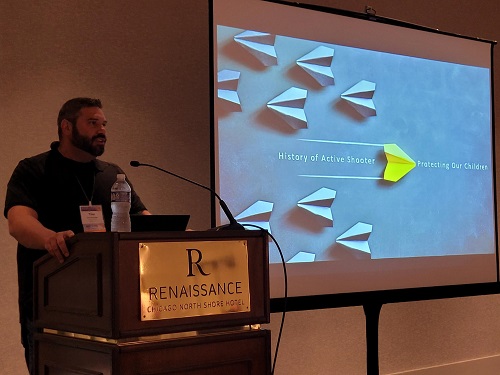 The glass industry has an opportunity to become a new type of "first responder" by providing security products that protect children, teachers and staff against school shooters, said Tino Amodei, co-founder of Armoured One, who presented during NGA Glass Conference: Chicago, held in July and hosted by the National Glass Association.
"We always seem to deem fire fighters, police officers, SWAT teams and EMT as first responders. But it's the people that are proactive that are true first responders," Amodei said. "The NGA is going to be a true first responder. The architects who design buildings are first responders. All of us in glass manufacturing and in technology development who are trying to make things better, make things affordable, we are all first responders. We are the only ones who can change the outcome." 
Amodei was referencing the news that NGA has taken the major first step to making the glass industry a proactive leader in building safer schools. The association announced a new ASTM International document has been created through the F12 Security Committee entitled Standard Test Method for Forced-Entry-Resistance of Fenestration Systems After Simulated Active Shooter Attack. The document was created by NGA volunteer leaders in response to an increasing frequency and severity of school shootings. It addresses the need to slow and, if possible, prevent intruders from entering facilities through locked fenestration.
"At a meeting a few years ago, someone said, 'We have standards to protect sea turtles and birds, but we don't have anything to protect our children. It's time that needs to change.' So, we developed a standard," said Julia Schimmelpenningh, global applications manager at Eastman Chemical Co. "Acting [with] the first responder mentality, we took a look at it. We educated ourselves on school shooting occurrences. … We reviewed all existing security test methods out there. … We looked at adapting existing methods."
This isn't the first time the glass industry has served as a first responder in the event of natural or man-made disasters. As I listened to Amodei and Schimmelpenningh speak on the industry's response to school shootings, I thought about the other industry interventions following tragedies—the hurricane-impact systems developed in the wake of the devastation of Hurricane Andrew in 1992, or the new blast glazing technologies created after the Oklahoma City bombing in 1995. And I thought about the everyday interventions to create safe and healthy buildings—the non-wired fire-rated systems that prevent dangerous breakage injuries in event of accidental impacts; the promotion of products that bring more light into buildings, without sacrificing performance, leading to better mental health outcomes, improved productivity, accelerated healing; the glass and glazing products for global sustainability and more.
The glass industry has a long history of being a first responder—of developing products that keep occupants safe in the event of disasters, attacks or even everyday accidents. And this standard is the first step in helping industry companies save lives against a different kind of threat. Learn more about the standard at glass.org.
Miss the conference?  Watch NGA's recording of this Thirsty Thursday webinar, The Glazing Industry's Impact on Active Shooter Standard, presented Thursday, Sept. 15 by Tino Amodei of Armoured One and Julia Schimmelpenningh of Eastman Chemical Co.