Starphire Ultra-Clear Glass – the Ultimate Blank Canvas
BEC Conference and Vitro Architectural Glass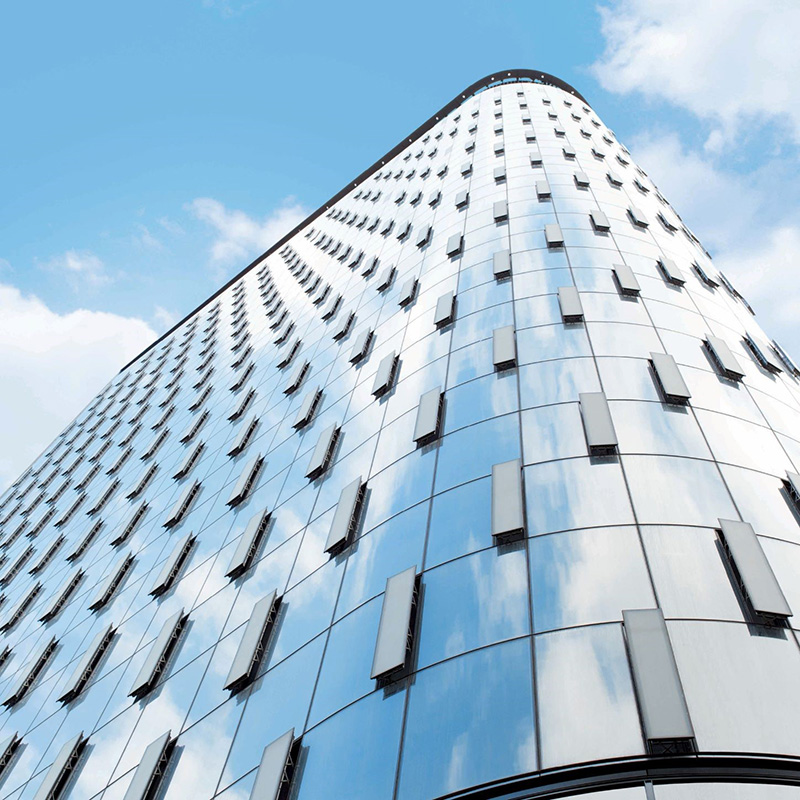 In recent years, architectural glass manufacturers have made remarkable technological strides across a broad front – especially regarding energy efficiency. However, there remain major divisions in the way glass manufacturers approach clarity and light transmission, and building designers may not know how significantly they can maximize the creativity, vibrance and dimensionality of any project by selecting a superior architectural glass.
To better understand these divisions, it's necessary to understand how both conventional clear glass and low-iron glass impact daylighting, clarity and overall design excellence – especially when it comes to facade design. Earlier this year, Vitro Architectural Glass guided this discussion with colleagues at the 25th annual BEC Conference presented by the National Glass Association.
For 25 years, the BEC Conference has brought together glazing company leaders, giving them the platform to share best practices and solutions. As a longstanding NGA member and sponsor of the BEC Conference, Vitro – the industry leader in reimagining the future of architectural glass – relishes participating in this annual gathering. It's at events like the BEC Conference where sharing research and development perspectives and insights lead to the creation of industry-evolving products like Starphire Ultra-Clear® glass.
Less Green, More Clarity

 
As good as today's conventional "clear" glass is, it isn't completely clear; typical clear glass has a slight but distinct green hue under light. While it has high visible light transmittance (VLT) and reasonable color neutrality and transparency, the green hue in clear glass intensifies as the thickness increases. The iron oxide content within glass is responsible for the green tint. 
In contrast, low-iron glass – glass with less iron oxide – eliminates the green cast inherent in clear glass, making it a preferred substitute for unique and specialized applications. As a result, clear glass falls significantly short of low-iron glass's highest potential clarity (up to 87 percent less green tint) and generous 91 VLT rating.
In fact, there is no industry standard specification criteria for "clear" glass, the clarity of which can vary broadly between manufacturers and even batches of product.
While clear and low-iron glasses are produced using the same float process and equipment, low-iron glass requires a heightened level of purity in its raw materials, which results in its enhanced clarity and brilliance.
It's no wonder why low-iron glass is the glass of choice for memorable facades across a wide array of iconic structures, including the Amazon Spheres, Frank Lloyd Wright's Fallingwater, Calgary Central Library, UCSD Jacobs Medical Center, the National Aviary and many more projects around the world.
Extreme Neutrality as Aesthetic

 
Historically, the purest low-iron glasses have been prized for their ability to step away from the limelight – literally, as it turns out – and showcase daylight and exterior views.
"The clarity of the glass allows it to appear invisible, a feature [Frank Lloyd] Wright admired," explains Scott W. Perkins, director of preservation and collections for Fallingwater. In fact, Wright specified one of the glass industry's first low-iron glass products in his original specification for his iconic house, which has been maintained with new lites of today's version of that same product since its completion.  
The extreme neutrality of low-iron glass has sparked an aesthetic trend and is increasingly in demand for decorative facade design applications where clarity is especially important or when maximized views from the inside out are the goal.
Starphire Ultra-Clear® glass by Vitro Architectural Glass is the design industry's de facto low-iron standard, distinguished by its distinctive azure-blue edge and proprietary low-iron formula. Thanks to its minimal green coloring and pure clarity, low-iron glass provides a truly neutral substrate for dynamic patterns, colorful designs and more.
Durability and Strength
In addition to aesthetic applications, Starphire Ultra-Clear® glass features superior strength at increased thicknesses. Starphire Ultra-Clear® glass also has the same hardness and resistance to abrasion and scratching as standard clear glass which means its stunning color fidelity and clarity is as protected from scratches and scuffs as clear alternatives, with less green distortion. Starphire® glass is available in a variety of thicknesses from 1/8-inch (3.2 mm) to ¾-inch (19 mm).
When your project calls for a superior canvas of glass for dynamic facade design, make low-iron glass a primary consideration. Learn more at starphireglass.com or request a sample of Starphire Ultra-Clear® glass and experience the difference for yourself.