Turn Up the Volume on Glass Advocacy
Ensuring glass and glazing products are a part of the high-performance building future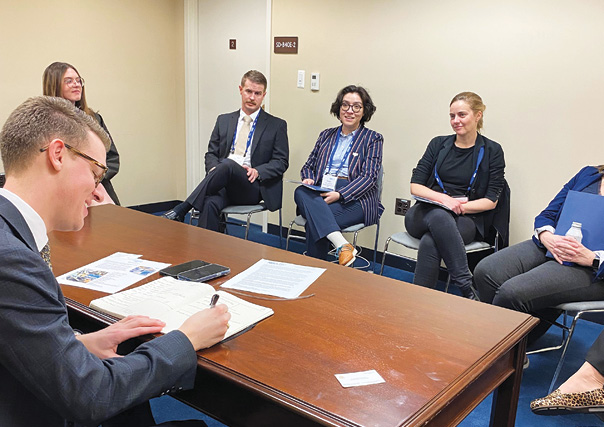 In March, glass and glazing leaders from 35 companies gathered in Washington, D.C., to promote the industry and discuss several top priorities with legislative representatives and staff, and agency officials. The meetings were part of the National Glass Association's second Glass & Glazing Advocacy Days, where the NGA and its members emphasized the importance of architectural glass in addressing school security, recyclability and sustainability concerns, energy performance requirements, and more. 
Available, but overlooked, innovations
Such advocacy efforts bring the conversation about glass directly to decision-makers, and they are essential to advancing industry innovation and ensuring glass and glazing products are a part of the high-performance building future. 
"These are not future, theoretical products," said Bill Strait, vice president of business development, Oldcastle BuildingEnvelope, during Advocacy Days. "We have solutions that exist today."
However, many of the industry's innovative solutions are not widely adopted.  
Helen Sanders, general manager, Technoform North America, addressed this challenge—specifically the lack of implementation of high-performance innovations—during a talk at the Façade Tectonics Forum: Chicago in May. (The Façade Tectonics Institute is also actively pursuing advocacy efforts through an ongoing study with the Department of Energy on shaping the future of facades and driving market transformation to adopting high-performance façades. 
"We have complex thermal barriers that have been around for 50 years. We have warm-edge spacers, around for over 20 years; triple pane, over 20 years; room side low-e coatings for over 10 years; dynamic glazing, available for 20 years; thermally broken cladding attachments for 8 to 10 years. But these aren't used as business as usual," Sanders said. 
Look to policy innovations
To address challenges with product innovation, Sanders said the industry needs to focus on increasing its advocacy efforts: "We need innovation in public policy." 
Other industries—HVAC, for example—have had notable success in driving industry innovation by focusing on advocacy, Sanders said. The industry can look to HVAC's promotion of heat pumps to see the power of industry advocacy, she said. 
"The HVAC industry has done an amazing job getting to Congress for heat pumps," she said.
"Do you know how much money the Building Technology Office of the DOE gets each year? $400 million. Do you know how much windows get of that? About $5 million. Do you know how much heat pumps and electrification targeted programs are getting? About half of that $400 million. And an additional $250 million for heat pumps has been appropriated through the Inflation Reduction Act."
What's next?
Continued, coordinated advocacy efforts from the industry—both from organizations such as the NGA and the FTI, and from companies—are needed.  
"We need to educate on why the envelope matters. … Windows, in particular, are difficult to understand," Sanders said. "You need to talk to senators and educate them, as they are the ones who can get the legislation written. And we need to work with the DOE to allocate their resources to the façade."
Read more about the NGA's advocacy efforts, and about FTI's at facadetectonics.org.