Guardian Glass Introduces Resource Hub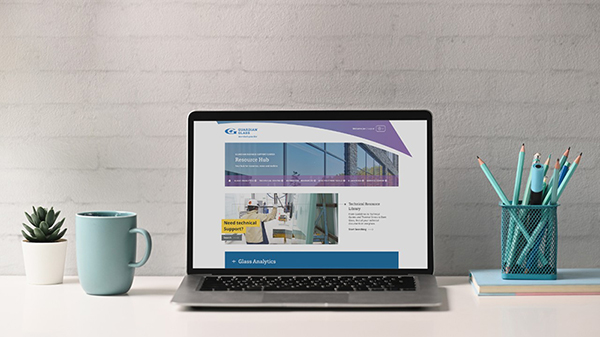 Customers and the wider glass community of fabricators, wholesalers, architects, specifiers, glaziers and dealers can now benefit from 24/7 online access to the Guardian Glass Resource Hub, a new digital platform that offers technical information on glass, as well as engineering, analytical and specification tools, marketing resources and interactive training.
More about the Resource Hub
The Resource Hub includes a comprehensive technical library that allows self-service on technical inquiries. Technical information and notes are available on a wide range of searchable topics such as glass fundamentals, thermal stress management, bent glass, understanding condensation on glass, as well as specialty applications, interior glass and architectural glazing.
Users also have access to Guardian Glass Analytics, a comprehensive suite of engineering and analytical tools that help demonstrate the benefits of high-performance glass in building facades. These tools include the Performance Calculator for modeling thermal and optical properties of glass substrates, coatings and interlayers; the Glass Visualizer for evaluating the aesthetic properties of glass make-ups; and the Acoustic Assistant for estimating the acoustic performance of many types of glass make-ups.
The Resource Hub also includes the Training Center, a platform with a variety of online interactive training tools and resources, including video-based learning sessions, webinars and an in-person training booking system. The Marketing Resources tool provides a range of downloadable marketing resources such as Guardian Glass logos, which users can utilize in their own marketing materials. 
After creating a user profile, customers simply log in to start enjoying the benefits of the new digital platform.
What Guardian says
"We want to provide our customers and the wider glass community, including those who specify glass in buildings, with 24/7 access to the tools and technical information they need to make faster, better and more informed decisions about glass and its use in building projects. By providing a combination of technical information, analytical tools, marketing and training resources, the Resource Hub is a very powerful, valuable, self-service platform," says Steven Scrivens, global head of digital platforms at Guardian Industries.