New Grenzebach Production Facility Breaks Ground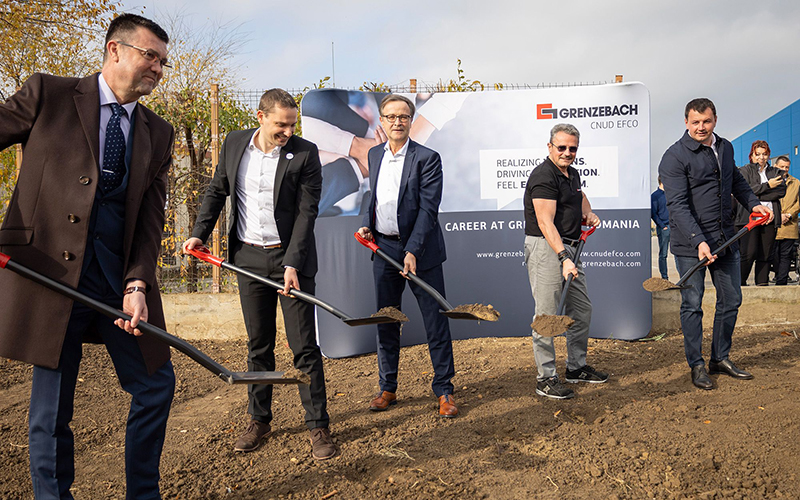 Representatives of the Grenzebach Group and the construction company, Demo Construct, officially laid the foundation for the new production hall of Grenzebach Romania S.R.L. on Nov. 10, 2022, in Iasi, Romania, under the eyes of partners and Grenzebach employees.
"The addition to this location makes our Grenzebach Romania an even more attractive company, with its ideal location at the E59, as a hub for the European business in the glass, construction and intralogistics industries," says Dr. Steven Althaus, CEO of the Grenzebach Group.
Completion is scheduled for the fall of 2023. This expansion will create around 100 new jobs for the company.
About the new building
The new building in Iasi will be constructed on a 30,000-square-meter site directly adjacent to the company's existing location. The building will be a modern production center, providing production areas for the glass, building materials and intralogistics sectors and also spacious areas for future developments and service.
"With this addition and modernization, we show our commitment to the business location of Iași, the region and Romania. We see our Romanian location as a perfect base for technological developments. And as the ideal response to the growing demand from our core markets as a further production and development center," says Moritz Ückert, managing director at Grenzebach Romania S.R.L.
The new structure is part of a comprehensive reorganization concept for the Iasi location, subsidized by the state. In addition to the new production hall, the existing factory building is being modernized to conform to today's efficiency and sustainability requirements.