Roto Frank of America Raises Money for MADD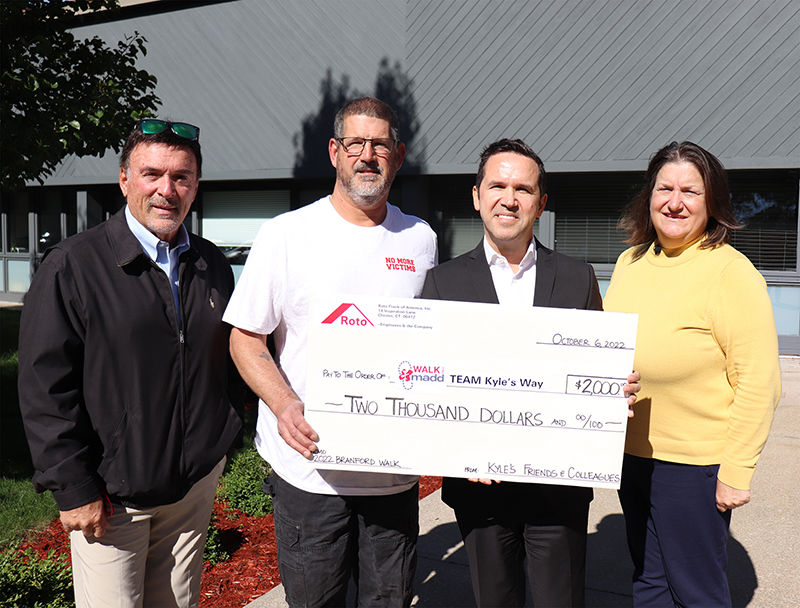 Roto Frank of America, Inc. invited the parents of Kyle Hermann to its facility to receive our donation for Mothers Against Drunk Driving, or MADD. Kyle Hermann was a former Roto employee from 2013 to 2018 who was killed in a drug-impaired driving accident in 2018 at the age of 23. Since then, Kyle's family partnered with MADD and, this year, coordinated the 2022 Branford Walk like Madd event to raise funds and awareness for impaired driving.
The company's fundraising efforts
Roto has worked with Hermann's family and has done many fundraisers over the years, and this year was no different. Roto planned several employee events to raise funds in Kyle Hermann's name. Some of these events included a 50/50 raffle, a bake sale, an egg sandwich sale, an ice cream sundae sale, and a sponge toss. Employees were happy to help and succeeded in raising $1,774. Roto Frank of America, Inc. gave an additional donation to bring the total up to $2,000.
All funds will go towards the 2022 Branford Walk like Madd event in Kyle's name. Roto encourages anyone that can to participate in this event and help further the cause. The company looks forward to working more with Hermann's family and MADD in the future to raise awareness and help support the families of those impacted by impaired driving.