Minneapolis Glass Builds New Headquarters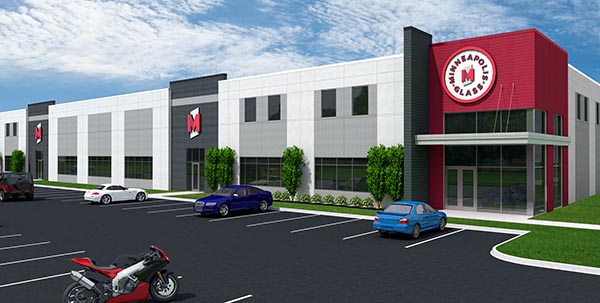 After three years of planning, Minneapolis Glass announced the construction of a new glass and metal manufacturing facility.
"Our vision is to expand capacity, create efficiencies and bring our workforce under one roof," says President Jennifer Lang. "It's a dream come true to make our vision a reality."
Minneapolis Glass history
In 1937, Minneapolis Glass began its operations in a garage, supplying glass to neighborhood hardware stores and mail-order catalogs. WWII contracts brought new opportunities to glaze armories, auto plants and hangars. Demand for highly specific construction and manufacturing products shifted operations to Plymouth in the 1970s. A second plant was added in 2014, bringing the total manufacturing and office space to 70,000 square feet.
The new Brooklyn Park headquarters and centralized manufacturing facility will consolidate operations and expand the company's footprint to 115,000 square feet. With more space and new equipment, Minneapolis Glass will increase capacity by over 50 percent.
What the company says
"A glass tempering line will enable us to vertically integrate our supply chain and meet the growing demands of our customers," says Lang. "Collaborating with vendor partners through the design-build process is key to developing an ideal environment for best-in-class production workflows. In addition to our focus on manufacturing, it is critically important to create a welcoming space for our most important asset: our people. We are thrilled to bring all our employees together with ample space for collaboration and team success."
About the new HQ
Throughout the design, glass is the signature material used to create a bright, light-filled office and manufacturing workspaces, meeting rooms and a customer showroom.
When looking at locations for this project, Brooklyn Park was an optimal choice for operational logistics, employee engagement and community involvement. Research for the site included a commute study to understand and optimize employee drive times to support work-life integration.
"We have been a part of the broader Minneapolis community for over 80 years, and it is essential that we build our forever home right here in the metro."
Project partners are the city of Brooklyn Park, United Properties, Lampert Architects, Sambatek and RJ Ryan Construction.