SAF Introduces New Column Cover Rollers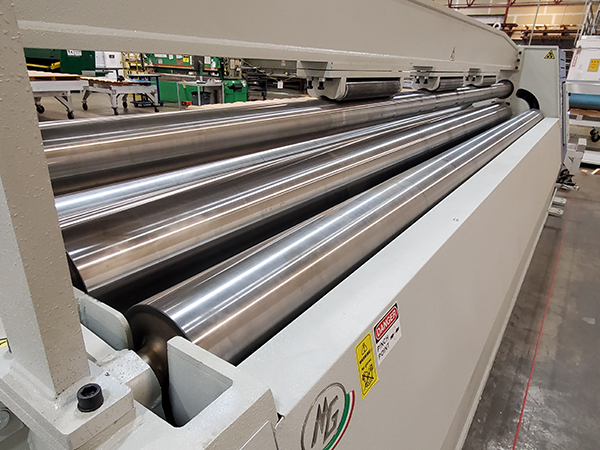 SAF continues to add new machinery to facilities across its organization with new column cover rollers at SAF West in Redding, California. The rollers presently at the Redding plant are being relocated to SAF's newest location in Temple, Texas, allowing for column cover fabrication from the organization in more regions across the United States.
About the column cover rollers
The double pinch hydraulic four-roll 16-foot plate bending machine, MG Model M 5006 B-RR, allows SAF to create longer and taller column covers up to 16 feet in length and in a range of circumferences. The MG roller offers easy operation due to its ability to pinch the plate between two central rolls, pre-bending the leading edge, and then rolling the metal material along with the trailing edge all in one direction and in one pass.
For customers and installers, these larger column covers translate to fewer horizontal reveals needed when stacking sections, enhancing the aesthetic appeal of a column once installed. In addition, taller column covers reduce installation time because they cover more area.
What SAF says
"We have a strategic goal to replicate manufacturing expertise, capabilities and the very best service levels at all of our branches nationwide," says Penn McClatchey, CEO at SAF. "Machinery investments contribute to a balanced workload across our organization, and help us more promptly meet customer demand in every region we serve."
"At SAF, we strive to be a technological leader in the industry and are constantly identifying ways to improve our product offerings and metal fabrication processes," added McClatchey. "We want to demonstrate to our customers that we are working to be the most comprehensive and capable metals supplier, in addition to showing our employees that we must not settle for the status quo."
SAF fabricates column covers in-house from aluminum, stainless steel or metal composite materials. The company also possesses finishing capabilities to paint, powder-coat or anodize products.
The new column cover rollers became operational at SAF West in the winter of 2022.