Sisecam Ends 2022 with Net Sales of $5.8 billion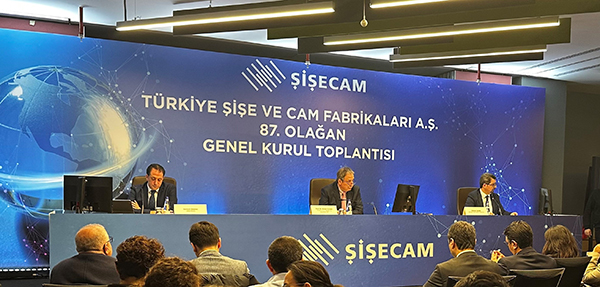 Sisecam met with its investors at the 87th Ordinary General Assembly Meeting to share its financial and operational performance. At the meeting held on March 29, with the participation of Ahmet Kirman, Sisecam chairman, and executive member of the board of directors, and Görkem Elverici, Sisecam CEO, company shareholders were presented with the 2022 Annual Report, "In Pursuit of the Future," which highlights Sisecam's activities and vision for a sustainable future.
Sisecam in figures at year-end 2022      

   
Production of 5.8 million tons of glass, 4.9 million tons of soda ash, and 4.4 million tons of industrial raw materials.

Consolidated net sales of USD $5.8 billion as of the end of the operating period.

Total investments of USD $470 million.

Net profit of USD $1.2 billion.

International sales account for 63 percent of total sales.
Sisecam's investments
Acquisition of Refel, the Italian refractory manufacturer.

Groundbreaking ceremony for the Hungary facility, Sisecam's first investment in glass packaging in Europe.

Announcement of an additional patterned glass furnace and operating line investment in Mersin followed by an announcement of a capacity increase in the ongoing investment before the end of the year.
What the CEO says
Görkem Elverici, CEO, underscored the competencies that support Sisecam's strong performance, emphasizing that the company has grown in a challenging and uncertain global environment. "In times of global crisis two critical capabilities stand out for companies to achieve success while pursuing their goals: strategic foresight and agility.
In such a challenging global environment, Sisecam successfully conducted its multi-geographic production operations with a proactive and rational decision-making approach. ... Today, Sisecam owns one of the most integrated digital infrastructures in the world. Our investments in digitalization and smart technologies enable us to respond quickly to the needs of our markets in terms of global trade, which were even more challenging in 2022. ... We expect to complete our large and comprehensive transformation initiative, which covers every geography and aspect of our operations, from our digital infrastructures to our company culture, by the end of 2024. We are also pursuing investments that promise future growth and support the development of the industries to which we provide inputs."