Banner Solutions Launches New E-commerce Experience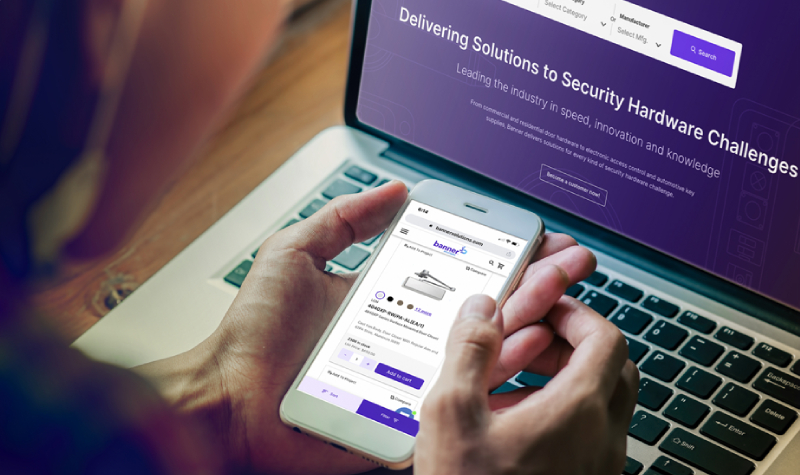 Banner Solutions launched an entirely redesigned e-commerce experience through its website BannerSolutions.com. The new site, tailored to address the specific challenges and pain points of current customers, reflects how Banner Solutions continues to think in terms of delivering solutions—not just product, says President and CEO Brendan Deely.
"This all-in commitment to improving our platform is a testimony to how Banner Solutions uses leading-edge technology to demonstrate to customers that we listen to them and understand their expectations in a best-in-class e-commerce experience," explains Deely. "We're committed to making the complex simple."
DIGITAL ORDERING MADE EASIER
Innovation and efficiency are embedded into the new site, which for building materials suppliers, glaziers, system integrators and contract hardware distributors provides new opportunities to upgrade how they order door hardware products. "It's not just about having a great website. We already had a great website," says Chief Digital Officer Ben Smith. "Our new web experience has been designed to equip the customers we serve with a platform that solves the challenges they face—specific to their business and their job."
Some customer groups have been slow to adopt digital ordering—and for a variety of reasons. Diving deep into customer feedback and walking through their individual experiences allowed Banner Solutions' digital team to build an intimate understanding of pain points and frustrations. "Each step in our e-commerce process should make our customers' lives easier," says Smith. "Our team is obsessed with delivering an excellent customer experience in every way; this launch serves as proof of that obsession. But ultimately, this is about providing our customers with a platform that acts as a productivity partner for their daily processes."
INTUITIVE DASHBOARD FOCUSES ON EFFICIENCY
While continued disruptions to global supply chains underscore the need for transparency in lead times, and ongoing labor challenges drive a focus on workforce efficiency, Banner's new site will address these issues in a variety of ways.
Users can track orders on the homepage and the footer and status alerts are frequent and informative
Product details, prioritized with consistent attributes, make comparing alternatives and accessing relevant information easier.
Up-to-the-moment inventory and pricing provide extreme clarity on product availability—especially important for communicating to suppliers' and distributors' end customers. And, the new account dashboard is powerful and intuitive, which delivers effortless user, project, order, and invoice management.
Being able to clearly understand product pricing and availability, having a simple way to reorder common projects and products, and knowing the status of every order is the difference between productivity and frustration, explains Smith. "Banner Solutions is delivering efficiency in these areas in ways that few other distributors, regardless of product offering, even bother to attempt."