Bendheim Channel Glass Used in Water Plant Project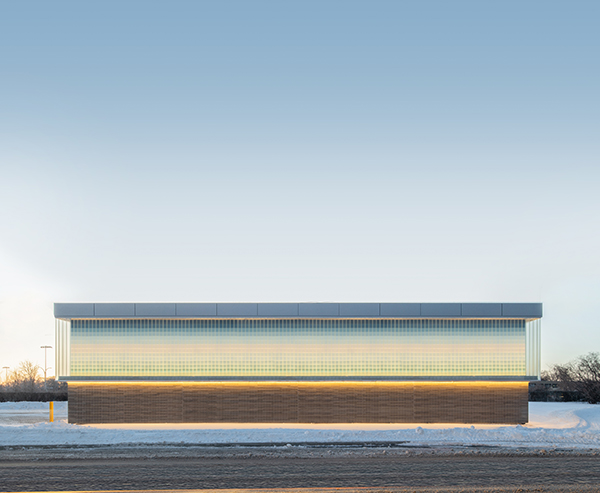 Montréal architects specified channel glass from Bendheim to fulfill their goals for a piece of public infrastructure. 
About the project
When Québec's largest city planned to build a new water intake on the Canal de L'Aqueduc, local residents expressed concern because the facility would be located in the middle of a popular public recreation area, in full view of a residential neighborhood.
To achieve harmony between the station and its setting, designers from the project team at Smith Vigeant Architectes layered an external facade of Bendheim channel glass over an inner envelope of colored aluminum. The result of this technique succeeds in both expressing and effacing the building's utilitarian purpose. 
Situated on a channel that draws water from the Saint Lawrence River, the intake operates 24 hours a day screening out debris. The combination of the inner and outer building envelopes provides proper security for the station and protects its operations from Canada's harsh winters. It also serves to create a "pixilated" effect on the building's exterior, as the vertical channels of glass cross the horizontal bands of aluminum to create the perception of squares.
Bendheim's involvement
According to architect Daniel Smith, the inner aluminum panels, in a graded range of blues, were chosen to reference the "horizontal" quality of water as it responds to gravity. The "orange peel" texture of Bendheim's Rough Cast 504 channel glass diffuses these colors while adding reflections from the sky, ground and water nearby. The finished building, which is largely unmanned and needed no windows, glows gently by night and, as Smith described it, "participates" in the changing tones of the natural landscape by day. 
Bendheim provided 352 channels of tempered, 100% heat-soak-tested glass for the project, in roughly 14-foot lengths to provide an unbroken vertical wall of glass. Totaling 4,600 square feet in area, the channels were installed with Bendheim's SF60S single-glazed frame system in a clear anodized finish.
What people say
"We wanted a material that would be responsive to its surroundings, like water," says Smith. "Bendheim has a very good system, and the quality was top level.  If I ever have another opportunity to use it, I will."
Smith Vigeant's efforts have been rewarded with the 2022 Prize for Excellence in Architecture (Industrial Buildings Category) from the Ordre des Architectes du Québec.
"We're proud to be associated with a project that truly displays the exceptional qualities of our channel glass," says Michael Tryon, general manager at Bendheim. "More and more, we're seeing interest in channel glass as a highly practical material that can also make necessary infrastructure beautiful.  We look forward to working on many more such projects in the public interest."