'Biz Kidz' Visit Glass Manufacturer, Learn About Entrepreneurship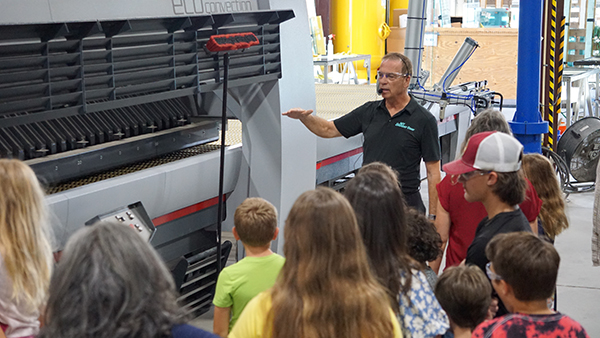 Nearly 120 inquisitive children and teens learned about glass manufacturing and entrepreneurship through a new program designed to inspire the next generation of industry leaders, innovators and entrepreneurs.
Youth ages 7 to 18, along with their parents, had an opportunity to tour MY Shower Door and D3 Glass in Fort Myers through Biz Kidz Camp, one component of a free learning experience that provides hands-on activities, markets, guest speakers and field trips for students interested in business.
"Our programs teach students how to become entrepreneurs and succeed in business," says JD Ribali, president and founder of Biz Kidz Expo. "It starts by looking for opportunities to manufacture a product or offer a service that people need and are willing to pay for, then continues by building on that vision. That's why we wanted to visit MY Shower Door and D3 Glass, so students could hear Bill Daubmann's vision and see the manufacturing process."
About MY Shower Door and D3 Glass
Daubmann founded MY Shower Door in 2003 after spotting demand in Southwest Florida for custom, high-end frameless shower doors and enclosures. Then in 2013, he opened D3 Glass, which specializes in the fabrication, tempering and lamination of glass, to provide MY Shower Door and other local companies with glass rather than relying on out-of-state manufacturers.
Today, both companies are ranked on the Inc. 5000 list of America's fastest-growing companies.
"I didn't start my career in glass manufacturing, but always had an entrepreneurial spirit, much like the children who toured our plant," says Daubmann, who serves as president for both companies. "To succeed in business, you have to constantly be looking toward the future because your products, services and customers will continuously change with the times and as technology evolves."
About Biz Kidz and the tour
Biz Kidz Camp is offered through YEARS (Young Entrepreneurs And Rising Stars), an organization dedicated to empowering and nurturing the next generation of young entrepreneurs. Eleven-year-old Janie Skaggs took the Biz Kidz tour of MY Shower Door and D3 Glass, gaining insight about the chemical process to manufacture glass, as well as how glass is cut, sanded, cleaned, delivered and installed.
"I learned that it takes a lot to make something as simple as glass," says Skaggs. "There is a lot of work and effort that goes into it."
After the plant tour, Daubmann held a Q&A session with Biz Kidz students, some of whom have already started businesses. Daubmann's advice included:
Create a business plan: Map out short-term and long-term goals to ensure the company is progressing.
Document everything: Keep track of all processes, including successes and failures, to help scale the company.
Learn from failures: Entrepreneurs are like scientists who make discoveries through trial and error.
Adapt and evolve: Let the market guide your development; never be stagnant.