FHC Receives U.S. Patent for Advance Series HERC-DOOR Frameless Door Rail System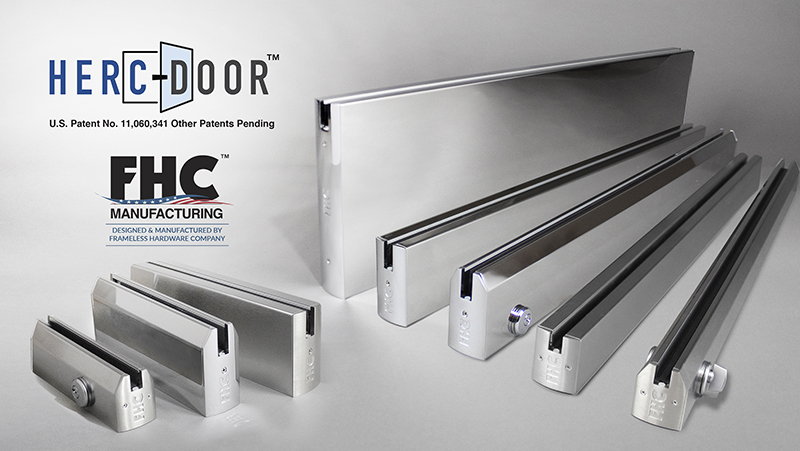 The Frameless Hardware Co., a supplier and manufacturer to the glass and glazing industries, received U.S. Patent Number 11,060,341 from the United States Patent and Trademark Office for its Advance Series Herc-Door Frameless Door Rail System for Glass Entrance Systems.
Designed, engineered and manufactured in the U.S., in the company's Southern California facility, the innovative system delivers contemporary aesthetics of traditional door rails combined with multiple industry-first design advancements that significantly expedite and simplify the installation process, say officials.
Herc-Door features a unique unitizing gasket that eliminates the hassle of manually holding the clamping jaws open and prevents components from falling out of the door rail while affixing to the glass panel. The dual-inclined bearing surface controls angularity, ensuring proper centering, evenly distributed clamping pressure and superior service life in harsh environments.  Additionally, the securing technology's increased glass bite improves holding strength and its concealed actuation hardware allows for uninterrupted hardware mounting. Made from high-quality engineered silicone elastomer, the continuous gasket prevents water and cleaning agents from infiltrating the mechanical components of the rail.
A unique Pivot Alignment System provides the added convenience of 3/8-inch of door position adjustment with the turn of a single screw, allowing easy adjustment whether in the shop or on the job site. Designed with the installer in mind, the PAS easily guides the adjustment tool into place without an installer having to position  their eyes near the ground, further reducing back strain.
The system utilizes a robust, solid one-piece aluminum housing for added integrity with new crisp corner contours to meet demanding aesthetic criteria of the design community. Class 1 anodized UV stable finishes ensure resiliency and fade-resistance in a wide range of architectural finishes. Each rail is complete with matching premium forged brass end caps with integrated Anti-Clamshell Pads that eliminate potential corner chipping and cracking of the glass common in other door rails on the market.  
For added versatility and functionality, FHC Advance Herc-Door Frameless Door Rail System is available in 10-inch, 6-inch, 4-inch, and 2-1/2-inch low profile sizes in both square and A.D.A.-compliant tapered designs for 3/8-inch, ½-inch, 9/16-inch, 5/8-inch, ¾-inch, and 13/16-inch monolithic and laminated tempered glass.
Available finishes includ­e: polished stainless steel, brushed stainless steel, polished brass, satin brass, satin anodized, matte black, and dark bronze anodized. Door rails are available with or without locks and optional weatherstripping seals.
"'Experience and Innovation' is so much more than a tagline to us," says Barry Sutherland, senior vice president of sales at FHC. "It's a standard we hold ourselves to and a promise to the industry. This latest patent is a testament to that commitment; a recognition that we're incredibly proud of and an expectation we intend to keep delivering on."