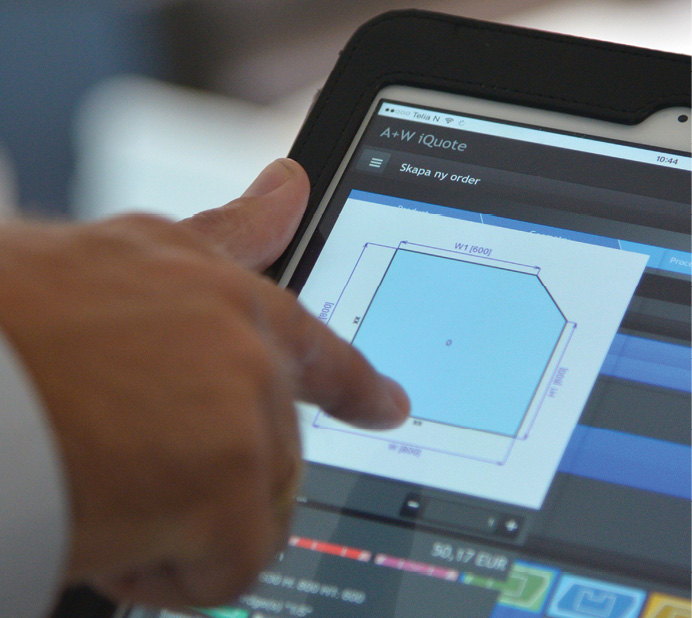 Since its introduction, the Internet has changed how customers and businesses interact. In 2018, 69 percent of Americans purchased an item online, but by 2023, an estimated 91 percent of Americans (or 300 million people) will shop online. Compare that to only 26 percent of the small business market currently running an online ecommerce store and there's great potential for small businesses.
Customers nowadays demand flexibility, reliability and transparency while shopping. Industry-specific, scalable ecommerce software can sit on top of a glass fabricator's existing A+W ERP system, pull data and display feature-rich graphics that include self-service capabilities for dealers. All of this and more is possible with A+W's innovative software solution called A+W iQuote.
A+W iQuote gives customers direct control when ordering with real-time visualization of their configured product. Through web-enabled access and a simple, custom, step-by-step user interface, A+W iQuote makes it easy and more convenient for customers and dealers to do business 24/7 on any device from anywhere.
Advantages of A+W iQuote:

Visualize real-time, professional, true-to-scale product images while ordering
Order products (whether simple or complex, individualized or multiples) via an easy-to-use, intuitive and responsive web interface developed for desktop and mobile devices
Expand your business or service existing customers better through a 24/7 real time accessible system
Manage and execute all data (e.g., products, prices, and discounts) and calculations directly in your A+W Business ERP system, resulting in a synchronized, real-time web experience
Accepted orders are directly synchronized with stocks, allowing you to transfer them quickly and easily to production, eliminating double order entry
Host on your servers, third-party servers, or in the cloud.
According to Peter Dixen, A+W's CEO, "With these business-generating advantages, we are confident this tool can play an essential role in helping your business satisfy market demands."
Learn more about A+W iQuote for glass, window, and door fabricators at www.a-w.com/us.